obscure

ob·scure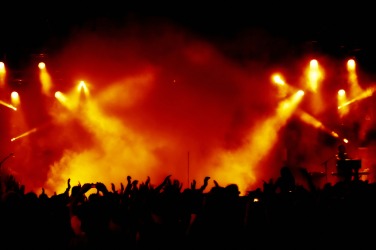 This stage is obscured by the lighting and fog.
adjective
The definition of obscure is hard to see in the low light or hard to understand.

An example of obscure is the scene on a concert stage when the lighting is dim.
verb
Obscure is defined as to make confusing or hard to see.

An example of obscure is for a student to use important-sounding words in his science paper to hide the fact that he didn't understand the subject matter.
---
obscure
lacking light; dim; dark; murky: the obscure night
not easily perceived; specif.,

not clear or distinct; faint or undefined: an obscure figure or sound
not easily understood; vague; cryptic; ambiguous: an obscure explanation
in an inconspicuous position; hidden: an obscure village

not well-known; not famous: an obscure scientist

Phonet.

pronounced as (?) or (i) because it is not stressed; reduced; neutral: said of a vowel
Origin of obscure
Old French
obscur
from Classical Latin
obscurus,
literally , covered over from
ob-
(see ob-) + Indo-European an unverified form
skuro-
from base an unverified form
(s)keu-,
to cover, conceal from source hide, sky
transitive verb
-·scured′

,

-·scur′ing
to make obscure; specif.,

to darken; make dim
to conceal from view; hide
to make less conspicuous; overshadow: a success that obscured earlier failures
to make less intelligible; confuse: testimony that obscures the issue

Phonet.

to make (a vowel) obscure
Origin of obscure
L
obscurare
< the adj.
---
obscure
adjective
ob·scur·er, ob·scur·est
Deficient in light; dark: the obscure depths of a cave.

a. So faintly perceptible as to lack clear delineation; indistinct: an obscure figure in the fog.

b. Indistinctly heard; faint.

c. Linguistics Having the reduced, neutral sound represented by schwa (ə).

a. Far from centers of human population: an obscure village.

b. Out of sight; hidden: an obscure retreat.

Not readily noticed or seen; inconspicuous: an obscure flaw.
Of undistinguished or humble station or reputation: an obscure poet; an obscure family.
Not clearly understood or expressed; ambiguous or vague: Some say that Blake's style is obscure and complex. See Synonyms at ambiguous.
transitive verb
ob·scured, ob·scur·ing, ob·scures
To make dim, indistinct, or impossible to see: "His face was obscured in shadow" ( Rosemary Mahoney ) See Synonyms at block.
To make difficult to discern mentally or understand: The meaning of the text was obscured by its difficult language.
To diminish the stature of; overshadow or detract from: "

[His]

character was so repellent that it has obscured his historical role" ( David Rains Wallace )
Linguistics To reduce (a vowel) to the neutral sound represented by schwa (ə).
noun
Something obscure or unknown.
Origin of obscure
Middle English
from
Old French
obscur
from
Latin
obscūrus
; see
(s)keu-
in Indo-European roots.
Related Forms:
---
obscure

Adjective
(comparative obscurer or more obscure, superlative obscurest or most obscure)
Dark, faint or indistinct.
Hidden, out of sight or inconspicuous.
Difficult to understand.

an obscure passage or inscription;    The speaker made obscure references to little-known literary works.
Usage notes
The comparative obscurer and superlative obscurest, though formed by valid rules for English, are less common than more obscure and most obscure.
Verb
(third-person singular simple present obscures, present participle obscuring, simple past and past participle obscured)
To render obscure; to darken; to make dim; to keep in the dark; to hide; to make less visible, intelligible, legible, glorious, beautiful, or illustrious.
To hide, put out of sight etc.
---