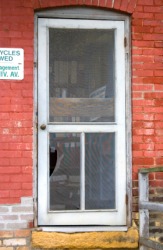 An old screen door.
noun
The definition of a screen is something used to divide, protect, block or shield.

An example of a screen is a framed mesh door used for keeping insects out of a house when the solid door is open.
An example of a screen is a Japanese room divider.
An example of a screen is spf 30 skin lotion used to block the sun's effects on the skin.
verb
Screen is defined as to show, examine or separate.

An example of screen is a movie theater showing Oscar nominated films; to screen a movie.
An example of screen is to phone interview potential employees; to screen the best candidates.
An example of screen is to plant bushes in front of an air conditioner unit to keep it from being seen; to screen from view.
---
screen
a light, movable, covered frame or series of frames hinged together, serving as a portable partition to separate, conceal, shelter, or protect
any partition or curtain serving such a purpose

anything that functions to shield, protect, or conceal: a smoke screen
a coarse mesh of wire, etc., used to sift out finer from coarser parts, as of sand or coal; sieve
a system for screening or selecting participants, candidates, etc.
a section of mesh held in a frame, for use as in a window or door to keep insects out, serve as a barrier, etc.

a flat, reflective or translucent surface, as a matte white sheet or one of beaded vinyl, upon which films, slides, etc. are projected
the movie industry

the surface area of a television set, personal computer, radar receiver, etc. on which images or data are displayed
any protective military formation, as of troops or ships

Basketball

an offensive maneuver or play in which a stationary player blocks or impedes the movement of a defensive player

Football

screen pass

Photoengraving

in the halftone process, a set of two glass plates cemented together so that parallel lines engraved in one plate are at right angles to the lines of the other plate

Physics

a device used as a shield to prevent interference of some sort
Origin of screen
Middle English
skrene
, sieve, curtain from Old French
escren
from Gmc, as in Old High German
scerm
(Ger
shirm
), guard, protection, screen from Indo-European base an unverified form
(s)ker-
, to cut from source shear, score
to separate, conceal, shelter, or protect, with or as with a screen
to provide with a screen or screens
to sift through a coarse mesh so as to separate finer from coarser parts

to interview or test so as to separate according to skills, personality, aptitudes, etc.
to select or discard in this way: to screen callers to a talk show

to project (pictures, etc.) upon a screen, as with a film or slide projector
to show (a film, etc.) to critics, the public, etc.
to be screened or suitable for screening, as in films
---
screen
noun
A movable device, especially a framed construction such as a room divider or a decorative panel, designed to divide, conceal, or protect.
One that serves to protect, conceal, or divide: Security guards formed a screen around the president. A screen of evergreens afforded privacy from our neighbors.

a. A surface, as on a smartphone, television, or computer monitor, on which one can read and view electronically displayed information and images.

b. A surface on which text and images are projected for display.

c. The medium in which movies are shown: a star of stage and screen.

A coarse sieve used for sifting out fine particles, as of sand, gravel, or coal.
A system for preliminary appraisal and selection of personnel as to their suitability for particular jobs.
A window or door insertion of framed wire or plastic mesh used to keep out insects and permit air flow.
A body of troops or ships sent in advance of or surrounding a larger body to protect or warn of attack.

a. Sports A block, set with the body, that impedes the vision or movement of an opponent.

b. Football A screen pass.
transitive verb
screened, screen·ing, screens
To show or project (a movie, for example) on a screen.

a. To conceal from view with a screen or something that acts like a screen: "Only a narrow line of brush and saplings screened the broad vista of the marsh" ( David M. Carroll ) See Synonyms at block.

b. To protect, guard, or shield: "This rose is screened from the wind with burlap" ( Anne Raver )

To provide with a screen or screens: screen a porch.

a. To separate or sift out (fine particles of sand, for example) by means of a sieve or screen.

b. To sort through and eliminate unwanted examples of (something): a filter that screens email, preventing spam from reaching the inbox.

a. To examine (a job applicant, for example) systematically in order to determine suitability.

b. To test or evaluate (a student) to determine placement in an educational system or to identify specific learning needs.

c. To test or examine for the presence of disease or infection: screen blood; screen a patient.

d. To subject to genetic screening.

Sports

a. To block the vision or movement of (an opponent) with the body.

b. To obscure an opponent's view of (a shot) by positioning oneself between the opponent and the shooter.
Origin of screen
Middle English
screne
from
Old North French
escren
from
Middle Dutch
scherm
shield, screen
; see
sker-
1
in Indo-European roots.
Related Forms:
---
screen

Noun
(plural screens)
A physical divider intended to block an area from view, or provide shelter from something dangerous.

a fire screen

A material woven from fine wires intended to block animals or large particles from passing while allowing gasses, liquids and finer particles to pass.
The informational viewing area of electronic output devices; the result of the output.
One of the individual regions of a video game, etc. divided into separate screens.
(basketball) An offensive tactic in which a player stands so as to block a defender from reaching a teammate.
(baseball) The protective netting which protects the audience from flying objects

Jones caught the foul up against the screen.

In mining and quarries, a frame supporting a mesh of bars or wires used to classify fragments of stone by size, allowing the passage of fragments whose a diameter is smaller than the distance between the bars or wires.
(printing) A stencil upon a framed mesh through which paint is forced onto printed-on material; the frame with the mesh itself.
(nautical) A collection of less-valuable vessels that travel with a more valuable one for the latter's protection.
(architecture) A dwarf wall or partition carried up to a certain height for separation and protection, as in a church, to separate the aisle from the choir, etc.
Verb
(third-person singular simple present screens, present participle screening, simple past and past participle screened)
Origin
From Middle English scren, screne ("windscreen, firescreen"), from Anglo-Norman escren ("firescreen, the tester of a bed"), Old French escren, escrein, escran (modern French écran ("screen")), from Old Dutch *scerm, skirm ("screen"), from Proto-Germanic *skirmiz ("fur, shelter, screen"), from Proto-Indo-European *(s)ker- ("to cut, divide"). Cognate with Dutch scherm ("screen"), German Schirm ("screen").
Alternate etymology derives Old French escren from Old Dutch *skrank ("barrier") (compare German Schrank ("cupboard"), Schranke ("fence").
---
screen - Computer Definition
The display area of a computer monitor or TV set. The terms "screen," "terminal" and "monitor" are used synonymously, although technically, the screen is only the visual display part of a monitor or terminal. See CRT and flat panel display.
---