cover
cov·er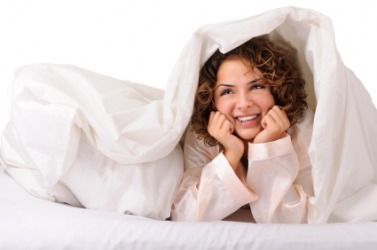 A woman covers herself with a blanket.
noun
The definition of a cover is something that goes over, rests on the surface or provides a place to hide.

An example of cover is the lid of a Tupperware container.
An example of cover is a quilt.
An example of cover is dense bushes in which a robber can hide from the police.
verb
Cover is defined as to conceal or place something over.

An example of cover is for a person to pull blankets over himself at night.
---
cover
to place something on, over, or in front of, so as to conceal, protect, or close
to extend over; overlay; blanket: snow covered the highway
to copulate with (the female): said chiefly of a stallion
to clothe
to coat, sprinkle, etc. thickly: covered with mud
to sit on (eggs); brood; incubate
to conceal by hiding or screening
to keep from harm or injury by shielding; protect by screening
to include and provide for; take into account: the law covers such cases

to protect against financial loss or liability, as by insurance or reserve funds
to make up for (a loss, injury, etc.) by insurance, reserve funds, etc.
to be sufficient for payment of (expenses, a debt, etc.)

to accept (a bet); stake the equivalent of (an opponent's stake) in a wager
to travel over; go the length of: to cover a distance
to work in or be responsible for (a particular area or range of activity): to cover a territory as a salesman
to deal with; treat of: to cover a subject
to bring upon (oneself) by one's actions: to cover oneself with glory
to point a firearm or similar weapon at; put or keep within the range and in the aim of a gun or the like
⌂ to record or perform a cover () of

Card Games

to put a higher card on (a previously played card)
⌂

Finance

to buy stock to replace (shares borrowed from a broker to effect a short sale)
⌂

Journalism

to have the assignment of gathering and reporting the details of (a news story)

Mil.

to keep (a person or group) within sight or contact so as to protect from enemy action

Sports

to watch, guard, defend, or defend against

Baseball

to be ready to receive a throw to (a particular base)

Football

to attempt to prevent (a pass receiver) from catching the ball or prevent (a punted ball) from being returned
Origin of cover
Middle English
coveren
; from Old French
covrir
; from Classical Latin
cooperire
; from
co-,
intensive +
operire,
to hide ; from Indo-European an unverified form
op-wer-
, to cover ; from an unverified form
op(i)-
, back, against + an unverified form
wer,
to cover, protect from source warn
to spread over a surface, as a liquid does
to put on a cap, hat, etc.
⌂ to provide an alibi, excuse, or subterfuge (for another)
anything that covers, as a bookbinding, the front part of the binding of a magazine, a jar lid, a box top, etc.
a shelter for protection, as from gunfire
a hiding place for game, as a thicket, underbrush, etc.

Origin of cover

modeled on Fr couvert a tablecloth and setting for a meal, esp. for one person
bedclothes used to cover a person in bed
⌂ cover charge
something used for hiding one's real actions, intentions, etc.

an envelope or wrapper for mail
an envelope or postal card with a stamp, postmark, and cachet of historical or philatelic significance

⌂ a version of a song, esp. one that has become popular in a particular recording, as performed or recorded in imitation of the original or with a fresh interpretation
break cover
to come out of protective shelter
cover up
to cover entirely; envelop; wrap
to keep blunders, crimes, etc. from being known
take cover
to seek protective shelter
under cover
in secrecy or concealment
---
cover
verb
cov·ered
,
cov·er·ing
,
cov·ers
verb
, transitive
a. To place something upon or over, so as to protect or conceal: covered the boat with a tarp; covered the photo with his hand.

b. To overlay or spread with something: cover the potatoes with gravy.

c. To put a cover or covering on: covered jar with a lid.

a. To hide or screen from view or knowledge; conceal. Often used with up: He tried to cover up his mistakes.

b. To do something that gains for (oneself) a quality or association: The mountain climbers covered themselves in glory.

a. To be spread over the surface of: Dust covered the table. Your boots are covered with mud.

b. To lie over or adhere to so as to protect or conceal: The rug covers the gouges in the floor. Paint covers the stains on the ceiling.

c. To extend over: a farm covering more than 100 acres.

a. To travel or pass over: They covered 60 miles in two days.

b. To have as one's territory or sphere of work: a sales rep who covers the Southwest.

a. To protect from loss. Used of insurance: a new policy that will cover all our camera equipment.

b. To take measures to prevent (oneself) from being held responsible for something: With the memo he is covering himself in case something goes wrong.

c. To be enough to pay for or make up for: Will $100 cover the bill?

a. To have as a subject; deal with: The book covers the feminist movement.

b. To be responsible for reporting the details of (an event or situation): Two reporters covered the scandal.

c. To apply to or take into account: The law does not cover all crimes.

a. To protect by having within range or by firing a weapon: The fort's guns cover the entire harbor.

b. To aim a firearm at: Keep these dangerous suspects covered.

Sports

a. To guard (an opponent playing offense).

b. To defend (a position or area): cover third base; cover the backcourt.

To match (an opponent's stake) in a wager.
To purchase (stock that one has shorted).
Games To play a higher-ranking card than (the one previously played).
Music To record a cover version of (a song).
To copulate with (a female). Used especially of horses.
verb
, intransitive
To spread over a surface to protect or conceal something: a paint that covers well.
To act as a substitute or replacement during someone's absence: Her assistant covered for her.
To hide something in order to save someone from censure or punishment: cover up for a colleague.
Games To play a higher card than the one previously played.
noun
Something that covers or is laid, placed, or spread over or upon something else, as:

a. A lid or top.

b. A binding or outer part for a book or magazine.

c. A bedcover.

d. A protective overlay, as for a mattress or furniture.

a. Shelter or protection: The sheep seek cover in the cave when it snows.

b. Strategic protection given by armed units during hostile action: The battleship approached the combat zone under a cover of fighter planes.

a. Something, such as vegetation, covering the surface of the ground.

b. Vegetation, such as underbrush, serving as protective concealment for wild animals.

a.

Something, such as darkness, that screens, conceals, or disguises. See Synonyms at

shelter

.

b. A false identity, especially for a spy.

c. An activity or organization that is used to conceal an illegal or secret activity: a man who sold paintings as a cover for spying.

A layer of clouds obscuring the sky or ground.
A table setting for one person: Covers were laid for ten.
A cover charge.
An envelope or wrapper for mail.
Funds sufficient to meet an obligation or secure against loss.
One who substitutes for another: Who is your cover for tonight's shift?
Music A cover version.
Phrasal Verb:
cover up
To put on or wear clothing:
It's very cold outside, so cover up before you go out.
In boxing, to protect oneself from blows by holding the gloves over one's face with the forearms straight down over the chest.
Origin of cover
Middle English
coveren
, from Old French
covrir
, from Latin
cooper&imacron;re
,
to cover completely
:
co-
,
intensive pref.
; see
co–
+
oper&imacron;re
,
to cover
; see
wer-
4
in Indo-European roots.
Related Forms:
---
cover
Noun
(plural covers)
A lid.
A hiding from view.
A cover charge.

There's a $15 cover tonight.

A setting at a restaurant table or formal dinner.

We need to set another cover for the Smith party.

(music) A rerecording of a previously recorded song; a cover version; a cover song.
(cricket) A fielding position on the off side, between point and mid off, about 30° forward of square; a fielder in this position.
(topology) A set (more often known as a family) of sets, whose union contains the given set.

The open intervals are a cover for the real numbers.

(military) A solid object, including terrain, that provides protection from enemy fire.
(law) In commercial law, a buyer's purchase on the open market of goods similar or identical to the goods contracted for after a seller has breached a contract of sale by failure to deliver the goods contracted for.
(insurance) An insurance contract; coverage by an insurance contract.
(espionage) A persona maintained by a spy or undercover operative, cover story
In a steam engine, the lap of a slide valve.
Adjective
(not comparable)
Of or pertaining to the front cover of a book or magazine.
(music) Of, pertaining to, or consisting of cover versions.
Verb
(third-person singular simple present covers, present participle covering, simple past and past participle covered)
To place something over or upon, as to conceal or protect.

He covered the baby with a blanket.
When the pot comes to a boil, cover it and reduce the heat to medium.

To be over or upon, as to conceal or protect.

The blanket covered the baby.

To be upon all of, so as to completely conceal.

Regular hexagons can cover the plane.

To set upon all of, so as to completely conceal.

You can cover the plane with regular hexagons.

To invest (oneself with something); to bring upon (oneself).

The heroic soldier covered himself with glory.

(of a publication) To discuss thoroughly; to provide coverage of.

The magazine covers such diverse topics as politics, news from the world of science, and the economy.

To deal with.
To be enough money for.

We've earned enough to cover most of our costs.
Ten dollars should cover lunch.

(intransitive) To act as a replacement.

I need to take off Tuesday. Can you cover for me?

To have as an assignment or responsibility.

Can you cover the morning shift tomorrow? I'll give you off next Monday instead.
He is our salesman covering companies with headquarters in the northern provinces.

(music) To make a cover version of (a song that was originally recorded by another artist).
(military, law enforcement) To protect using an aimed firearm and the threat of firing; or to protect using continuous, heaving fire at or in the direction of the enemy so as to force the enemy to remain in cover; or to threaten using an aimed firearm.
To copulate with (said of certain male animals such as dogs and horses).

I would like to have my bitch covered next spring.
The stallion has not covered the mare yet.
Origin
Middle English coveren, from Old French covrir, cueuvrir (Modern French couvrir) from Late Latin coperire from Latin cooperio ("I cover completely"), from co-, intensive prefix, + operio ("I close, cover"). Displaced native Middle English thecchen and bethecchen ("to cover") (from Old English þeccan, beþeccan ("to cover")), Middle English helen, (over)helen, (f)helen ("to cover, conceal") (from Old English helan ("to conceal, cover, hide")), Middle English wrien, (be)wreon ("to cover") (from Old English (be)wrēon ("to cover")), Middle English hodren, hothren ("to cover up") (from Low German hudren ("to cover up")).
According to the Oxford English Dictionary, the original sense of the verb and noun cover was hide from view as in its cognate covert. Except in the limited sense of cover again, the word recover is unrelated and is cognate with recuperate.
---
cover - Investment & Finance Definition
In the futures market, to offset a short futures or options position by buying back contracts.
In corporate finance, to be able to meet fixed annual interest charges on bonds or other obligations out of funds generated from earnings.
In insurance, the requirement that the expenses of an insured person be reimbursed.
---
cover - Legal Definition
v
In commercial law, to buy, or the purchase of, goods on the open market that are similar to those that a seller of such goods had promised, but failed, to deliver. Under the Uniform Commercial Code, the buyer is entitled from the seller the difference between the cost of the substituted goods and the original contract price if the buyer acted in good faith and without unreasonable delay when obtaining the substituted goods.
In insurance law, to currently protect a particular person against loss or to currently protect someone or something against a particular risk.
---