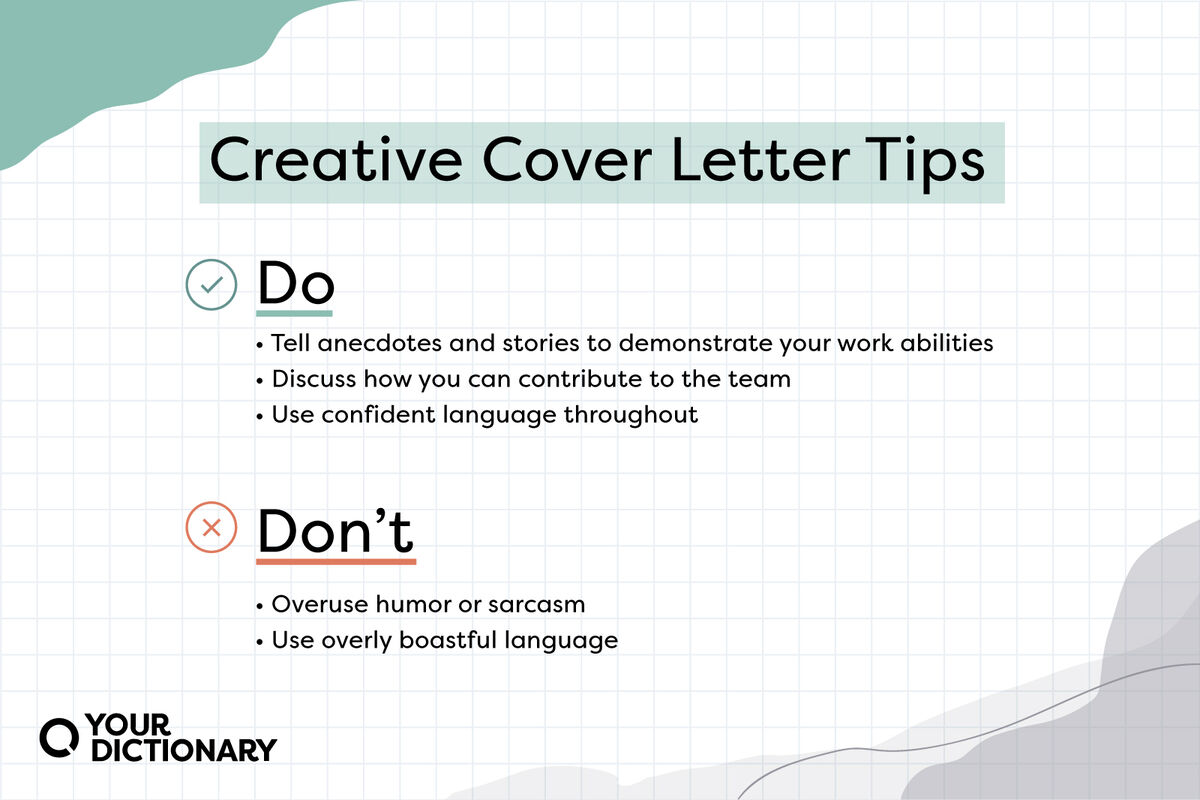 Hiring managers have to go through piles and piles of applications every single day. They have to sort through cover letters that use all the same mindless words, like "great team player" or "good at computers." A good cover letter can set you apart from all that and send the rest of those applications straight to the recycle bin. So how do you write a cover letter that'll get you straight from the "to read" pile to the CEO of the company?
A cover letter is a document that acts as a personal introduction and accompanies a resume or curriculum vitae (CV).
It's called a cover letter because back in the day, when you had to apply to things by turning in actual physical pieces of paper, the cover letter appeared as the cover for your application.
Cover letters are a type of business communication usually associated with job applications, but they can be a requirement for all sorts of application processes. That can include everything from literary magazine submissions to mortgage loan applications to grad school applications.
What Goes Into a Creative Cover Letter?
Cover letters are flexible by nature, a chance to showcase your writing abilities and provide more information about your job skills, experience, education, and other pertinent information that doesn't show up on a resume or CV.
That's the important part: Your cover letter isn't a retread of your resume. Instead, it goes beyond that to help a hiring manager (or admissions representative or loan representative) learn more about you beyond some grades, numbers, and a list of dates. All of that should ideally fit on a single page.
That leaves a lot of wiggle room, but your creative cover letter will generally include:
A header
An opening paragraph that introduces you and your career
One to two paragraphs that directly address the job listing
A closing paragraph that notes future correspondence for an interview
A proper closing or sign-off
How To Write a Cover Letter for a Job
Now you know what goes into a creative cover letter. Seems pretty straightforward, right? While it's definitely simpler than you're probably thinking, it does require a little extra thought to portray yourself accurately while still maintaining a creative, engaging voice in your cover letter. Seeing some examples of cover letters can also give you a better idea of what to write.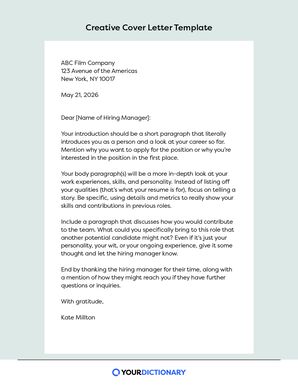 Focus on a Dynamic Opening Line
Much like a good essay introduction, a creative cover letter begins with a great hook. This doesn't have to be the most amazing piece of writing ever conceived, but it should give the hiring manager an idea of what to look forward to (in the letter and in you as a person). Talk about what compelled you to even consider the open position.
Examples of intriguing opening lines for different occupational fields include:
Film Industry - As a savvy administrative professional who has seen all the studio's movies (yes, all of them, you can quiz me), I was excited to see the job posting for the Publicity Assistant position with ABC Film Company.
Education - Teaching is the hardest job I've ever had, but it is the only thing that I ever want to do.
Sales - Ever since I broke the troop record for selling the most Girl Scout cookies in a single month, I knew I could sell anything to anyone.
Management - I believe that a leader should be willing to do anything that they ask their team to do, which is how I ended up picking up litter along the highway every weekend.
Tech - As an avid coder since age 12, I have been striving to find a position like the Technical Specialist position at XYZ Technologies.
Notice how these opening lines are brief, enthusiastic, and personable. They help to immediately bring the reader into your letter.
Tell a Story About Your Achievements and Experience
You went to school, got a degree, worked some number of years before finding yourself opening a new document to write out a new cover letter. If you just listed out those touchstones (school, degree, work experience) in your letter, the reader wouldn't really have any idea of you as an actual person.
This is where narrative writing can help. It helps to show your personality and sense of humor, while giving a hiring manager a more concrete example of your achievements and obstacles.
There's a difference between saying "I am well-organized" and:
In my previous job, I was in charge of organizing conferences. The most complex of these was by far this past year's French Toast Conference. This involved getting in touch with numerous home cooks, catering services, event organizers, and other personnel to ensure the smoothest and tastiest French toast get-together in North America. The day ended with syrup all over my top and powdered sugar in my hair, but the conference saw the highest number of attendees in years.
That narrative demonstrates more of your abilities, even beyond just "good organization." It shows a specific thing that you accomplished, along with a look at how you dealt with potential conflict. Do your best to show your work experiences with anecdotes and storytelling.
Talk About How You Can Contribute to the Team
Following the body paragraphs discussing your work, include a short paragraph about how you will contribute to the team. It's one thing to have skills and experience, but it's a whole other thing to know your unique qualities and how they'll make a company better.
That could be as simple as your personality or your in-depth knowledge of the product, but it's still worth mentioning.
As an extremely enthusiastic and positive person, I hope to imbue the company with new energy that will help to produce even more solid work. I have a natural love for French Toast Product, and I hope to only spread my love to more people with my skills.
Conclude With a Look Toward Future Steps
The body of the cover letter is where you should invest most of your time and energy. The conclusion is mostly about planting the seeds that will get you to the next step of the hiring process.
It can feel a bit arbitrary, but the closing paragraph for your cover letter does give you the opportunity to thank the hiring manager for their time. Whether or not you actually get the job, a little kindness never hurt anyone.
Thank you for your time and consideration. I look forward to setting up any future steps toward working together. If you have any questions or requests, please feel free to contact me through my email.
Use Confident (But Not Overconfident) Language
All cover letters should sound confident, which is often why people dread writing them. Sometimes it feels like you're bragging about yourself when you'd rather be humble, but being truly confident goes hand-in-hand with being humble.
Don't say - I'm the absolute best office manager you'll ever meet. I've never lost a message, missed an appointment, or misused company time.
Do say - My experience as an office manager has taught me priorities in my life. I strive toward being organized and keeping my appointments in order, and I am very conscious of using company time appropriately.
You want to assure a hiring manager that you are skilled but also grounded. Confident language will move your cover letter to the interview pile. Less-confident language may make you sound unsure or unskilled.
Use Humor (But Don't Be Sarcastic)
Humor can make you more personable and comfort the hiring manager. However, be careful with your humor, especially when it comes to sarcasm. Humor is really hard to communicate through writing, and if there is even the smallest chance that someone might take that joke or sarcastic remark the wrong way, you're better off avoiding it.
Don't say - Stapling packets together is my favorite thing to do. If I had to choose between going to the Super Bowl and stapling packets, I'd be stapling during kickoff.
Do say - I've learned to appreciate a range of tasks in my current position, from the everyday joy of stapling packets to the unexpected pleasures of an organized file system.
That first example makes you sound a little cynical, a little off-putting, and generally unpleasant to be around. The second is maybe not as outright humorous, but it's a lot more harmless.
Get Ready for Your Interview
With your cover letter perfectly proofread and edited and your application submitted, it's a good idea to prepare yourself for a potential interview. It's always better to assume that you'll get at least an introductory interview than to be caught unawares, so take the proper steps to get ready, from thinking about potential weaknesses to coming up with good questions to ask your interviewer.