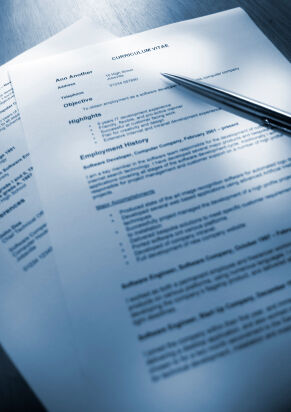 Toss out the old rules and misnomers about resumes having to be one page long and of a certain format. One of the best tips for writing a professional resume is to know that each resume is a one of a kind - there are no duplicates because each one is unique.
A well-written resume is your passport to an interview and, ultimately, a corner office. Many resume services sell the façade that their services will guarantee you a job because of the magic they used to update your resume. Truth is, a lot of this can come from you. A second pair of eyes never hurt, but let's talk about what you can do to start formulating an interview-winning professional resume today.
Before you start crafting your own masterpiece, see if you can find a template or model from the industry you're breaking into. This will help you with formatting, verbiage, and layout design. No matter your field of interest, there are five elements that most resumes should include. They are:
For more on each of these elements, as well as where to look for industry samples, review these Resume Writing Examples.
Knowing what the potential employer is looking for is half the battle when it comes to resume writing.
Look carefully at the job posting.
Examine the position and all the keywords that are listed in the qualifications and duties sections.
Apply the desired and mandatory characteristics in the posting to the qualifications you possess.
If a potential employer is looking for a candidate with five years' administrative experience and you have seven years of office experience, be sure to compare your experience with the job announcement. You can swap out certain adjectives in the posting. For example, the word "administrative" is an adjective for "office work." Look carefully and note any similarities that align with your work history.
If you're looking at job postings in the same industry, you're going to start noticing relevant keywords. For example, if you're seeking a job as a Digital Marketing Coordinator, you might notice industry buzzwords, including "SEO expertise," "content creator," or "social media management."
If nothing's jumping out at you, take a closer look at the requirements or qualifications section of the job posting. If you have experience with any of these keywords, be sure to work them into your resume. Here's more on Using Keywords in Your Resume.
If you have extensive professional experience, don't include every detail of each role you've held. There's a statistic rolling around on the Internet stating hiring managers only spend six seconds on a resume. If true, you have a short window of time to jump out at recruiters.
Only include jobs that relate to the position you're applying for. As you detail your responsibilities within each role, keep them short and succinct. Remember to use the right keywords; you want your past experience to mirror the required experience in the posting. Finally, be sure to sort your relevant experience in reverse chronological order, with the most recent position listed first.
Write in the Active Voice
As you detail your responsibilities within prior positions, be sure to write in the active voice. For example, if it's a current role, consider something like, "Maintains extensive email marketing list." You never want to write in the passive voice. That would look something like, "Email marketing list maintained by me," and it could put you right out of the running.
When it's time to elaborate on your prior roles, be sure to list your bullet points in the past tense, such as, "Implemented company-wide social media marketing campaign." Since these are not sentences, do not put a terminal punctuation mark (a period) at the end. Also, it's nice to unify each bullet point by starting with an action verb. For more on that, study these Action Words to Use in Resumes.
When you think you're in a good place, step away from the computer and take a break. Then, come back to the screen with a fresh pair of eyes to proofread and edit ruthlessly. Be sure to do this at least three times before sending it anywhere.
This is your (six second) chance to snag the job of a lifetime. Few things in life are perfect, but your resume should come pretty close. If you have a friend or family member with a keen eye, ask them to scan your masterpiece, too.
Consider Activities and Professional Organizations
After you've detailed your professional experience, consider the activities or professional organizations of which you are a member. List the associations where you hold a significant position. Pull any information on your leadership abilities, even if you think it sounds silly. If it showcases your leadership abilities, note it in your resume.
You can do this in a short bulleted list. You want to draw the prospective employer's eye to your strengths. So, if you have excellent interpersonal communication skills, you should note it on your resume. If you are a go-getter who is willing to go the extra mile in order to get the job done, then you should note that as well. Specific technical expertise, like software and systems knowledge, is also a strength worthy of a spot on your resume.
Don't make the mistake of thinking your resume is a record of your past. It's a compact instruction manual that shows potential employers where you want to be. While you're including a glimpse into your past work history, you should always think of your resume as a how-to manual for potential employers to invest in.
Once your resume catches the eye of the right hiring manager, it's time to prepare for the first interview. A popular interview question is, "What are your weaknesses?" It's a tricky question because nobody wants to get it wrong. Fear not; here are some examples of weaknesses that'll help you craft the perfect response.