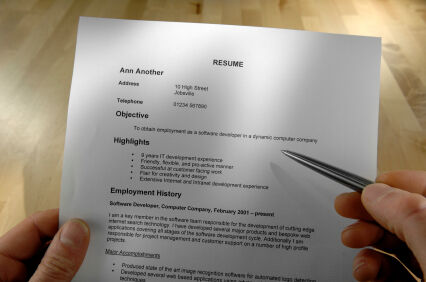 Resume writing is very important. These sheets of paper can pave the way for a dream career. The trouble is many job applicants don't know where to start when it comes to creating a successful resume. We've gathered together our best resume writing examples and advice on structuring your resume to help you score that dream job.
As with many writing tasks, composing a resume is as much about how you write it as what you write. In the case of a resume, it's vital to be as organized and structured as possible. Your prospective employers will spend, at most, a few minutes going over your resume. There are three main ways to organize your resume.
This is probably the most common type of resume. The work history section starts with your current or most recent position, then the job before that, then the job before that, and so on. This is an effective, reliable approach to writing a resume if you have years of experience in the same field. The weakness is that it may not stand out from the crowd; just about everyone writes a chronological resume.

We've provided an example chronological resume that can serve as a template:
This is the choice if you want to feature your skills rather than your experience. Functional resumes order information based on its importance, placing core competencies and areas of expertise first, before listing experience and other skills. This is a dynamic and unusual approach to resume writing, which can be a good thing. It may, however, be a turnoff for a more conventional workplace.
As with the chronological resume, we've provided a functional resume that can serve as an example for your own.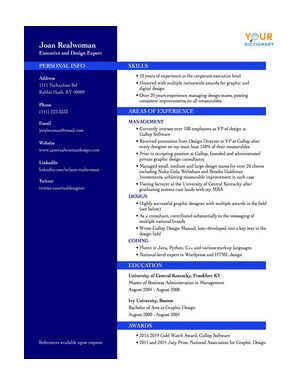 The wonderful thing about resumes is that, unless your prospective employer tells you otherwise, there are no rules. You are welcome to combine chronological and functional structures to your heart's content. You might begin with your core competencies, then list your experience in chronological order. Alternatively, you could use a functional structure, but list years of experience alongside your skills.
Before we sink our teeth into the resume examples below, let's discuss the basic structure of a resume. Here are five of the most important elements:

Objective: Under your name and contact information, it's wise to include a resume objective. This will clarify the type of position you're seeking and demonstrate how your skills are a good fit for the company.
Core Competencies: This makes for a good sidebar. Core competencies refer to your knowledge or expertise in a given area (like "Results Driven Data Analyst").
Education: Highlight any degrees or certifications you've earned, as well as relevant training.
Professional Experience: This is the most important part of your resume. Also known as your work history, this section lists your previous positions (typically with the most recent position at the top), plus the responsibilities and accomplishments you had there.
Skills: Your skills section allows you to showcase what your professional experience couldn't. Here, you'll list specific software programs you've mastered, languages, communication skills, and more.
With these structural elements in mind, let's expand our horizons and explore what formats and styles you can employ for your resume.
To write a successful resume, you have to make it your own. That said, no one said you can't use a little help. Follow the instructions above and, if you're still in need of guidance, review a few more samples and templates from sites like Resume Resource. Look for samples that relate to your industry or desired position.
Better yet, stick with us, we'll show you what you need in an interview-winning resume and cover letter. Take a look at our action words to use in your resume to give your application extra energy. Also, be sure to read up on using keywords in your resume to make sure employers using search software find and prioritize your application. Happy hunting!