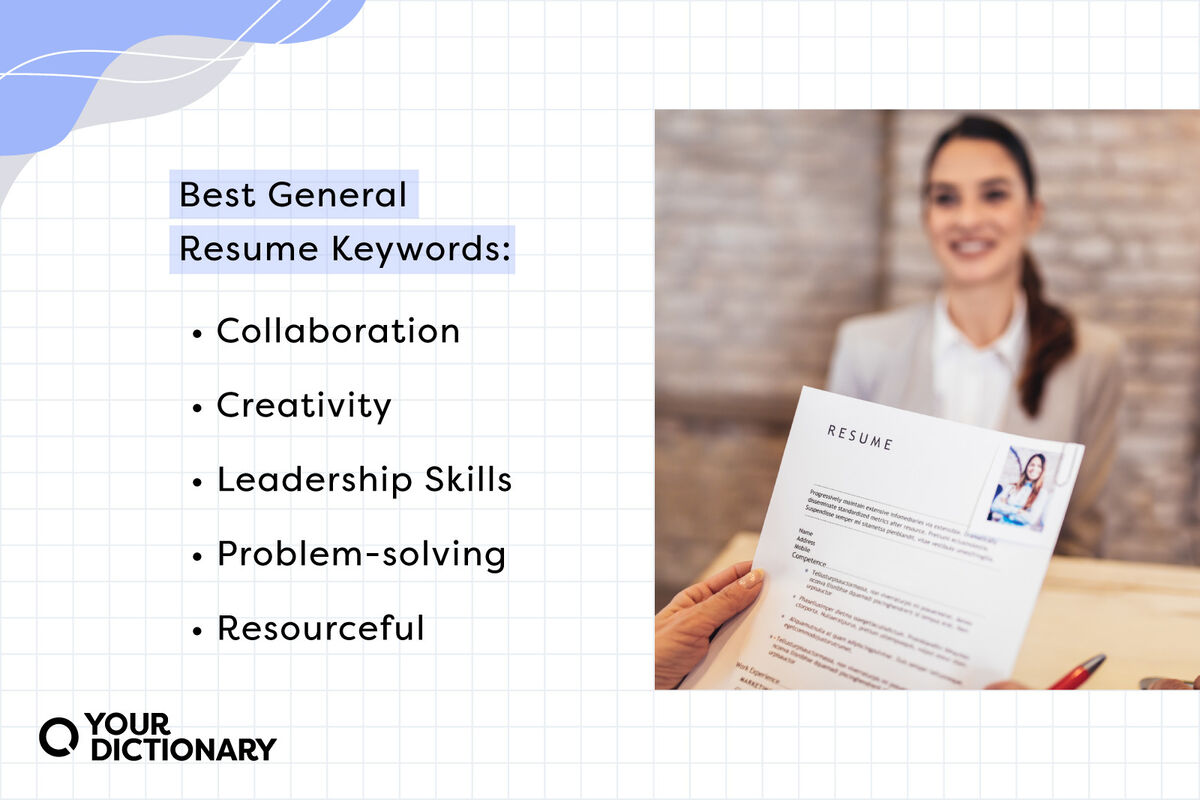 Using resume keywords is an essential way to get attention in a job search. If your resume can't make it past the screening software employers use to quickly narrow down applicants, you'll never get the interview — no matter how experienced you are. Adding several industry-specific keywords can help both automated and human screeners understand what you have to offer.
ATS (Applicant Tracking System) software evaluates resumes based on specific keywords that an employer is looking for. The software then presents the hiring manager with a ranked list of candidates based on who has the most keywords in their resume. The candidates at the top of the list are the ones most often called in for an interview.
ATS software serves several important purposes, including:
eliminating candidates with irrelevant experience
saving hiring managers' time (instead of reviewing hundreds of resumes for one opening)
preventing accusations of bias in the hiring process
As you're writing your resume, you can increase your chances of being granted an interview by including keywords throughout the document. You can include keywords in your professional summary, core competencies, work experience, and education sections. Each word only needs to be used once to be effective, so there's no need to force unnecessary repetition.
No matter what job you're pursuing, most industries value certain "soft skills" — skills that describe the way you work, not necessarily what you can do. Resume keywords that refer to these skills include:
adaptability
agile
attention to detail
collaboration
communication
conflict resolution
creativity
crisis management
critical thinking
customer service
decision making
desire to learn
feedback
interpersonal skills
leadership skills
listening
meets deadlines
mentoring
multi-tasking
organization
problem solving
project management
research
resourcefulness
teamwork
time management
trainable
writing skills
Technical Resume Keywords
In addition to soft skills, you'll want to add common technical keywords to your resume. Technical skills refer to the specific computer programs and platforms, programming languages, or other tools you'd use in a particular job. These resume keywords may include:
Adobe Photoshop
Adobe Premiere Pro
AWS (Amazon Web Services)
Asana
AWeber
CAD software
CNC programming
data
EDM Processes
Google AdWords
Google Analytics
HTML (HyperText Markup Language)
JavaScript
Microsoft 
Network
Python
Ruby (and Ruby on Rails)
Salesforce
SQL (Structured Query Language)
Trello
WordPress
Resume Keywords for Accounting and Finance Jobs
Whether you are applying for an entry-level position as an accounts payable clerk, or you are considering more of a management role within an accounting department, these keywords may be worth including in your resume:
accounts payable
accounts receivable
accuracy
audits
balance sheet
billing
bookkeeping
budget
business plan
capital budgets
cashflow
corporate tax
cost accounting
cost effective
client base
equity underwriting
expense analysis
investor relations
loan management
mergers and acquisitions
payroll administration
purchase accounting
reconciliations
risk management
ROA (Return On Assets)
taxation accounting
taxation compliance
underwriting
valuation
Resume Keywords for Business and Marketing Jobs
Although the buzzwords for business and marketing change quickly, there are several keywords that ATS scans for in order to find appropriate applications. They include:  
acquisitions
automation
branding
brand awareness
business-to-business (B2B)
business-to-client (B2C)
business systems
client relationships
commissioning
conversion
cross-functional
data analysis
data collection
digital marketing
distribution channels
event marketing
internal communications
market research
networking
portfolio management
product marketing
public relations
sales management
scrum
social media marketing
stakeholder
STP (Segmentation, Targeting, Positioning)
strategic direction
Resume Keywords for Jobs in Education
Teachers showcase their skills every day in the classroom. But in order to get the job they want, those in the education industry can use resume keywords to show their strengths.
child development
classroom management
coach
community building
coursework
cross-curricular
curriculum development
differentiation
discipline
educational technology
extracurricular activities
field instruction
hands-on learning
inclusive education
individualized education
instructional technology
integration
interdisciplinary
K-12
literacy
methodologies
parent communication
peer counseling
positive learning environment
SPED (Special Needs Education)
standards-based
strategic planning and leadership
student advocate
writing lesson plans
Resume Keywords for Jobs in Healthcare
Medical technicians, nurses, physicians, specialists — anyone in the healthcare field needs to have a fundamental understanding of the most important keywords to include in a resume. They include:
average response time
BLS (Basic Life Support)
case history reports
caseload management
clinical research
compliance
emergency treatment
EMR (Electronic Medical Record)
end-of-life care
HIPAA (Health Insurance Portability and Accountability Act)
HIT (Healthcare Information Technology)
home care
hospital procedure
hospital protocol
interim management
medical terminology
mental health
nursing staff
nutrition
occupational therapy
outpation
patient care
patient safety
public health
quality of care
satisfaction surveys
surgical equipment
tropical diseases
Resume Keywords for the Hospitality Industry
Owners and managers of hotels and restaurants want customer service to be as smooth as possible, so they hire the most qualified and talented applicants they can find. If this includes you, be sure to include these words:
back office operations
banquet operations
brand management
catering services
club management
conference and meeting planning
CRS (Central Reservation System)
customer experience
event coordination
facility management
food and beverage operations
front-of-house operations
guest relations
guest retention
guest satisfaction
housekeeping operations
kitchen operations
multi-unit operations
occupancy management
policies and procedures
property development
quality assurance
regulatory compliance
service management
special events planning
stock inventory
vendor management
Resume Keywords for Jobs in Human Resources
If you are applying for a job at a human resources firm or within the HR department of a company, these keywords may be relevant:
benefits administration
career path
collective agreement
college recruitment
corporate culture
diversity management
employee involvement
employee relations
executive development
HRIS (Human Resources Information Software)
HR consulting
HR policies
incentive planning
labor relations
onboarding
organizational development
participative management
performance management
personnel 
position classification
recruitment
retention
safety training
succession planning
talent management
team building
union relations
worker's compensation
Resume Keywords for Information Technology Jobs
Those applying for jobs in information technology should list every system in which they are proficient. In addition to these specific technologies, IT resumes should include:
AI (Artificial Intelligence)
application technology
architecture
business analysis
business continuity
C++ programming
certificate authority
channel behavior
code testing
competitive intelligence
customization and configuration
data localization
data mining
database administration
disaster recovery
e-commerce
electronic marketing
encryption
fault analysis
network administration
network solutions
operating system
OSS/BSS (Operational Support Systems/Business Support Systems)
product testing
scalability
SEO (Search Engine Optimization)
system integration
systems deployment
user interface design
wireless
Resume Keywords for Jobs in Law Enforcement
Police officers and lawyers alike need to know the ins and outs of the law enforcement when applying for a job. Including some of these skills may help get that interview:
administrative law
appeal
arrest warrant
case law
client service
community engagement
computer crime
copyright law
confidential documentation
court case management
crime analysis
crime prevention
criminal investigation
criminal law
due diligence
evidence collection
forensic investigation
homeland security
identity theft
intellectual property
legal knowledge
legal research
legislative review
litigation
police surveillance
search and seizure
task force
team leadership
trial law
Resume Keywords for Office Management Jobs
Office administrators and other support staff are valued for the following skills and expertise:
administrative support
budgeting
business operations
data entry
decision making
dependability
event planning
inventory management
invoicing
payroll
planning and organization
problem assessment
quality control
QuickBooks
scheduling
shipping and logistics
task management
team management
typing speed
verbal communication
work ethic
written communication
To search for more keywords that are appropriate for your job search, find four to six job postings of interest and highlight any words or phrases that appear in multiple listings. You can get a good idea of what keywords to include by looking for relevant terms in four different areas: technical skills, soft skills, communication skills, and certifications and licenses. Just be sure that the job description really fits your experience and applicable skills before you apply.
Monitoring the Effectiveness of Resume Keywords
You'll know that you've chosen appropriate keywords for your resume when you start seeing an increase in interview requests. If you find yourself going several weeks without any positive feedback, it may be time to revisit your keyword choices. You might want to consider mixing in some appropriate action words too.
Remember, your resume isn't set in stone. Make adjustments as the need arises to ensure you have an interview-winning resume and cover letter. And, when the big day arrives, here are some smart questions to ask in an interview.