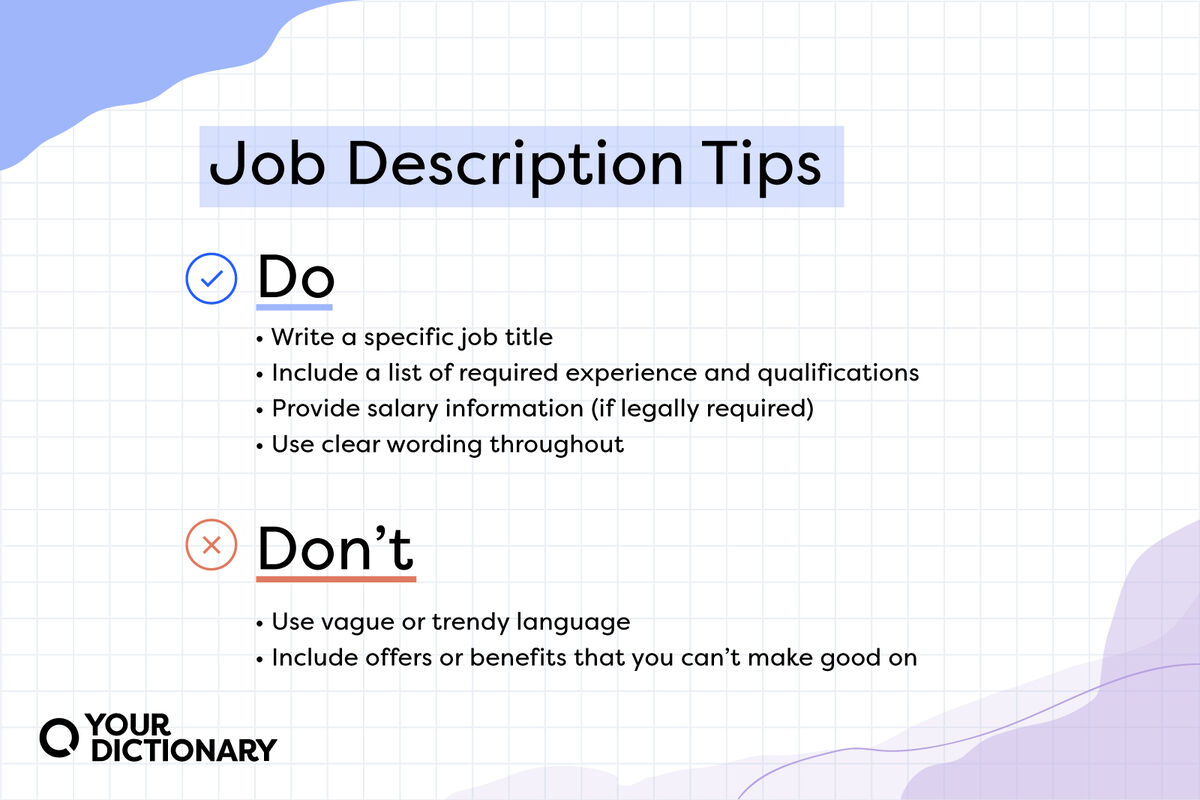 Job descriptions give employers space to get into most of the nuances and little details of the position, from the job's duties to benefits and compensation.
The goal of a job description is to communicate your job's needs while giving a potential candidate enough information to determine if they should actually send in their resume. 
According to HR expert Mary Gormandy White of Inside Insights, Inc., job descriptions are also important tools for recruiters and hiring managers. She explains:
"If you are screening resumes, the information in the job description can help you determine which candidates are qualified. When you are interviewing, reviewing the job description can help you determine what to ask."
What To Include in a Job Description
While there's room for experimentation and brand personality in a JD, a good job description should still include:
A specific job title
A general overview of the job
A brief description of your company
The main duties and responsibilities of the role
Required hours (full-time, weekly, daily, shifts)
Benefits and compensation
Required experience and qualifications
Skills that would be nice to have but aren't deal breakers
Details on how to apply
Note that salary transparency requirements vary from jurisdiction to jurisdiction. Depending on the city or state where your business operates, you may be required to provide a specific salary or salary range. For example, New York City now requires most employers to include salary ranges for job openings.
How To Write A Job Description
Once you have the information above for your company and the position, you can use the template below to build out your full job description. Then, save your template so you can reuse it for new job postings later on.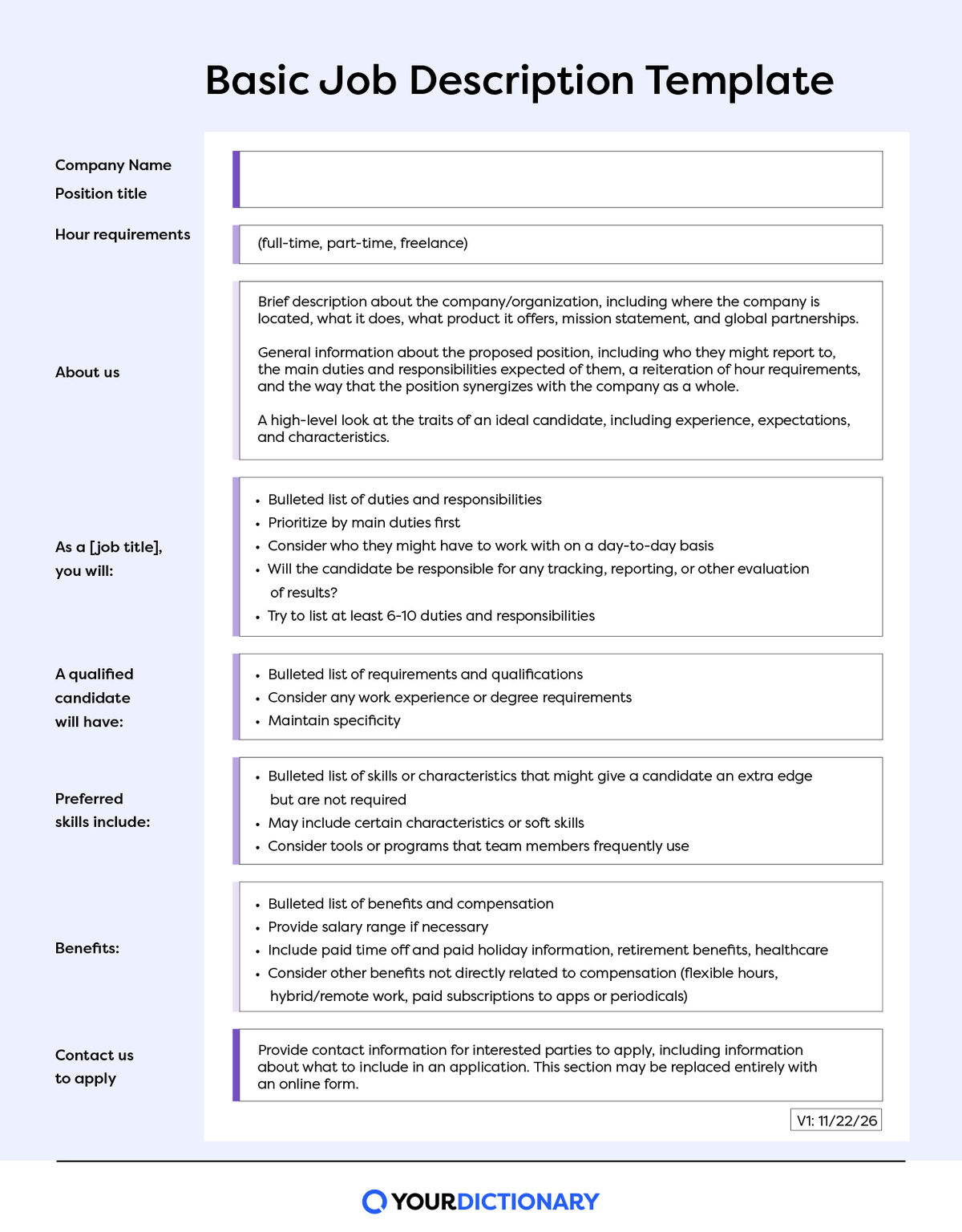 Quick Tip
Another way to make your life easier, says Mary Gormandy White, is to include a footer with a version number and/or the date the template was updated.
"Having this information on the job description — and changing it every time the document is updated — can help make sure that everyone is using the most current version."
Sometimes it's easier to write a job description when you've seen samples that work. Here are some examples of both printed and online job descriptions that may help you format your own.
This is fairly straightforward. Most job seekers are looking based on job title first, so make sure that the job title is accurate.
Don't get too cute with it, and don't worry about making the title sound unique. Most people want transferrable job titles so simple is best. You can check out LinkedIn or Glassdoor to see what other companies call similar roles. Examples include:
Administrative Assistant
Executive Assistant
Communications Manager
Project Manager
Graphic Designer
Program Manager
Backend Developer
Director of Content
Sample Company Description
As mentioned, you only really need to write your company description once (unless there are some major changes within your company). Try not to go overboard, like presenting the complete history of your company. Any interested candidates will probably check your website on their own.
For example, your About Us section might read like this: 
At Helpful Company Inc., our goal is to provide people with the help that they need through our suite of Helpful Products. Headquartered in Seattle, Washington, our brand spans a global audience of users from all vocations and lifestyles in need of that one right thing to make their lives easier. Through extensive collaboration within our team and with our partners, we aim to expand accessibility so that no one ever has to worry about where they will find the next helping hand.
Sample Overview of the Position
This will often appear along with or immediately after the company description. The job overview will typically include a general idea of what the candidate might do, required hours, and general requirements.
Your position overview might sound like this: 
As a project manager at Helpful Company Inc., you will be responsible for maintaining communication between all internal product teams and ensuring that projects are executed accurately and efficiently. This is a 100% remote, full-time position.

An ideal candidate for the project manager position will have at least two years of experience within a digital marketing agency, applied expertise running teams within a fast-paced environment, and an inherent interest in researching new business opportunities.
Examples of Duties and Responsibilities
Most jobs require more than just one thing. If the candidate is working with a team, what will they be doing with that team? What will their basic day look like?
List out all the duties and responsibilities, starting with their main priority and going from there. An example of this type of wording is: 
As a project manager, you will:

Develop and manage project plans and schedules to see all projects from start to finish
Use available project management tools and resources to maintain budget and timelines
Manage and maintain communication between clients/partners and internal teams
Evaluate project deliverables to make sure they uphold company standards while noting areas for improvement
Track and report milestones, budgets, and project successes
Mary Gormandy White shares that the process of identifying the duties and responsibilities that should be included in a job description is called a job analysis.
A job analysis typically requires input from the manager, as well as people who have actually done the job. The job description should include the essential job functions.
Examples of Job Requirements
While you went over basic requirements in the position overview, this is where you list out all the essential requirements. That can include education, experience, knowledge about specific tools or programs, and general characteristics that you might want in a potential candidate.
For example, you might say: 
A qualified candidate will have:

2+ years of experience as a project manager in a digital marketing, product, or other agency setting
A BA or BS in Project Management, English, or Communications
A high-level understanding of product development and direct client relations
A natural ability to work within a team-driven environment
An easy ability to communicate with clients
This is also where you might list out any preferred (but not required) skills. For example: 
Preferred skills include:

Experience with Photoshop and other Adobe Suite tools
Experience with social media
A good sense of humor
Mary Gormandy White further suggests, 
It's also a good idea to include the physical requirements necessary to perform the job. For example, if you're hiring an ice cream scooper, that person will probably need to have the manual dexterity to scoop ice cream and be able to stand and bend throughout their entire shift, due to the nature of the work.
Examples of Benefits and Compensation
Salary information is the main thing that job seekers are looking for, but don't ignore other benefits and forms of compensation.
Examples of benefits include:
100% work from home
Flexible hours
Unlimited paid time off
Paid holidays
401k match program
What Not To Include in a Job Description
As long as you're straightforward, you can be pretty open with what you list on a job description. However, there's some language that just isn't welcome or necessary in a job description.
Avoid vague, trendy, or clever titles in favor of a title that clearly describes the position.
Avoid corporate buzzwords in your job description, and focus on what they really mean.
If you can't actually make good on a benefit or offer, don't include it.
When in doubt, always opt for clear wording to avoid any pitfalls in a job description.