parasol

par·a·sol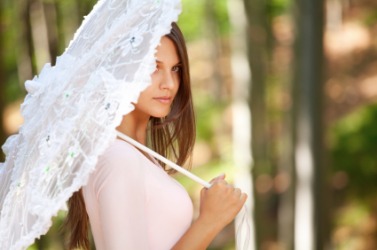 A woman poses with a lacey parasol.
noun
The definition of a parasol is an umbrella used to shade someone from the sun.

An example of a parasol is the frilly umbrella used for shade by a southern belle.
---
parasol
a lightweight umbrella carried as a sunshade
Origin of parasol
French from Italian
parasole
from
parare,
to ward off ( from L, prepare) +
sole
( from Classical Latin
sol
), sun
---
parasol
noun
A light, usually small umbrella carried as protection from the sun.
Origin of parasol
French
from
Italian
parasole
parare
to shield
(
from
Latin
parāre
to prepare
; see
perə-
1
in Indo-European roots.)
sole
sun
(
from
Latin
sōl
; see
sāwel-
in Indo-European roots.)
Related Forms:
---
parasol

---