noun
Shade is an area of darkness caused by an object blocking light from reaching it.

An example of shade is the darkness created by holding an umbrella over your head on a sunny day.
verb
To shade is to protect from light or heat.

An example of shade is to put an open patio umbrella over your lounge chair to protect you and the deck from heat.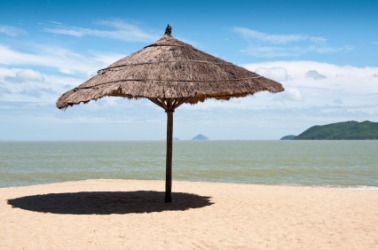 There's a nice shade under this umbrella.
---
shade definition by Webster's New World
noun
comparative darkness caused by a more or less opaque object cutting off rays of light, as from the sun

a place giving protection from the heat and light of the sun, as under a tree
an area less brightly lighted than its surroundings

Archaic

a shadow
a retired or secluded place

an indication or representation of darkness in painting, drawing, photography, etc.
degree of darkness of a color; gradation of a color with reference to its mixture with black: various shades of blue

a small difference or variation: shades of opinion
a slight amount or degree; trace; touch; suggestion: a shade of humor in his voice

Chiefly Literary

a ghost; specter
anything lacking substance or reality; phantom

any of various devices used to protect or screen from light and heat; specif.,

lampshade
☆ window shade

☆

Slang

sunglasses
Origin: Middle English schade ; from Old English sceadu (gen. and amp; dative sceadwe), akin to Gothic skadus ; from Indo-European base an unverified form skot-, darkness, shadow from source Classical Greek skotos, darkness
transitive verb
shaded, shading
to protect or screen from light or heat
to provide with a shade
to hide or screen with or as with a shadow
to make dark, as with a shade or a shadow; darken; dim; obscure

to represent the effects of shade in (a painting, photograph, etc.)
to depict in, or mark with, gradations of light or color

to change by very slight degrees or gradations
☆ to lessen or reduce (a price) slightly
intransitive verb
to change, move, or vary slightly or by degrees
---
shade definition by American Heritage Dictionary
noun
Light diminished in intensity as a result of the interception of the rays; partial darkness.
An area or a space of partial darkness.
Cover or shelter provided by interception by an object of the sun or its rays.
Any of various devices used to reduce or screen light or heat.
shades Slang Sunglasses.
Relative obscurity.
shades

a. Dark shadows gathering at dusk: "The shades of night are falling fast" (Henry Wadsworth Longfellow).

b. The abode of the dead; the underworld.

The part of a picture or photograph depicting darkness or shadow.
The degree to which a color is mixed with black or is decreasingly illuminated; gradation of darkness.
A slight difference or variation; a nuance: shades of meaning.
A small amount; a trace: detected a shade of bitterness in her remarks.
A disembodied spirit; a ghost.
shades A present reminder of a person or situation in the past: shades of my high-school days.
verb
shad·ed
,
shad·ing
,
shades
verb
, transitive
To screen from light or heat.
To obscure or darken.
To cause shade in or on.

a. To represent degrees of shade or shadow in: shade a drawing.

b. To produce (gradations of light or color) in a drawing or picture.

To change or vary by slight degrees: shade the meaning.
To make a slight reduction in: shade prices.
verb
, intransitive
To pass from one quality, color, or thing to another by very slight changes or degrees.
Origin: Middle English, from Old English sceadu.
Related Forms:
The American Heritage® Dictionary of the English Language, 4th edition Copyright © 2010 by Houghton Mifflin Harcourt Publishing Company. Published by Houghton Mifflin Harcourt Publishing Company. All rights reserved.
---
shade - Phrases/Idioms
in the shade
or
into the shade
in (or into) darkness or shadow
in (or into) comparative obscurity, or a position of minor importance
shades of
something reminding one of something (or someone) past shades of Prohibition!
the shades
the increasing darkness, as of evening

the world of the dead; Hades
the disembodied spirits of the dead, collectively