shade

shade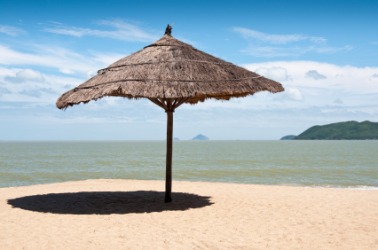 There's a nice shade under this umbrella.
noun
Shade is an area of darkness caused by an object blocking light from reaching it.

An example of shade is the darkness created by holding an umbrella over your head on a sunny day.
verb
To shade is to protect from light or heat.

An example of shade is to put an open patio umbrella over your lounge chair to protect you and the deck from heat.
---
shade
comparative darkness caused by a more or less opaque object cutting off rays of light, as from the sun

a place giving protection from the heat and light of the sun, as under a tree
an area less brightly lighted than its surroundings

Archaic

a shadow
[often pl.] a retired or secluded place

an indication or representation of darkness in painting, drawing, photography, etc.
degree of darkness of a color; gradation of a color with reference to its mixture with black: various shades of blue

a small difference or variation: shades of opinion
a slight amount or degree; trace; touch; suggestion: a shade of humor in his voice

Chiefly Literary

a ghost; specter
anything lacking substance or reality; phantom

any of various devices used to protect or screen from light and heat; specif.,

lampshade
window shade

[pl.]

Slang

sunglasses
Origin of shade
Middle English
schade
from Old English
sceadu
(gen. and dative
sceadwe
), akin to Gothic
skadus
from Indo-European base an unverified form
skot-
, darkness, shadow from source Classical Greek
skotos
, darkness
transitive verb
shad′ed

,

shad′ing
to protect or screen from light or heat
to provide with a shade
to hide or screen with or as with a shadow
to make dark, as with a shade or a shadow; darken; dim; obscure

to represent the effects of shade in (a painting, photograph, etc.)
to depict in, or mark with, gradations of light or color

to change by very slight degrees or gradations
to lessen or reduce (a price) slightly
to change, move, or vary slightly or by degrees
in the shade
in (or into) darkness or shadow
in (or into) comparative obscurity, or a position of minor importance
shades of
an exclamation used to refer to something reminding one of something (or someone) past: shades of Prohibition!
the shades
the increasing darkness, as of evening

the world of the dead; Hades
the disembodied spirits of the dead, collectively
---
shade
noun
Light diminished in intensity as a result of the interception of the rays; partial darkness.
Cover or shelter provided by interception by an object of the sun or its rays: sat in the shade under the tree.
The part of a picture or photograph depicting darkness or shadow.

a. A gradation of a color as it is mixed with black or is decreasingly illuminated: shades of gray.

b.

A slight difference or variation; a nuance:

shades of meaning.

See Synonyms at

nuance

.

c. A small amount; a trace: detected a shade of bitterness in her remarks.

a. Any of various devices used to reduce or screen light or heat: closed the window shades.

b. shades Informal Sunglasses.

shades

a. Dark shadows gathering at dusk: "The shades of night are falling fast" ( Henry Wadsworth Longfellow )

b. The abode of the dead; the underworld: went to the shades of hell.

a. A disembodied spirit; a ghost.

b. shades A present reminder of a person or situation in the past: shades of my high-school days.
verb
shad·ed, shad·ing, shades
verb
transitive
To screen from light or heat: Trees shaded the street.
To obscure or darken: "A sliver of mustache shaded his upper lip" ( Michael Finkel )

a. To represent degrees of shade or shadow in: shade a drawing.

b. To produce (gradations of light or color) in a drawing or picture: shaded the pink in the sunset.

To change or vary by slight degrees: shade the meaning.
To make a slight reduction in: shade prices.
verb
intransitive
To pass from one quality, color, or thing to another by very slight changes or degrees.
Origin of shade
Middle English
from
Old English
sceadu
Related Forms:
---
shade

Noun
(countable and uncountable, plural shades)
(uncountable) Darkness where light, particularly sunlight, is blocked.

The old oak tree gave shade in the heat of the day.

(countable) Something that blocks light, particularly in a window.

Close the shade, please: it's too bright in here.

(countable) A variety of a colour/color, in particular one obtained by adding black (compare tint).

I've painted my room in five lovely shades of pink and chartreuse.

(figuratively) A subtle variation in a concept.

shades of meaning

(figuratively) An aspect that is reminiscent of something.

shades of Groucho

(archaic or literary) A ghost.

Too long have I been haunted by that shade.

(archaic) A creature that is partially human and partially angel.

He was attacked by a shade.

(countable) A postage stamp showing an obvious difference in colour/color to the original printing and needing a separate catalogue/catalog entry.
(uncountable, gay slang) Subtle insults.

throw shade
Origin
From Old English sceadu.
Verb
(third-person singular simple present shades, present participle shading, simple past and past participle shaded)
To shield from light.

The old oak tree shaded the lawn in the heat of the day.

To alter slightly.

You'll need to shade your shot slightly to the left.
Most politicians will shade the truth if it helps them.

(intransitive) To vary slightly, particularly in color.

The hillside was bright green, shading towards gold in the drier areas.

(intransitive, baseball, of a defensive player) To move slightly from one's normal fielding position.

Jones will shade a little to the right on this pitch count.
Origin
From Old English sceadwian.
---