trim

trim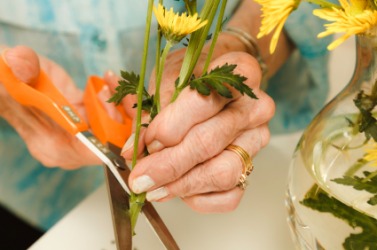 A woman trims flowers to make an arrangement.
adjective
The definition of trim is neat in appearance or in excellent physical shape.

An example of trim is a clean shaven face.
An example of trim is a lean and muscular person.
noun
Trim is defined as material used for decoration.

An example of trim is garland around the Christmas tree.
verb
Trim means to remove, cut or decorate.

An example of to trim is to shorten the stems of flowers.
---
trim
transitive verb
trimmed

,

trim′ming
Obs.

to prepare; fit out; dress
to put in proper order; make neat or tidy, esp. by clipping, lopping, etc.: to trim one's mustache
to clip, lop, cut, etc.: often with off: to trim dead branches off a tree
to cut (something) down to the required size or shape

to decorate or embellish as by adding ornaments, contrasting materials, etc.: to trim a Christmas tree
to arrange an attractive display of merchandise in or on: to trim a store window

to balance (a ship) by adjusting ballast, shifting cargo, etc.
to adjust (a sail) for efficient sailing

to balance (a flying aircraft) by adjusting stabilizers, tabs, etc.
to modify according to expediency; adjust; adapt

to scold; chide; rebuke
to beat, punish, thrash, etc.
to defeat decisively
to cheat
Origin of trim
via Middle English dialect, dialectal from Old English
trymman,
to make firm, set in order, array from
trum,
strong, firm: for Indo-European base see tree
to change one's opinions or viewpoint so as to satisfy opposing factions, etc.; compromise
to change one's opinions or viewpoint opportunistically
order; arrangement; condition: in proper trim
good condition or order: to keep in trim for sports
equipment; gear; dress
a trimming by clipping, cutting, etc.

window dressing
decorative molding or borders, esp. around windows and doors
the interior furnishings or the exterior ornamental metalwork of an automobile
any ornamental trimming: a dress with lace trim

the position of a ship in the water in relation to the horizontal, esp. a fore-and-aft horizontal axis
correct position in the water: a ship is

in trim

if stable and floating on an even keel,

out of trim

if not
the degree of buoyancy of a submarine

the position of an airplane in relation to a fore-and-aft horizontal axis
something that is trimmed, as a section of film (noun) cut out in editing

Obs.

character (of a person)
adjective
trim′mer

,

trim′mest
orderly; neat; tidy
well-proportioned; smartly designed
in good condition
adverb
trim′mer

,

trim′mest
in a trim manner
trim one's sails
to adjust one's opinions, actions, expenditures, etc. to meet changing conditions
---
trim
verb
trimmed, trim·ming, trims
verb
transitive
To make neat or tidy by clipping, smoothing, or pruning: trimmed his moustache; trimmed the hedges.

a. To remove the excess or unwanted parts from: trimmed the pie crust; trimmed the budget.

b. To remove (excess or unwanted parts): trimmed the rotten wood; trimmed the fat from the budget.

c. To lose (weight or fat) deliberately, as by exercise or dieting.

a. To decorate, especially by adding a border or contrasting element: trim a blouse.

b. To arrange with display items: trim a store window.

Informal

a. To thrash; beat.

b. To defeat soundly: trimmed their opponents in the first game.

c. To cheat out of money: trimmed him of every dollar he had.

d. To rebuke; scold.

Nautical

a. To adjust (the sails and yards) so that they receive the wind properly.

b. To balance (a ship) by shifting its cargo or contents.

To balance (an aircraft) in flight by regulating the control surfaces and tabs.
verb
intransitive
Nautical

a. To be in or retain equilibrium.

b. To make sails and yards ready for sailing.

a. To affect or maintain cautious neutrality.

b. To fashion one's views for momentary popularity or advantage.

To lose weight deliberately. Often used with down.
noun
a. A cutting or clipping to make neat: My hair needs a trim.

b. An excess or unwanted part that has been removed: cut off the trim.

a. State of order, arrangement, or appearance; condition: in good trim.

b. A condition of good health or fitness: keeping her body in trim.

a. Exterior ornamentation, such as moldings or framework, on a building or vehicle.

b. Decoration or ornament, as for clothing.

c. Material used in commercial window displays.

often trims Excised or rejected material, such as film that has been cut in editing.
Nautical

a. The readiness of a vessel for sailing with regard to ballast, sails, and yards.

b. The balance of a ship.

c. The difference between the draft at the bow and at the stern.

The balance of rotational forces around the various axes of an aircraft in flight.
adjective
trim·mer, trim·mest
a. In good or neat order.

b. In good physical condition; fit; slim: a trim figure.

Having lines, edges, or forms of neat and pleasing simplicity.
adverb
In a trim manner.
Origin of trim
Middle English
trimmen
to make firm
from
Old English
trymman
from
trum
strong
; see
deru-
in Indo-European roots.
Related Forms:
---
trim

Verb
(third-person singular simple present trims, present participle trimming, simple past and past participle trimmed)
To reduce slightly; to cut; especially, to remove excess; e.g. 'trim a hedge', 'trim a beard'.

Place the screen material in the frame, secure it in place, and trim the edges.
The company trimmed jobs for the second time this year.

To decorate or adorn; especially, to decorate a Christmas tree.

They traditionally trim the tree on Christmas Eve.

(nautical) To modify the angle of a vessel to the water by shifting cargo or ballast; to adjust for sailing; to assume, or cause a vessel to assume, a certain position, or trim, in the water. (FM 55-501).
(nautical) To modify the angle of a vessel's sails relative to the wind, especially to set the sails to the most advantageous angle.
To make trim; to put in due order for any purpose; to make right, neat, or pleasing; to adjust.
(carpentry) To dress (timber); to make smooth.
Noun
(plural trims)
(uncountable) Decoration; especially, decoration placed along edges or borders.

Paint the house white with blue trim.

(countable) A haircut, especially a moderate one to touch up an existing style.

I went to the hairdresser for a trim but came back nearly bald.

Dress; gear; ornaments.
(countable) The manner in which something is equipped or adorned; order; disposition.

The car comes in three different trims.
to be in good trim

(uncountable, slang, mildly vulgar) Sexual intercourse.
(nautical) The fore-and-aft angle of the vessel to the water, with reference to the cargo and ballast; the manner in which a vessel floats on the water, whether on an even keel or down by the head or stern.
(nautical) The arrangement of the sails with reference to the wind.
Adverb
(not comparable)
(nautical) In good order, properly managed or maintained.
(nautical) With sails well trimmed.
Usage notes
More often used in combinations, eg, "trim-sailed".
Origin
Old English trymman
---