compromise

com·pro·mise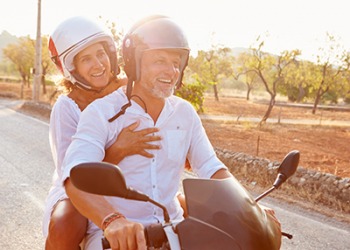 Nora made a compromise with her husband that if he helped with her with the Saturday morning chores then she would go on an afternoon motorcycle ride with him.
noun
The definition of a compromise is when two sides give up some demands to meet somewhere in the middle.

An example of compromise is a teenager wanting to come home at midnight, while their parent wants them to come home at 10pm, they end up agreeing upon 11pm.
verb
Compromise means to give up some demands and agree on something less than what was originally wanted.

An example of compromise is a very clean person deciding they don't need to mop everyday in order to have some quality family time.
---
compromise
a settlement in which each side gives up some demands or makes concessions

an adjustment of opposing principles, systems, etc. by modifying some aspects of each
the result of such an adjustment

something midway between two other things in quality, effect, etc.

exposure, as of one's reputation, to danger, suspicion, or disrepute
a weakening, as of one's principles
Origin of compromise
Middle English and Old French
compromis
from Late Latin
compromissum,
a compromise, mutual promise from Classical Latin
compromissus,
past participle of
compromittere,
to make a mutual promise to abide by an arbiter's decision from
com-,
together +
promittere,
to promise
transitive verb
-·mised·

,

-·mis·ing
to settle or adjust by concessions on both sides
to lay open to danger, suspicion, or disrepute
to weaken or give up (one's principles, ideals, etc.) as for reasons of expediency

Med.

to weaken or otherwise impair: drugs that compromised his immune system
to make a compromise or compromises
---
compromise
noun
a. A settlement of differences in which each side makes concessions.

b. The result of such a settlement.

Something that combines qualities or elements of different things: The incongruous design is a compromise between high tech and early American.
A weakening or reduction of one's principles or standards: a compromise of morality.
Impairment, as by disease or injury: physiological compromise.
verb
com·pro·mised, com·pro·mis·ing, com·pro·mis·es
verb
intransitive
To arrive at a settlement by making concessions.
To reduce the quality, value, or degree of something, such as one's ideals.
verb
transitive
a. To expose or make liable to danger, suspicion, or disrepute: a secret mission that was compromised and had to be abandoned.

b. To reduce in quality, value, or degree; weaken or lower: Don't compromise your standards.

To impair, as by disease or injury: an immune system that was compromised by a virus.
To settle by mutual concessions: a dispute that was compromised.
Origin of compromise
Middle English
compromis
from
Old French
from
Latin
comprōmissum
mutual promise
from
neuter past participle of
comprōmittere
to promise mutually
com-
com-
prōmittere
to promise
; see
promise
.
Related Forms:
---
compromise

---
compromise - Computer Definition

The negotiated settlement to a dispute in which at least some of the parties agree to accept less than they originally wanted.Typically, none of the parties that make concessions in the spirit of compromise is ecstatic about the settlement, but all can accept it.The standards-making process is characterized by compromise, with multiple manufacturers, governments, and other interested parties lobbying to enhance their individual positions and ultimately compromising on a specification that often is not the optimum technical solution, but is acceptable to a majority.
---
compromise - Legal Definition
n
An agreement between two or more parties to settle differences between them by mutual concessions.
n
The result of such concessions.
v
To end a dispute by compromise.
v
To adjust by concessions.
n
Something midway between two or more conflicting, different, or opposing things.
n
A partial payment made by a debtor in exchange for the creditor's promise not to seek payment of the remainder owed or claimed.
---