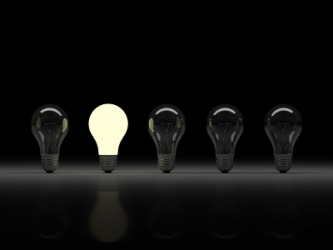 The difference between one bulb and the others is that it's lit.
noun
Difference is defined as the features that make one thing distinct from another or the condition of when a change is made.

An example of difference is black and white.
An example of difference is when you want to change the world.
---
difference
condition, quality, fact, or instance of being different
the way in which people or things are different; esp., a determining point or factor that makes for a distinct change or contrast

the state of holding a differing opinion; disagreement
the point at issue; point of disagreement

a dispute; quarrel
a discrimination or distinction in preference
a significant effect on or change in a situation

Math.

the amount by which one quantity differs from another; remainder left after subtraction
Origin of difference
Middle English from Old French from Classical Latin
differentia
from
differens
, present participle of
differre
: see differ
transitive verb
-·enced

,

-·enc·ing
Rare
to distinguish as or make different
(it's the) same difference
Slang
there is no difference
make a difference
to have an effect; matter
to change the outlook or situation
make no difference
to have no effect; not matter
split the difference
to share the remainder equally
to make a compromise
what's the difference?
Informal
what does it matter?
---
difference
noun
The quality or condition of being unlike or dissimilar.

a. An instance of disparity or unlikeness: There is a big difference in sound between a clarinet and an oboe.

b. A degree or amount by which things differ: a difference in height of three inches.

A noticeable change or effect: Exercise has made a difference in her health.
A disagreement or controversy: Let's settle our differences.
Discrimination in taste or choice; distinction: In this case, the law should make no difference between young and old.
Mathematics

a. The amount by which one quantity is greater or less than another.

b. The amount that remains after one quantity is subtracted from another.
transitive verb
dif·fer·enced, dif·fer·enc·ing, dif·fer·enc·es
To distinguish or differentiate.
---
difference

Noun
(countable and uncountable, plural differences)
(uncountable) The quality of being different.

You need to learn to be more tolerant of difference.

(countable) A characteristic of something that makes it different from something else.

There are three differences between these two pictures.

(countable) A disagreement or argument.

We have our little differences, but we are firm friends.

(countable, uncountable) Significant change in or effect on a situation or state.

It just won't make much difference to me.
It just won't make much of a difference to anyone.

(countable) The result of a subtraction; sometimes the absolute value of this result.
(heraldry) An addition to a coat of arms to distinguish two people's bearings which would otherwise be the same. See augmentation and cadency.
(logic) The quality or attribute which is added to those of the genus to constitute a species; a differentia.
Verb
(third-person singular simple present differences, present participle differencing, simple past and past participle differenced)
To distinguish or differentiate.

(The addition of quotations indicative of this usage is being sought):
Origin
From Middle English, from Old French difference, from Latin differentia ("difference"), from differens ("different"), present participle of differre
See also:
différence
---