identity

i·den·ti·ty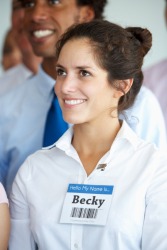 Your name is part of your identity.
noun
The definition of identity is who you are, the way you think about yourself, the way you are viewed by the world and the characteristics that define you.

An example of identity is a person's name .
An example of identity are the traditional characteristics of an American.
---
identity
noun
pl.
-·ties
the condition or fact of being the same or exactly alike; sameness; oneness: groups united by identity of interests

the condition or fact of being a specific person or thing; individuality
the characteristics and qualities of a person, considered collectively and regarded as essential to that person's self-awareness
the condition of being the same as a person or thing described or claimed

Math.

an equation which is true for all permissible sets of values of the variables which appear in it: Ex.: x – y = (x + y) (x – y)
Origin of identity
French
identité
from Late Latin
identitas
, coined (prob. influenced, influence by Late Latin
essentitas
, essence) from Classical Latin
idem
, the same, akin to Sanskrit
idám
, the same from Indo-European base an unverified form
e-, an unverified form ei-
, he, that from source Sanskrit
ayám
, Old Irish
?
, Gothic
is
, he
---
identity
noun
pl.
i·den·ti·ties
a. The condition of being a certain person or thing: What is the identity of the author of the manuscript?

b. The set of characteristics by which a person or thing is definitively recognizable or known: "The identity of the nation had … been keenly contested in the period of nationalist opposition to Imperial rule" ( Judith M. Brown )

c. The awareness that an individual or group has of being a distinct, persisting entity: "He felt more at home thousands of miles from Britain than he did in an English village four miles from his home … Was he losing his identity?" ( Robert Fallon )

a. The fact or condition of being the same as something else: The identity of the two handwriting samples was established by an expert.

b. The fact or condition of being associated or affiliated with something else: the identity between mass and energy.

Information, such as an identification number, used to establish or prove a person's individuality, as in providing access to a credit account.
Mathematics

a. An equation that is satisfied by any number that replaces the letter for which the equation is defined.

b. Identity element.
Origin of identity
French
identité
from
Old French
identite
from
Late Latin
identitās
from
Latin
idem
the same
(
influenced by
Late Latin
essentitās
being,
) (
identidem
repeatedly
)
from
id
it
; see
i-
in Indo-European roots.
---
identity

Noun
(plural identities)
The sameness some individuals share to make up the same kind or universal.
The difference or character that marks off an individual from the rest of the same kind, selfhood.
A name or persona—the mask or appearance one presents to the world—by which one is known.

This criminal has taken on several identities

Knowledge of who one is.

I've been through so many changes, I have no sense of identity.
This nation has a strong identity.

(algebra) An element of an algebraic structure which, when applied to another element under an operation in that structure, yields this, second element.
terms etymologically related to "identity"
---
identity - Computer Definition
---
identity - Legal Definition
n
A sameness between two items or designs such that one violates patent rights held by the other.
---