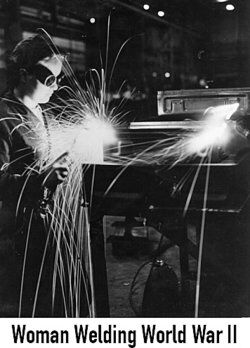 Betty Friedan, the famous writer and woman's activist was the one who said, "Who knows what women can be when they are finally free to become themselves." She published this quote in her book The Feminine Mystique, the book that sparked the new feminist movement in 1963.
Friedan and the Woman's Movement
The women's movement that began in the 1960s was one of the unseen consequences of World War II. During the war effort, men all across the country joined the military to defeat the Axis powers. As a result, many companies suffered personnel shortages. To support their country and themselves, many women joined the workforce, gaining careers and identities outside the home. After the men returned from war, many women were forced out of the job market.
At a Smith College alumni reunion in 1942, Betty Friedan noted how unhappy many of her female classmates seemed as many women only had status and identity through their husbands or children. This realization spurred Friedan to research the topic of women's identity. She interviewed women and performed other qualitative investigations to determine how women's identities formed over time.
Betty Friedan posed the question "Who knows what women can be when they are finally free to become themselves," in her book, The Feminine Mystique, which reported the results of her informal investigation. The entire quote was:
Who knows what women can become when they are finally free to become themselves. Who knows what women's intelligence will contribute when it can be nourished without denying love? The time is at hand when the voices of the feminine mystique can no longer drown out the inner voice that is driving women to become complete.
The book and her work were met with some support and some criticism. Many women found justification for their unhappiness in her book. However, critics panned her lack of scientific rigor because much of her work cannot be recreated. She also focused exclusively on the plight of middle-class white women and ignored some pro-feminist ideology that was being published in mainstream magazines.
Betty Friedan made several famous moves in the public sphere before her death in 2006. In 1971, with the help of other feminist activists such as Gloria Steinem, Fannie Lou Hamer, and Myrlie Evers-Williams, she formed the National Women's Political Caucus. This group still exists today, and the main goal of the movement is now to get women into positions of political power.
See more Betty Friedan quotes