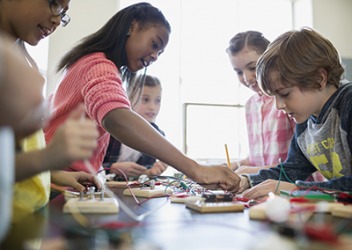 The students are on step four of the scientific method by conducting an experiment.
noun
Scientific method is a well documented, carefully controlled experiment that applies logic, order, and critical thinking skills to solving problems and finding new information.

Steps to the Scientific Method

Ask a question to define the problem or issue you wish to resolve.
Do background research to learn what others have discovered about your topic.
Construct a hypothesis to determine how you think your questions should be answered.
Test your hypothesis by conducting an experiment.
Analyze the data you have collected during the experiment.
Formulate a conclusion based on your research and the data you've gathered from your experiment.
Communicate your results to others who have an interest in the topic.

An example of scientific method is a very detailed step by step list of what must be considered and done when changing a lightbulb.
---
scientific method
a method of research in which a hypothesis is tested by means of a carefully documented control experiment that can be repeated by any other researcher
---
scientific method
noun
The principles and empirical processes of discovery and demonstration considered characteristic of or necessary for scientific investigation, generally involving the observation of phenomena, the formulation of a hypothesis concerning the phenomena, experimentation to test the hypothesis, and development of a conclusion that confirms, rejects, or modifies the hypothesis.
---
scientific-method

Noun
(plural scientific methods) (generally referred to in the definite, as the scientific method)
(sciences) A method of discovering knowledge about the natural world based in making falsifiable predictions (hypotheses), testing them empirically, and developing theories that match known data from repeatable physical experimentation.
---