remainder

re·main·der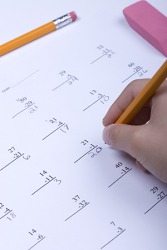 Troy took his time finding the remainder of the subtraction problems on the math worksheet.
adjective
The definition of remainder is leftover.

An example of remainder used as an adjective is in the phrase "remainder items from the sale," which means leftover items from the sale.
noun
Remainder is defined as what is left after some is removed.

An example of a remainder is the number two in the equation ten minus eight.
verb
Remainder means to sell as leftover items.

An example of remainder is to sell items leftover from a closed store.
---
remainder
those remaining
what is left when a part is taken away; the rest
a copy or number of copies of a book still held by a publisher when the sale has fallen off, usually disposed of at a greatly reduced price

Law

an estate of expectancy but not in possession, as when land is conveyed by the same deed to one person while alive and at death to another and that person's heirs

Math.

what is left when a smaller number is subtracted from a larger
what is left undivided when one number is divided by another that is not one of its factors
Origin of remainder
Middle English
remaindre
from Anglo-French substantive use of Old French infinitive : see remain
to sell (books, etc.) as remainders
---
remainder
noun
Something left over after other parts have been taken away.
Mathematics

a. The number left over when one integer is divided by another: The remainder plus the product of the quotient times the divisor equals the dividend.

b. The number obtained when one number is subtracted from another; the difference.

Law An estate in property that takes effect after the expiration of another estate, as where one party is given the right to occupy a property for that party's lifetime, and then another party is given the same right after the first party's death.
A book that remains with a publisher after sales have fallen off, usually sold at a reduced price.
transitive verb
re·main·dered, re·main·der·ing, re·main·ders
To sell or dispose of as a remainder.
Origin of remainder
Middle English
second party's right of ownership
from
Anglo-Norman
from
remeindre
to remain
variant of
Old French
remaindre, remainer
; see
remain
.
---
remainder

---
remainder - Legal Definition
n
The part of a decedent's estate that is not otherwise specifically bequeathed in a will; a future interest vested in a third person, and intended to occur after the termination of the preceding estate(s). For instance if a grant is made "to Bob for life, and then to Erica," Erica's interest upon the death of Bob is the remainder.
contingent (executory) remainder
A remainder given to a person only if certain conditions are met; one given to a person not yet born; or one left to a living person whose identity is yet to be determined.
vested remainder
One going to a person in existence and without preceding condition for immediate possession, but then passed along to another. In the preceding example, Erica has a vested remainder upon the death of Bob.
---