change

change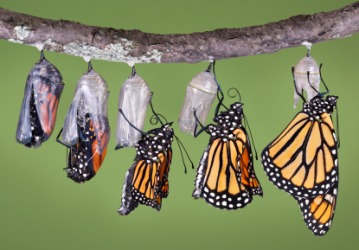 A butterfly completing its change from a caterpillar.
noun
The definition of a change is the act becoming different.

An example of change is how a flower looks the morning after it blooms.
verb
Change means to replace one thing for another or to become different.

An example of change is someone getting five one dollar bills for a five dollar bill.
An example of change is someone getting a new hair cut.
An example of change is a girl becoming a woman.
---
change
transitive verb
changed

,

chang′ing
to put or take (a thing) in place of something else; substitute for, replace with, or transfer to another of a similar kind: to change one's clothes, to change jobs
to give and receive reciprocally; exchange; switch: let's change seats

to cause to become different; alter; transform; convert: success changed him
to undergo a variation of: leaves change color

to give or receive the equivalent of (a coin or bank note) in currency of lower denominations or in foreign money
to put a fresh, replacement covering, as a diaper or bedclothes, on
Origin of change
Middle English
changen
from Old French
changier
from Late Latin
cambiare
from Classical Latin
cambire
, to exchange, barter from Celtic (as in Old Irish
camb
) from Indo-European base an unverified form
kamb-
, to bend, crook (from source Welsh
cam
, Breton
kamm
, crooked)
to become different; alter; vary: the scene changes
to undergo alteration or replacement

to pass from one phase to another, as the moon
to become lower in range: said specif. of the male voice at puberty
to leave one train, bus, etc. and board another
to put on other clothes
to make an exchange
the act or process of substitution, alteration, or variation
absence of monotony; variety
something that is or may be substituted; something of the same kind but new or fresh
another set of clothes, esp. a fresh set to put on

money returned as the difference between the price of something bought and the bill or coin of larger denomination given in payment
a number of coins or bills whose total value equals a single larger coin or bill
coins of small denomination

a place where merchants meet to do business; exchange
[usually pl.] in bell ringing, any pattern or order in which the bells may be rung
ring the changes
to ring a set of bells with all possible variations
to do or say a thing in many and various ways
---
change
verb
changed, chang·ing, chang·es
verb
transitive
a. To cause to be different: change the spelling of a word.

b. To give a completely different form or appearance to; transform: changed the yard into a garden.

To give and receive reciprocally; interchange: change places.
To exchange for or replace with another, usually of the same kind or category: change one's name; a light that changes colors.

a. To lay aside, abandon, or leave for another; switch: change methods; change sides.

b. To transfer from (one conveyance) to another: change planes.

To give or receive the equivalent of (money) in lower denominations or in foreign currency.
To put a fresh covering on: change a bed; change the baby.
verb
intransitive
To become different or undergo alteration: He changed as he matured.
To undergo transformation or transition: The music changed to a slow waltz.
To go from one phase to another, as the moon or the seasons.
To make an exchange: If you prefer this seat, I'll change with you.
To transfer from one conveyance to another: She changed in Chicago on her way to the coast.
To put on other clothing: We changed for dinner.
To become deeper in tone: His voice began to change at age 13.
noun
The act, process, or result of altering or modifying: a change in facial expression.
The replacing of one thing for another; substitution: a change of atmosphere; a change of ownership.
A transformation or transition from one state, condition, or phase to another: the change of seasons.
Something different; variety: ate early for a change.
A different or fresh set of clothing.

a. Money of smaller denomination given or received in exchange for money of higher denomination.

b. The balance of money returned when an amount given is more than what is due.

c. Coins: had change jingling in his pocket.

Music

a. A pattern or order in which bells are rung.

b. In jazz, a change of harmony; a modulation.

A market or exchange where business is transacted.
Phrasal Verbs:
change off
To alternate with another person in performing a task.To perform two tasks at once by alternating or a single task by alternate means.
Origin of change
Middle English
changen
from
Norman French
chaunger
from
Latin
cambiāre, cambīre
to exchange
probably of Celtic origin
---
change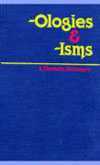 anabolism
constructive metabolism.
cainotophobia
misoneism.
catabolism
1.
the metabolic process in which energy is liberated for use in work.
2.
destructive metabolism.
catalysis
the process of an agent that affects a chemical or other reaction without being itself changed or affected. See also
decaying
. —
catalyst
, n.
metabolism
the chemical and physical processes in an organism by which protoplasm is produced, sustained, and then decomposed to make energy available. Also,
Rare
.
metaboly
. —
metabolize
,
v
.
metamorphism
change in form, structure, shape, appearance, etc. See also
geology
. —
metamorphic
,
adj
.
metamorphosis
1.
change in form, structure, appearance, etc.
2.
magical transformation. —
metamorphic, metamorphous
,
adj
.
metaphysis
a change of form or type.
misoneism
an abnormal dislike of novelty or innovation. Also called
neophobia, cainotophobia, cainophobia.
neophobia
misoneism.
physis
1.
the principle or concept of growth and change in nature.
2.
nature considered as the source of growth and change.
3.
something that grows or develops.
transmogrification
the process of complete and usually extreme or grotesque change from one state or form to another.
transmutation
the process or act of change, especially from one thing to another, as the change from base metal to gold, pursued by the alchemists. —
transmutationist
,
n
. —
transmutative
,
adj
.
---
change

Noun
(plural changes)
(countable) The process of becoming different.

The product is undergoing a change in order to improve it.

(uncountable) Small denominations of money given in exchange for a larger denomination.

Can I get change for this $100 bill please?

(countable) A replacement, e.g. a change of clothes
(uncountable) Money given back when a customer hands over more than the exact price of an item.

A customer who pays with a 10-pound note for a £9 item receives one pound in change.

(countable) A transfer between vehicles.

The train journey from Bristol to Nottingham includes a change at Birmingham.
Usage notes
Adjectives often applied to "change": big, small, major, minor, dramatic, drastic, rapid, slow, gradual, radical, evolutionary, revolutionary, abrupt, sudden, unexpected, incremental, social, economic, organizational, technological, personal, cultural, political, technical, environmental, institutional, educational, genetic, physical, chemical, industrial, geological, global, local, good, bad, positive, negative, significant, important, structural, strategic, tactical.
Origin
As a noun, from Middle English cha(u)nge, from Anglo-Norman chaunge, from Old French change, from a derivative of the verb changier. See below for the verb form. See also exchange.
Verb
(third-person singular simple present changes, present participle changing, simple past and past participle changed)
(intransitive) To become something different.

The tadpole changed into a frog.   Stock prices are constantly changing.

(ergative) To make something into something different.

The fairy changed the frog into a prince.   I had to change the wording of the ad so it would fit.

To replace.

Ask the janitor to come and change the lightbulb.   After a brisk walk, I washed up and changed my shirt.

(intransitive) To replace one's clothing.

You can't go into the dressing room while she's changing.   The clowns changed into their costumes before the circus started.

(intransitive) To transfer to another vehicle (train, bus, etc.)
(archaic) To exchange.
Origin
As a verb, via Middle English cha(u)ngen, from Anglo-Norman chaunger, from Old French changier (compare modern French changer), from Late Latin cambiāre, from Latin cambīre, present active infinitive of cambiō ("exchange, barter"), of Celtic origin, from Proto-Celtic *kamb- ("crooked, bent"), from Proto-Indo-European *(s)ḱamb-, *(s)kamb- ("crooked"). Cognate with Italian cambiare, Portuguese cambiar, Romanian schimb, Spanish cambiar. Used in English since the 13th Century.
See also:
changé
---