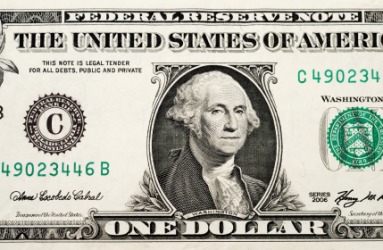 The United States one dollar bill.
---
dollar
noun
☆ the basic monetary unit of the U.S., equal to 100 cents: symbol, $: certain other countries, as Ecuador, Panama, El Salvador, and the Marshall Islands, have officially adopted this monetary unit
any of the standard monetary units of various other countries, as of Australia, Barbados, and Canada
the Mexican peso
a coin or piece of paper money of the value of a dollar

Obsolete

a Spanish coin (piece of eight) used in American Revolutionary times
Origin of dollar
Low German and amp; Flemish
daler
; from German
thaler
(now
taler
), contr. ; from
Joachimsthaler
, coin made (orig. in 1519) at (St.)
Joachimstal
, Bohemia ; from (St.)
Joachim
+
thal, tal
, valley: see dale
---
dollar
noun
See Table at currency.
A coin or note that is worth one dollar.
Origin of dollar
Low German
daler
,
taler
, from German
Taler
, short for
Joachimstaler
, after
Joachimstal
,
(Jáchymov), a town of northwest Czech Republic where similar coins were first minted
.
---
dollar
Noun
(plural dollars)
Official designation for currency in some parts of the world, including Canada, Australia, the United States, Hong Kong, and elsewhere. Its symbol is $.
(by extension) Money generally.
Colloquially in the United Kingdom, a quarter of a pound or one crown, historically minted as a coin of approximately the same size and composition as a then-contemporary dollar coin of the United States, and worth slightly more.
(historical) Imported from the United States, and paid for in U.S. dollars. (Note: distinguish "dollar wheat", North American farmers' slogan, meaning a market price of one dollar per bushel.)
---
dollar - Investment & Finance Definition
The currency unit of the United States, comprised of 100 cents. Traders shorten it to USD. The U.S. dollar is the world's most frequently used currency in business transactions. Even transactions not involving a U.S. party often are cited in dollars. The dollar is also the name for the currency unit of Antigua, Australia, Bahamas, Barbados, Belize, Brunei, Canada, Dominica, Fiji, Grenada, Guyana, Hong Kong, Jamaica, Liberia, Marshall Islands, Micronesia, Namibia, Nauru, New Zealand, Palau, Saint Kitts and Nevis, Saint Lucia, Saint Vincent and the Grenadines, Singapore, Solomon Islands, Taiwan, Turk and Caicos, Trinidad and Tobago, Tuvalu, and Zimbabwe.
---