doll

doll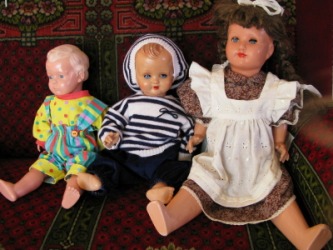 Three antique dolls.
noun
The definition of a doll is a toy or puppet that looks like a human, or is slang for an attractive or helpful person.

An example of a doll is a Barbie or a Cabbage Patch Kid.
An example of a doll is a young man who eagerly provides rides to his grandparents whenever they need transportation.
---
doll
a child's toy, puppet, marionette, etc. made to resemble a human being; often, specif., a child's toy made to resemble an infant
any similar toy made to resemble a nonhuman character as from television, cartoons, etc.

a pretty but frivolous or silly young woman
a pretty child

Slang

any girl or young woman

Slang

any attractive or lovable person
Origin of doll
from
Doll
, nickname for Dorothy
Informal
to dress stylishly or showily: with
up
---
doll
noun
A figure having the likeness of a human, especially one used as a child's toy.
Slang

a. A person considered to be physically attractive.

b. A woman.

c. A helpful or obliging person: What a doll you've been in this crisis!

d. Used as a term of endearment.
Phrasal Verbs:
doll up
Slang
To dress oneself smartly and often ostentatiously, especially for a special occasion.To add embellishing details to in order to make much more attractive.
Origin of doll
From
Doll
nickname for
Dorothy
---
doll

Noun
(plural dolls)
A toy in the form of a human.
(informal) Used to refer to or address a woman.
(Australia) A term of endearment (ie. darling).
Verb
(third-person singular simple present dolls, present participle dolling, simple past and past participle dolled)
(intransitive, followed by "up") To cause to be more beautiful of attractive. See also doll up.
Origin
From Doll, a popular pet form of Dorothy.
---