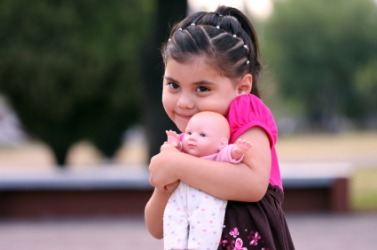 A little girl hugs her dolly.
---
dolly definition by Webster's New World
noun
pl.
dollies
a doll: a child's word
a tool used to hold a rivet at one end while a head is hammered out of the other end

Dialectal

a stick or board for stirring, as in laundering clothes or washing ore
☆ any of several kinds of low, flat, wheeled frames for transporting heavy objects, as in a factory
☆

Film, TV

a low, wheeled platform on which the camera is mounted for moving it about the set
Origin: diminutive of doll
intransitive verb
dollied, dollying
to move a dolly forward (in), backward (out), etc. in photographing or televising the action
transitive verb
to move (a camera, load, etc.) on a dolly
Webster's New World College Dictionary Copyright © 2010 by Wiley Publishing, Inc., Cleveland, Ohio. Used by arrangement with John Wiley & Sons, Inc.
---
dolly definition by American Heritage Dictionary
noun
pl.
dol·lies
Informal A child's doll.

a. A low mobile platform that rolls on casters, used for transporting heavy loads.

b. Such a platform as used by one working underneath a motor vehicle.

c. A hand truck.

A wheeled apparatus used to transport a movie or television camera about a set.
A small locomotive, as for use in a railroad yard or on a construction site.
A wooden implement for stirring clothes in a washtub.
A tool used to hold one end of a rivet while the opposite end is being hammered to form a head.
A small piece of wood or metal placed on the head of a pile to prevent damage to the pile while it is being driven.
intransitive verb
dol·lied
,
dol·ly·ing
,
dol·lies
To move the wheeled apparatus on which a movie or television camera is mounted toward or away from the scene of action.
The American Heritage® Dictionary of the English Language, 4th edition Copyright © 2010 by Houghton Mifflin Harcourt Publishing Company. Published by Houghton Mifflin Harcourt Publishing Company. All rights reserved.
---
dolly - Cultural Definition
The first mammal successfully cloned — Dolly, a sheep — was born in 1996 in Scotland as the result of work by biologist Ian Wilmut (see clone). The procedure that produced Dolly involved removing the nucleus from an egg cell and placing the nucleus of an adult sheep's mammary cell into it. Further manipulations caused the egg to "turn on" all genes and develop like a normal zygote. (See totipotency.)