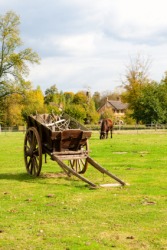 An old fashioned horse drawn cart.
---
cart
noun
any of various small, strong, two-wheeled vehicles drawn by a horse, ox, pony, etc.
a light, uncovered wagon or carriage
a small, wheeled vehicle, drawn or pushed by hand
Origin of cart
Middle English ; from Old Norse
kartr
(akin to Old English
cræt
; origin, originally , body of a cart made of wickerwork, hamper): for Indo-European base see cradle
transitive verb
to carry or deliver in or as in a cart, truck, etc.; transport
to remove (someone or something) forcefully: she was carted off to jail
put the cart before the horse
to deal with matters in reverse order, as because of illogical reasoning
---
cart
noun
a. A small wheeled vehicle typically pushed by hand: a shopping cart; a pastry cart.

b. A two-wheeled vehicle drawn by an animal and used in farm work and for transporting goods.

c. The quantity that a cart can hold.

a. An open two-wheeled carriage.

b. A light motorized vehicle: a golf cart.
transitive verb
cart·ed
,
cart·ing
,
carts
To convey in a cart or truck: cart away garbage.
To convey laboriously or unceremoniously; lug: carted the whole gang off to jail.
Origin of cart
Middle English,
wagon
, from Old English
cræt
and from Old Norse
kartr
.
Related Forms:
---
cart
Proper noun
Acronym of Championship Auto Racing Teams., a defunct sanctioning body for open-wheel racing in motorsports in the United States of America
Acronym
(plural CARTs)
"Classification and regression trees" in .
---