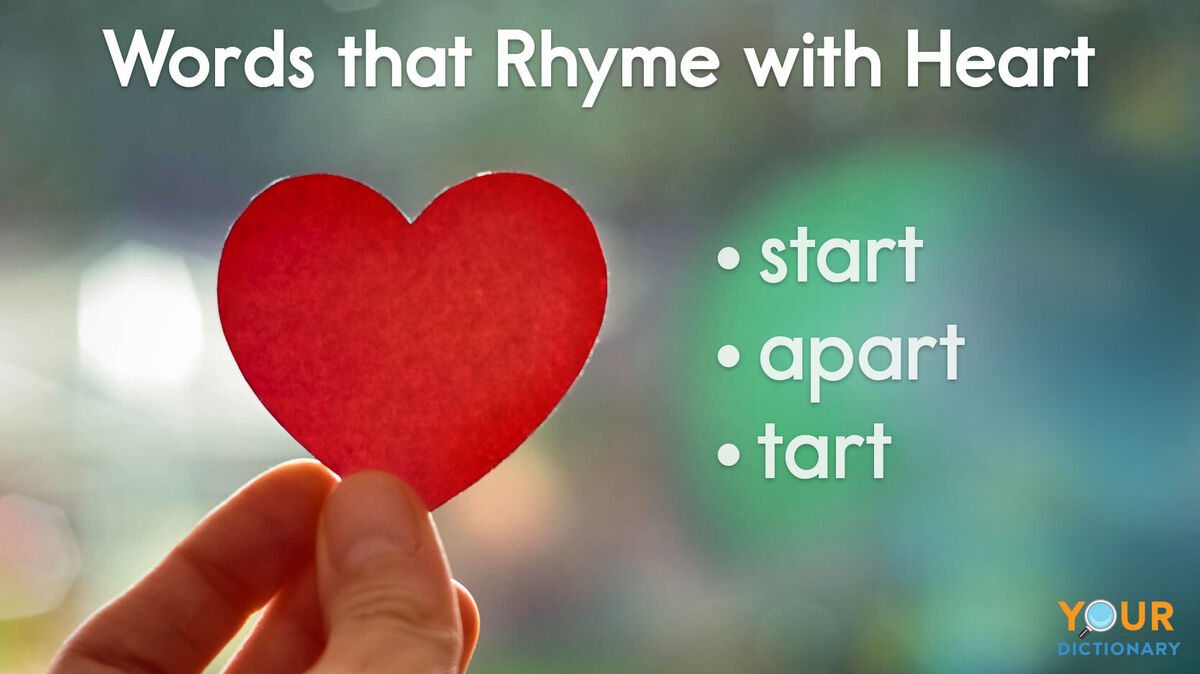 There are quite a few words that rhyme with heart. No matter what you're trying to express, you're sure to be able to find a rhyming term that helps you craft a perfect message. Discover a selection of the best rhymes for heart.
One-Syllable Rhymes for Heart
If you're looking for a super-short rhyming word for heart, consider these single-syllable terms.
art

cart
chart
dart
fart
mart
part
smart

tart
thwart
wart
wort
Multi-Syllable Rhymes for Heart
The rhyming word you're looking for just might need to be a bit longer than the one-syllable options above. Consider some heart rhymes that have two or more syllables.
à la carte

apart

applecart
compart
counterpart
depart

go-cart
impart
jumpstart
multipart
outsmart
oxcart
oxheart
rampart
re-start
stalwart
subpart
sweetheart
unstart
upstart
wallchart
Common Word Pairs That Rhyme With Heart
Who says rhymes have to be just one word? Consider these word pairs when searching for the best rhymes for heart.
These early alphabet word pairs can be good options to consider.
abstract art
bar chart
bit part
body part
break apart
calorie chart
color chart
come apart
commercial art
component part
culinary art
donkey cart
eye chart
fall apart
fine art

flip chart
folk art
fresh start
Still searching for the perfect word pair? There are many more pairs to ponder.
garden cart
golf cart

graphic art
head start
keep apart
kept apart
kick start
lawn cart
laundry cart
lemon tart
marriage mart
martial art
modern art
navigational chart
nose art
organizational chart
Still more selections await through the end of the alphabet.

pastry cart
pick apart
pie chart

serving cart

set apart
shopping cart
spare part

speaking part

star chart
take apart
take part
tea cart

tease apart

water cart

weather chart

zipper art
zipper part
Common Phrases That Rhyme With Heart
Word pairs aren't the only multi-word options that work as a rhyme for heart. Consider these common phrases, each of which has at least three words.
a flair for dramatic art
at the start
can't tell them apart
don't upset the applecart
for the most part
get off to a running start
not very smart

state of the art
tear it apart
tell them apart
we're worlds apart
work of art
Proper Name and Place Rhymes for Heart
There are also quite a few proper nouns, including some celebrity surnames and formal names of places, that rhyme with heart.
Carhartt - last name of the family that founded the Carhartt clothing brand
Bonaparte - surname of French military and political leader Napoleon Bonaparte; he was the Emperor of France during the early 1800s
Descartes - surname of French philosopher René Descartes
Earhart - surname of aviation pioneer Amelia Earhart, who was the first woman to solo fly a plane across the Atlantic Ocean
Earnhardt - last name of NASCAR racing greats Dale Earnhardt and Dale Earnhardt, Jr
Eckhart- last name of actor Aaron Eckhart, whose movie bio includes The Dark Knight and Erin Brockovich
Gephardt - last name of Dick Gephardt, former Missouri congressional representative who served as majority and minority leader in the House of Representatives
Hobart - name of Tasmania's capital city (in Australia)
Mozart - surname of famed 18th-century Austrian composer Wolfgang Amadeus Mozart
Reinhardt - a German surname that is also the name of a university (Reinhardt University) in the state of Georgia
Stuttgart - capital city of Baden-Württemberg in Germany
Urquhart - a village in Scotland's Moray county
Walmart - retail store chain known for affordable prices
Your search to find a word or phrase that rhymes with heart has revealed quite a lot of options to choose from. Once you decide which heart rhymes work best in what you are working on, choose some additional rhymes for words with similar meanings. For example, consider adding in a related term, like love, along with words that rhyme with love. Or, you might want to find other body part words like words that rhyme with eyes. From there, explore some common rhyme scheme examples for ideas on how to most effectively use the rhymes you choose.