drag
[

drag

]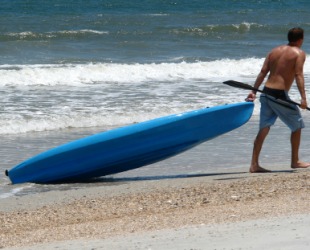 A man dragging his kayak behind him.
noun
The definition of a drag is a person or thing that is being slow, pulled, moved or resistant.

An example of drag is a person not wanting to go to a party.
verb
Drag is defined as to pull or move a person or thing.

An example of drag is pulling a dog who doesn't want to go anywhere by their leash.
An example of drag is highlighting a folder on a computer desktop and moving it into another folder on the desktop.
---
drag
transitive verb
dragged, dragging
to pull or draw with force or effort, esp. along the ground; haul

to move (oneself) with effort
to force into some situation, action, etc.

to pull a grapnel, net, etc. over the bottom of (a river, lake, etc.) in searching for something; dredge
to draw a harrow over (land)
to draw (something) out over a period of time; protract tediously or painfully
to bring (a subject) into conversation, a piece of writing, etc. unnecessarily or as if by force
☆

Baseball

to hit (a ball) in executing a drag bunt
Origin of drag
Middle English
draggen
; from Old Norse
draga
(or Old English
dragan
): see draw
intransitive verb
to be dragged; be pulled along the ground or other surface; trail
to lag behind
to be prolonged tediously; move or pass too slowly
to search a body of water with a grapnel, net, etc.

Slang

to draw deeply (on a cigarette, pipe, etc.)

Slang

to participate in or as if in a drag race
noun
something dragged or pulled along the ground; specif.,

a harrow used for breaking ground
a heavy sledge, or sled
a type of private stagecoach of the 19th cent., with seats inside and on top, drawn by four horses

a device used to catch and haul up something under water; grapnel, dragnet, etc.
a thing that checks motion, as a brake on the wheel of a carriage
anything that hinders or obstructs: a drag on his resources
the amount by which anything drags
the act of dragging; slow, cumbersome movement
☆

Slang

influence that gains special or undeserved favors; pull
☆

Slang

a deep puff of a cigarette, pipe, etc.
a swallow of liquid

☆

Slang

a dance

Slang

street; road: the main drag
☆

Slang

drag race
☆

Slang

a dull or boring person, situation, etc.

Slang

clothing of the opposite sex, esp. as worn by a male homosexual
clothing, esp. clothing typical of a certain country, period, occupation, etc.

Aeron., Engineering

a resisting force exerted on an aircraft, motor vehicle, etc. parallel to its airstream and opposite in direction to its motion

Hunting

a trail of scent left by an animal
something dragged over the ground to leave a trail of scent
a hunt over such a trail
drag on
or
drag out
to prolong or be prolonged tediously
drag one's feet
or
drag one's heels
☆
Slang
to act with deliberate slowness or obvious reluctance; be uncooperative
---
drag
verb
dragged
dragged
,
drag·ging
,
drags
verb
, transitive
To pull along with difficulty or effort; haul: dragged the heavy box out of the way. See Synonyms at pull.
To cause to trail along a surface, especially the ground: Don't drag your coat in the mud.
Computers

a. To move (a pointing device, such as a mouse) while pressing down on one of its buttons.

b. To move (an element of a graphical display) on a computer screen using a pointing device.

a. To cause to move great effort: dragged himself into the doctor's office.

b. To take or escort (a person, for example), especially in overcoming resistance or reluctance: dragged my father to the reception.

c. To cause to be involved in an unpleasant or difficult situation: Why did you drag me into this mess?

d. To force or bring out with great effort: dragged the truth out of the reluctant witness.

To mention or introduce (an unpleasant or tedious subject): dragged up that embarrassing incident; is always dragging his money problems into the conversation.

a. To search or sweep the bottom of (a body of water), as with a grappling hook or dragnet: dragged the river looking for the suitcase.

b. To bring up or catch by such means.

To prolong tediously: dragged the story out.
Baseball To hit (a bunt) while taking the first steps toward first base.
To break up, rake, or smooth out (land or dirt), especially by pulling a drag or heavy mesh: dragged the infield between innings.
verb
, intransitive
To trail along the ground: The dog's leash dragged on the sidewalk.
To move slowly or with effort: He dragged along behind us.
To pass or proceed slowly, tediously, or laboriously: The time dragged as we waited.
To search or dredge the bottom of a body of water: dragging for the sunken craft.
To take part in a drag race.
To draw on a cigarette, pipe, or cigar.
noun
a. Something, such as a harrow or an implement for spreading manure, that is dragged along the ground.

b. A device, such as a grappling hook, that is used for dragging under water.

c. A heavy sledge or cart for hauling loads.

d. A large four-horse coach with seats inside and on top.

a. Something, such as a sea anchor or a brake on a fishing reel, that retards motion.

b. One that impedes or slows progress; a drawback or burden: the drag of taxation on economic growth.

a. The degree of resistance involved in dragging or hauling.

b. The retarding force exerted on a moving body by a fluid medium such as air or water.

The act of dragging, especially a slow, laborious movement.

a. The scent or trail of a fox or another animal.

b. Something that provides an artificial scent.

Slang One that is obnoxiously tiresome: The evening was a real drag.
A puff on a cigarette, pipe, or cigar.
Slang A street or road: the town's main drag.
The clothing characteristic of one sex when worn by a member of the opposite sex: an actor in drag.
adjective
Of, relating to, or being a person wearing clothing characteristic of the opposite sex: a drag performer; a drag show.
Origin of drag
Middle English
draggen
, from Old Norse
draga
or variant of Middle English
drawen
; see
draw
.
---
drag
---
drag - Computer Definition
To move an object on screen such that its complete movement is visible from starting location to destination. The movement may be activated with a stylus, mouse or keyboard keys. To drag an object with the mouse, point to it. Press the mouse button and hold the button down while moving the mouse. When the object is at its new location, release the mouse button. See Win Drag and drop.
---