burden

bur·den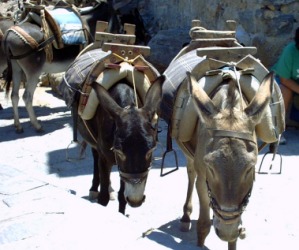 Several donkeys being used as beasts of burden.
noun
The definition of a burden is something carried, a worry or sadness, or a responsibility.

The cargo in a ship is an example of a burden.
The sadness of your mother's illness is an example of a burden.
An example of a burden is the duties that come with being a new parent.
verb
Burden is defined as making heavy with a load or with emotion.

To pack a mule for a trip is an example of burden.
An example of burden is to tell someone about your terrible week at work.
---
burden
anything that is carried; load
anything one has to bear or put up with; heavy load, as of work, duty, responsibility, or sorrow
the carrying of loads: a beast of burden
the carrying capacity of a ship
Origin of burden
Middle English
birthen
from Old English
byrthen
, akin to Old Norse
byrthr,
a load: for Indo-European base see bear
to put a burden on; load; weigh down; oppress
Archaic

a bass accompaniment in music
a chorus or refrain of a song
the drone of a bagpipe
a repeated, central idea; theme: the burden of a speech
Origin of burden
Middle English
burdoun,
bass in music, refrain from Old French
bourdon,
a humming, buzzing from Medieval Latin
burdo
, wind instrument, bumblebee; of echoic origin, originally
---
burden
noun
Something that is carried.

a. Something that is emotionally difficult to bear.

b. A source of great worry or stress; weight: The burden of economic sacrifice rests on the workers of the plant.

A responsibility or duty: The burden of organizing the campaign fell to me.
A principal or recurring idea; a theme: "The burden of what he said was to defend enthusiastically the conservative aristocracy" ( J.A. Froude )
Music

a. A drone, as of a bagpipe or pedal point.

b. Archaic The chorus or refrain of a composition.

c. Archaic The bass accompaniment to a song.

Nautical

a. The amount of cargo that a vessel can carry.

b. The weight of the cargo carried by a vessel at one time.

The amount of a disease-causing entity present in an organism.
transitive verb
bur·dened, bur·den·ing, bur·dens
To cause difficulty or distress to; distress or oppress.
To load or overload.
Origin of burden
Middle English
from
Old English
byrthen
; see
bher-
1
in Indo-European roots.Noun, senses 4 and 5, influenced by
bourdon
---
burden

---
burden - Legal Definition
n
A duty, obligation, or responsibility.
Something that causes anxiety or is grievous or oppressive.
In property law, anything that encumbers or restrict the use or value of land, such as an easement, restrictive covenant, or zoning ordinance. The burden indefinitely binds the current and all future owners until it is extinguished, so it is the land, and the landowner, that is burdened by the encumbrance or restriction. See estate.
---