relief

re·lief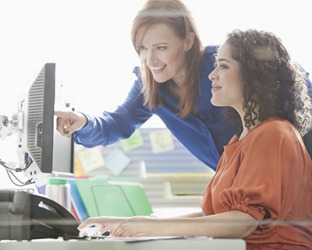 It was a relief for April to start her new job because she had been searching for work for several months.
noun
Relief is support or aid given to a nation or people in a time of need.

An example of relief is giving money to help those affected by the 2010 Haiti earthquake.

Relief is the ease of pain, tension, strain or other discomfort.

An example of relief is medication taking away a headache.
An example of relief is getting a job after a long period of unemployment.
---
relief
an easing, as of pain, discomfort, or anxiety
a lightening of a burden, as of taxation, oppression, etc.

anything that lessens tension or strain, or offers a pleasing change, as to the mind or eye
aid in the form of goods or money given, as by a government agency, to persons unable to support themselves
any aid given in times of need, danger, or disaster, as supplies sent into a flooded area

release from work or duty
the person or persons bringing such release by taking over a post

a payment made by the heir of a feudal vassal to the overlord on taking over an estate

Origin of relief

Fr < It relievo < rilevare, to raise: see relieve

the projection of figures and forms from a flat surface, so that they stand wholly or partly free
a work of art so made

Law

the assistance or redress sought by a complainant in a court, esp. a court of equity

sharp contrast, as of ideas, actions, or events
comic scenes in a serious drama or film

Painting

the apparent solidity or projection of objects, obtained by modeling and gradation in color, etc.
distinctness of outline; contrast

Geol.

the differences in height, collectively, of land forms in any particular area
these differences as shown by lines, colors, raised areas, etc. on a map

Printing

a method of printing in which the image is carried on raised surfaces; letterpress
Origin of relief
Middle English
releef
from Old French
relief
from
relever:
see relieve
Baseball
designating a pitcher who replaces another during a game, esp. one who is regularly used in this way
in relief
carved or molded so as to project from a surface
on relief
receiving government aid because of poverty, unemployment, etc.
---
relief
noun
a. The easing of a pain, distress, or anxiety: The drug provides quick relief from asthma. The news of their safe arrival came as a great relief.

b. Something that alleviates pain, distress, or anxiety: It was a relief to see that everyone had arrived safely.

a. Aid in time of danger: disaster relief.

b. Rescue from a siege: troops sent for the relief of the fort.

c. Public assistance: people eligible for relief.

a. Release from a post or duty, such as that of sentinel.

b. One who takes over a post or duty for another.

Something that makes a pleasant or amusing change from something tedious or unpleasant: The music was a great relief after all those phone calls.

a. The projection of figures or forms from a flat background, as in sculpture, or the apparent projection of such shapes in a painting or drawing.

b. A work of art featuring such projection. Also called relievo .

Geology The variations in elevation of an area of the earth's surface.
Distinction or prominence due to contrast: "The light brought the white church … into relief from the flat ledges" ( Willa Cather )
Law The objective sought by a lawsuit or legal action, such as an award of monetary damages or an order requiring the other party to take a particular action.
Baseball The pitching done by a relief pitcher: gave the team two innings of excellent relief.
A payment made by the heir of a deceased tenant to a feudal lord for the privilege of succeeding to the tenant's estate.
Origin of relief
Middle English
from
Old French
from
relever
to relieve
; see
relieve
.
Senses 5, 6, and 7,
French
from
Italian
rilievo
; see
bas-relief
.
---
relief

---
relief - Legal Definition
n
Assistance or help given to those who are in need; especially financial assistance provided by the state.
The benefit or redress awarded to a claimant by a court, or claimed in a court, especially that which is equitable in nature, such as an injunction against future harm, as distinct from monetary damages.
---