embossment
[ĕm-bôsˈmənt, -bŏsˈ-]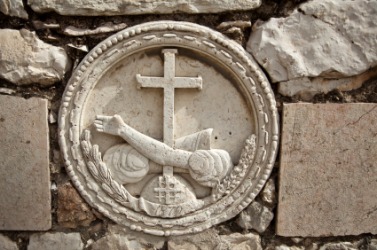 A stone embossment on a garden wall.
---
embossment definition by American Heritage Dictionary
noun
The act or process of embossing or the condition of being embossed.
Embossed ornamentation.
The distance between the nondeformed part of a document surface and a specified point on a printed character in optical character recognition.
embossment
Variant of emboss
transitive verb
to decorate or cover with designs, patterns, etc. raised above the surface
to carve, raise, or print (a design, etc.) so that it is raised above the surface; raise in relief
to embellish; ornament
Origin: Middle English embocen ; from Old French embocer: see en- and amp; boss