verb
Emboss is defined as to carve, or to decorate with raised designs.

An example of emboss is to engrave a pattern in a wooden table.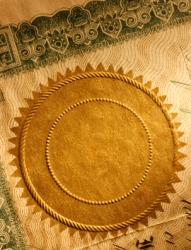 An old certificate embossed with a gold seal.
---
emboss definition by Webster's New World
transitive verb
to decorate or cover with designs, patterns, etc. raised above the surface
to carve, raise, or print (a design, etc.) so that it is raised above the surface; raise in relief
to embellish; ornament
Origin: Middle English embocen ; from Old French embocer: see en- and amp; boss
Webster's New World College Dictionary Copyright © 2010 by Wiley Publishing, Inc., Cleveland, Ohio. Used by arrangement with John Wiley & Sons, Inc.
---
emboss definition by American Heritage Dictionary
transitive verb
em·bossed
,
em·boss·ing
,
em·boss·es
To mold or carve in relief: emboss a design on a coin.
To decorate with or as if with a raised design: emboss leather.
To adorn; decorate.
To cover with many protuberances; stud: "The whole buoy was embossed with barnacles" (Herman Melville).
Origin: Middle English embosen, from Old French embocer : en-, in; see en-1 + boce, knob.
Related Forms: