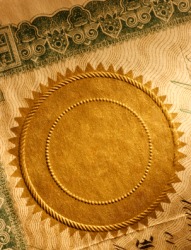 An old certificate embossed with a gold seal.
verb
Emboss is defined as to carve, or to decorate with raised designs.

An example of emboss is to engrave a pattern in a wooden table.
---
emboss
to decorate or cover with designs, patterns, etc. raised above the surface
to carve, raise, or print (a design, etc.) so that it is raised above the surface; raise in relief
to embellish; ornament
Origin of emboss
Middle English
embocen
from Old French
embocer
: see en- and boss
---
emboss
transitive verb
em·bossed, em·boss·ing, em·boss·es
To mold or carve in relief: emboss a design on a coin.
To decorate with or as if with a raised design: emboss leather.
To adorn; decorate.
To cover with many protuberances; stud: "The whole buoy was embossed with barnacles" ( Herman Melville )
Origin of emboss
Middle English
embosen
from
Old French
embocer
en-
in
; see
en-
1
.
boce
knob
Related Forms:
emboss
---
emboss

Verb
(third-person singular simple present embosses, present participle embossing, simple past and past participle embossed)
To mark or decorate with a raised design or symbol.

The papers weren't official until the seal had been embossed on them.
Origin
From Middle English embosen, from Old French embocer.
Verb
(third-person singular simple present embosses, present participle embossing, simple past and past participle embossed)
(obsolete) To hide or conceal in a thicket; to imbosk; to enclose, shelter, or shroud in a wood.
(obsolete) to surround; to ensheath; to immerse; to beset
---