carve

carve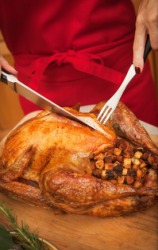 A woman carves the Thanksgiving turkey.
verb
To carve is to slice, to divide up, or to make something smaller by cutting or chiseling.

An example of carve is to cut apart a turkey on Thanksgiving.
An example of carve is to break a large piece of property into smaller lots.
An example of carve is to create a wooden sculpture using wood tools.
---
carve
transitive verb
carved

,

carv′ing
to make or shape by or as by cutting, chipping, hewing, etc.: carve a statue out of wood, carve out a career for oneself
to decorate the surface of with cut figures or designs
to divide by cutting; slice: to carve meat
to divide into portions, as land: with up
Origin of carve
Middle English
kerven
from Old English
ceorfan
from Indo-European base an unverified form
gerebh-
, to scratch: see graphic
to carve statues or designs
to carve meat
---
carve
verb
carved, carv·ing, carves
verb
transitive
a. To divide into pieces by cutting; slice: carved a roast.

b. To divide by parceling out: carve up an estate.

To cut into a desired shape; fashion by cutting: carve the wood into a figure.
To make or form by or as if by cutting: carve initials in the bark; carved out an empire.
To decorate by cutting and shaping carefully.
To make (a turn or turns) smoothly and without skidding, as when skiing or riding a snowboard, by leaning sharply into the direction of the turn.
verb
intransitive
To engrave or cut figures as an art, hobby, or trade.
To disjoint, slice, and serve meat or poultry.
To carve turns, as when skiing.
Origin of carve
Middle English
kerven
from
Old English
ceorfan
; see
gerbh-
in Indo-European roots.
Related Forms:
---
carve

Verb
(third-person singular simple present carves, present participle carving, simple past carved or (archaic) carven, past participle carved)
(archaic) To cut.
To cut meat in order to serve it.
To shape to sculptural effect; to produce (a work) by cutting, or to cut (a material) into a finished work.

to carve a name into a tree

(snowboarding) To perform a series of turns without pivoting, so that the tip and tail of the snowboard take the same path.
(figuratively) To produce something using skill.
Noun
(plural carves)
(obsolete) A carucate.

half a carve of arable land
Origin
Middle English kerven, from Old English ċeorfan, from Proto-Germanic *kerbaną (compare Kyrgyz kerve, Dutch kerven, German kerben ("to notch")), from Proto-Indo-European *gerebh- ("to scratch") (cf. Old Prussian gīrbin 'number', Old Church Slavonic žrĕbĭjĭ 'lot, tallymark', Ancient Greek γράφειν (gráphein) 'to scratch, etch').
---