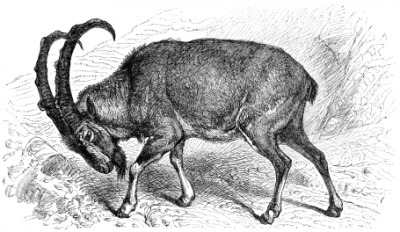 An engraving of a wild goat.
---
engrave definition by Webster's New World
transitive verb
engraved, engraving
to cut or incise letters, designs, etc. in or on (a surface)
to impress deeply or permanently on the mind or memory, as though by engraving
to cut or incise (a picture, letters, etc.) into a metal plate, wooden block, etc. for printing
to print with such a plate, block, etc.
Origin: French engraver ; from en-, in plush graver, to incise ; from Old French grafe, stylus ; from Classical Latin graphium ; from Classical Greek graphion, graving tool ; from graphein: see graphic
Webster's New World College Dictionary Copyright © 2010 by Wiley Publishing, Inc., Cleveland, Ohio. Used by arrangement with John Wiley & Sons, Inc.
---
engrave definition by American Heritage Dictionary
transitive verb
en·graved
,
en·grav·ing
,
en·graves
To carve, cut, or etch into a material: engraved the champion's name on the trophy.
To carve, cut, or etch a design or letters into: engraved the silver watch with my monogram.

a. To carve, cut, or etch into a block or surface used for printing.

b. To print from a block or plate made by such a process.

To impress deeply as if by carving or etching: The experience was engraved into his memory.
Related Forms: