noun
The definition of an ornament is a decoration, or a person who adds luster to society, or the process of decorating.

An example of an ornament is a star on a Christmas tree.
An example of an ornament is a young man who is determined as a hero and a good example to other young men in an organization.
verb
Ornament is defined as to decorate or make beautiful.

An example of ornament is to decorate a house for Easter.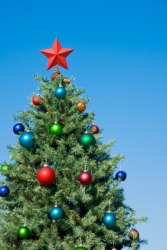 A Christmas tree covered with ornaments.
---
ornament definition by Webster's New World
noun
anything serving to adorn; decoration; embellishment; also, a desirable or needed adjunct
a person whose character or talent adds luster to the surroundings, society, etc.
an adorning or being adorned; ornamentation
mere external display

Music

a tone or tones used to embellish a principal melodic tone
Origin: Old French ornement ; from Classical Latin ornamentum ; from ornare, to adorn (akin to ordinare: see ordain)
transitive verb
to furnish with ornaments or be an ornament to; decorate; beautify
Webster's New World College Dictionary Copyright © 2010 by Wiley Publishing, Inc., Cleveland, Ohio. Used by arrangement with John Wiley & Sons, Inc.
---
ornament definition by American Heritage Dictionary
noun
Something that decorates or adorns; an embellishment.
A person considered as a source of pride, honor, or credit: a singer who is an ornament to the world of opera.
Music A note or group of notes that embellishes a melody.
transitive verb
or·na·ment·ed
,
or·na·ment·ing
,
or·na·ments
To furnish with ornaments: ornamented the windows with hanging plants.
To be an ornament to: "The babies ornament her ankles, dangle from her pant legs" (Carolyn Chute).
Origin: Middle English ournement, from Old French ornement, from Latin ōrnāmentum, from ōrnāre, to adorn; see ar- in Indo-European roots.
Related Forms: