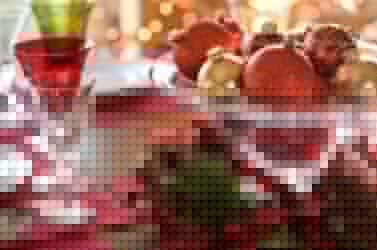 Holiday decorations brighten a table.
noun
The definition of a decoration is an item used to make a room or thing more beautiful, or a medal given as an awarding.

An example of a decoration is putting a jack-o-lantern on a porch to show your love of Halloween.
An example of a decoration is a medal awarded to a military officer.
---
decoration
the act of decorating
anything used for decorating; ornament
a medal, badge, or similar token of honor
Origin of decoration
Middle English
decoracioun
from Old French
decoration
from Medieval Latin
decoratio
---
decoration
noun
The act, process, technique, or art of decorating.
Something used to decorate, especially when put up temporarily to celebrate or call attention to a special occasion.
An emblem of honor, such as a medal or badge.
---
decoration

Noun
(plural decorations)
The act of adorning, embellishing, or honoring; ornamentation.
That which adorns, enriches, or beautifies; something added by way of embellishment; ornament.
Specifically, any mark of honor to be worn upon the person, as a medal, cross, or ribbon of an order of knighthood, bestowed for services in war, great achievements in literature, art, etc.
---