medallion

me·dal·lion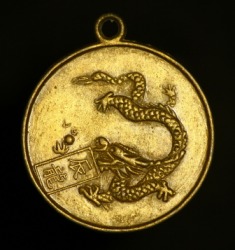 A dragon image on a medallion.
noun
The definition of a medallion is a large medal, or an oval-shaped decorative item.

A large round pendant is an example of a medallion.
---
medallion
a large medal
an oval or circular design, portrait, relief carving, etc. resembling a medal in shape and used as a decorative form in architecture, textiles, etc.
a metal insignia on a taxicab indicating that the driver or owner has a permit to carry passengers
a small round or oval portion of meat or fish, especially of beef or veal
Origin of medallion
French
médaillon
from Italian
medaglione
from
medaglia
: see medal
---
medallion
noun
A large medal.
An emblem of registration for a taxicab.
Any of various large ancient Greek coins.
Something resembling a large medal, as:

a. An oval or circular design used as decoration.

b. A painting or an engraving set in an oval or circular frame.

c. A circular portion of food, especially a boneless cut of meat: medallions of veal.
Origin of medallion
French
médaillon
from
Italian
medaglione
augmentative of
medaglia
medal
from
Old Italian; see
medal
.
---
medallion

Noun
(plural medallions)
A large medal, usually decorative.
A cut of meat resembling a medallion.
(architecture) A round or oval frame (often made of Stucco) which contains a plastic or pictorial decoration of a facade, an interior, a piece of furniture or equipment.
A circular certificate used in some places to register a vehicle, especially a taxicab.
---