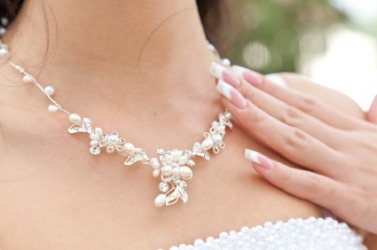 A woman wearing a necklace.
---
necklace
noun
a string of beads, jewels, etc. or a chain of gold, silver, etc., worn around the neck as an ornament
a gasoline-doused automobile tire draped around a person's neck or shoulders and set ablaze
Origin of necklace
neck + lace
---
necklace
noun
An ornament worn around the neck.
Something felt to resemble this neck ornament, as in shape: a necklace of hundreds of tiny islands.
---
necklace
Noun
(plural necklaces)
An article of jewelry that is worn around the neck, most often made of a string of precious metal, pearls, gems, beads or shells, and sometimes having a pendant attached.
(figuratively) Anything resembling a necklace in shape.

a necklace of coral islands
Verb
(third-person singular simple present necklaces, present participle necklacing, simple past and past participle necklaced)
---