jewelry

jew·el·ry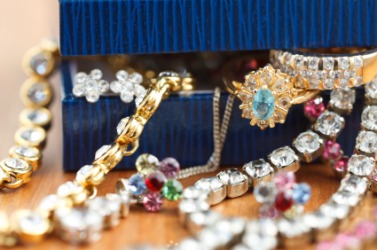 A box overflowing with jewelry.
noun
Jewelry are defined as ornaments that people wear, and they are often made of gems and precious metals.

An example of jewelry is a bracelet.
---
jewelry
ornaments such as rings, brooches, bracelets, etc., collectively
---
jewelry
noun
Ornaments, such as bracelets, necklaces, or rings, especially when made of precious metals set with gems.
---
jewelry

Noun
(usually uncountable, plural jewelries)
(US, Canada) Alternative spelling of jewellery.
---