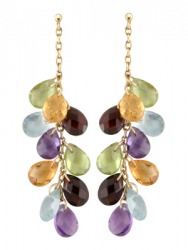 These earrings are an example of jewellery.
noun
Jewellery is defined as the British spelling for fashion accessories made of gems and precious metals.

An example of jewellery is a pair of earrings.
---
jewellery
---
jewellery

Noun
(usually uncountable, plural jewelleries)
Origin
From the word jewel, which was anglicized from the Old French jouel, and beyond that, to the Vulgar Latin word *jocale.
---