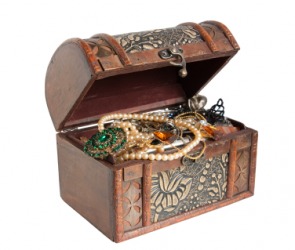 A chest full of jewels.
noun
The definition of a jewel is a precious gem, or a valuable person or thing.

An example of a jewel is a diamond.
An example of a jewel is an employee who always goes above and beyond their job description.
verb
Jewel is defined as to add gems to something.

An example of jewel is putting rhinestones on the collar of a jacket.
---
jewel
a valuable ring, pin, necklace, etc., esp. one set with a gem or gems
a precious stone; gem
any person or thing that is very precious or valuable
a small gem or hard, gemlike bit, used as one of the bearings in a watch
Origin of jewel
Middle English from Old French
joel
from
jeu
, a game, trifle from Classical Latin
jocus,
a trifle, joke
transitive verb
-·eled

or

-·elled

,

-·el·ing

or

-·el·ling
to decorate or set with jewels
---
jewel
noun
a. A precious stone; a gem.

b. A small natural or artificial gem used as a bearing in a watch.

A costly ornament of precious metal or gems.
One that is treasured or esteemed.
transitive verb
jew·eled, jew·el·ing, jew·els,
or
jew·elled
jew·el·ling
To adorn with jewels.
To fit with jewels.
Origin of jewel
Middle English
juel
from
Anglo-Norman
perhaps from
Vulgar Latin
iocāle
from
neuter of
*iocālis
of play
from
Latin
iocus
joke
; see
yek-
in Indo-European roots.
---
jewel

---