pearl

pearl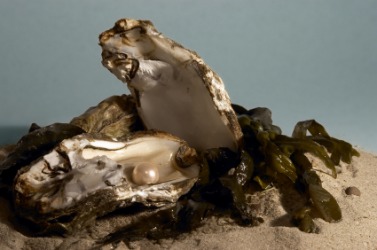 A pearl inside an oyster.
noun
A pearl is defined as a smooth round gem formed in the shell of an oyster or mollusk, or a fine example of something.

Facts About Pearls

Natural pearls are formed in the oyster's stomach when an external irritant, such as a grain or sand, finds its way inside the shell. To protect itself, the oyster releases nacre, which is actually the same substance that forms the inside of the shell.
Cultured pearls are produced the same way as natural pearls however a pearl farmer would open the shell of the oyster, cut a slit in its mantle to insert an irritant such as a grain of sand. The oyster will then go on an produce layers of nacre around the grain of sand, forming a pearl.
As layers and layers of nacre are secreted, the irritant becomes enveloped inside a smooth material. Over time, all these layers will accumulate –like forming a snowball - and eventually they will create a round, shiny pearl.

A pearl can be white, black, pink, blue, green, red, and black. Black pearls are extremely rare and are only found in the South Pacific.

It usually takes an average of three years for pearls to achieve their maximum size.
The majority of the pearls in the market today come from: The Philippines, Japan, Myanmar, Indonesia, Australia, Tahiti, China and India.
Natural and cultured pearls can be harvested from both fresh and saltwater. Saltwater pears are considered higher in quality since most freshwater pearls have lumpier construction and shapes.

A white bead that is made into a necklace is an example of a pearl.
Your best advice is an example of a pearl of wisdom.
verb
The definition of pearl is to form bead-like drops, or to make something look bluish-gray like the gemstone formed in the shell of an oyster.

When raindrops form little beads on the window, this is an example of when they pearl on the window.
When the sky is bluish-gray, this is an example of when the sky pearls.
---
pearl
a smooth, hard, usually white or bluish-gray body of varied but usually roundish shape that is an abnormal nacreous growth within the shell of some oysters and certain other bivalve mollusks and forms around a grain of sand, a parasite, or some other foreign object: it is used as a gem
mother-of-pearl
any person or thing regarded as like a pearl in some way, as in size, shape, color, beauty, value, etc.
a bluish or pinkish gray
Origin of pearl
Middle English
perle
from Middle French from Vulgar Latin an unverified form
perla, an unverified form perula,
altered (? after Classical Latin
sphaerula,
spherule) from Classical Latin
perna,
a sea mussel, literally , a ham: from the shape of its peduncle
to adorn or cover with pearls or pearl-like drops
to make like a pearl in shape
to fish for pearl-bearing mollusks, esp. oysters
of or having pearls
like a pearl in shape or color
made of mother-of-pearl: pearl buttons
cast pearls before swine
Origin of pearl
see Matt. 7:6
to present something of great interest or value to someone incapable of appreciating it
Pearl
a feminine name
Origin of Pearl
from pearl
Pearl
Origin of Pearl

named for

pearls

found there river in central Miss., flowing south into the Gulf of Mexico: 490 mi (789 km)
---
pearl
noun
a. A smooth, lustrous, variously colored mass, chiefly of calcium carbonate, formed around a grain of sand or other foreign matter inside the shell of certain bivalve mollusks and valued as a gem.

b. A bead resembling one of these masses.

Something small and spherical in shape: "pearls of sweat beading on her upper lip" ( Katherine Min )
Mother-of-pearl; nacre.
One that is highly regarded for its beauty or value.
Printing A type size measuring approximately five points.
A yellowish white.
verb
pearled, pearl·ing, pearls
verb
transitive
To decorate or cover with pearls or beads resembling pearls.
To make into the shape or color of pearls.
verb
intransitive
To dive or fish for pearls or pearl-bearing mollusks.
To form beads resembling pearls.
Origin of pearl
Middle English
perle
from
Old French
from
Latin
pernula
diminutive of
perna
ham, seashell (from the shape of the shell)
---
pearl

Verb
(third-person singular simple present pearls, present participle pearling, simple past and past participle pearled)
To set or adorn with pearls, or with mother-of-pearl. Used also figuratively.
To cause to resemble pearls; to make into small round grains; as, to pearl barley.
To resemble pearl or pearls.
To give or hunt for pearls; as, to go pearling.
(surfing) to dig the nose of one's surfboard into the water, often on takeoff.
Origin
From Old French perle, from Medieval Latin perla. The surfing sense is from "pearl diving", it being imagined the surfer is diving down for pearls.
Proper noun
A female given name from the English noun pearl.
---
pearl - Computer Definition
---