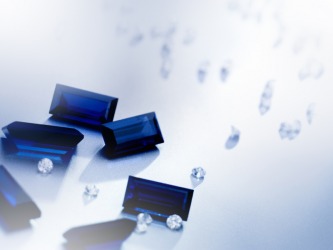 A bezel is the cut edges of these gems.
noun
The definition of a bezel is a slanted or sloping surface, or the rim holding a gem or watch crystal.

An example of a bezel is the cut edge of a gemstone.
An example of a bezel is the rim of a watch.
---
bezel
a sloping surface, as the cutting edge of a chisel
the slanting faces of the upper part of a cut gem, esp. a brilliant; also, this part of a gem

the groove and flange holding a gem, watch crystal, etc. in place
a rotatable rim on a watch or clock, that can be moved to indicate certain kinds of data: an elapsed-time bezel
Origin of bezel
; from Middle French an unverified form
besel
(from source French
biseau
) ; from uncertain or unknown; perhaps Old French
biais,
bias
---
bezel
noun
A slanting surface or bevel on the edge of a cutting tool, such as a chisel.
The upper, faceted portion of a cut gem, above the girdle and below the table.

a. A groove or flange designed to hold a beveled edge, as of a gem.

b. A ring that secures the crystal of a watch or chronometer, often rotatable and marked so as to allow timekeeping functions.

The frame around a display screen.
Origin of bezel
Probably French dialectal; akin to French
biseau
, from
bis
,
two times
, from Latin; see
dwo-
in Indo-European roots.
bezel
bezel-set gemstones
---
bezel
---
bezel - Computer Definition
The front cover of a desktop or tower computer case. The term also refers to the individual drive bay covers, which are removed to install CD/DVD and other removable drives that require access from the front of the case. A removable drive may have its own custom bezel, otherwise it is mounted flush with the front of the case. See screen bezel.
---