accessory

ac·ces·so·ry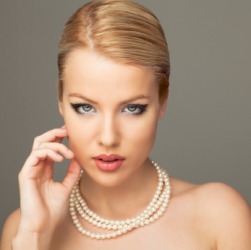 A necklace is an accessory.
noun
An accessory is defined as a person who assists someone else to break the law or commit a crime but who doesn't participate in committing the crime himself.

An example of an accessory would be someone who let a criminal hide in their house.

The definition of an accessory is something that you add on just to increase the beauty or functionality of something else.

An example of an accessory would be a necklace you put on to make your outfit more complete.
---
accessory
extra; additional; helping in a secondary or subordinate way

Geol.

occurring in minor amounts in a specified rock; nonessential: accessory minerals are disregarded in classifying rocks

Law

acting as an accessory; helping in an unlawful act
Origin of accessory
Medieval Latin
accessorius
from Classical Latin
accessus
, past participle of
accedere
, accede
noun
pl.
-·ries
something extra; thing added to help in a secondary way; specif.,

an article worn or carried to complete one's outfit, as a purse or gloves
a piece of optional equipment for convenience, comfort, appearance, etc.: the accessories of an automobile

Law

a person who, though absent, helps another to break or escape the law; accomplice
Origin of accessory
ME
accessorie
< ML: see accessorythe adjective
accessory before (or after) the fact
a person who, though absent at the commission of a felony, aids or abets the accused before (or after) its commission
---
accessory
noun
pl.
ac·ces·so·ries
a. A subordinate or supplementary item; an adjunct.

b.

Something nonessential but desirable that contributes to an effect or result. See Synonyms at

attachment

.

Law One who knowingly assists a lawbreaker in the commission of a crime but does not actually participate in that crime.
adjective
Having a secondary, supplementary, or subordinate function.
Law Involving the knowing assistance of a lawbreaker in the commission of a crime without actual participation in the crime.
Origin of accessory
Middle English
accessorie
from
Medieval Latin
accessōrius
from
accessor
helper
from
Latin
accessus
approach
; see
access
.
Related Forms:
ac′ces·so′ri·al

adjective
Usage Note: Although the pronunciation (ə-sĕs′ə-rē), with no (k) sound in the first syllable, is sometimes heard, it is not accepted by a majority of the Usage Panel. In the 1997 survey, 87 percent of the Panelists disapproved of it. The 2012 survey showed an 80 percent disapproval rate.
---
accessory

Adjective
(comparative more accessory, superlative most accessory)
Having a secondary, supplementary or subordinate function by accompanying as a subordinate; aiding in a secondary way; being additional; being connected as an incident or subordinate to a principal; contributing or being contributory. Said of persons and things, and, when of persons, usually in a bad sense; as, he was accessory to the riot; accessory sounds in music.
(law) Assisting a crime without actually participating in committing the crime itself.
Present in a minor amount, and not essential.
Origin
First attested in 1550s. From Middle English accessorie Medieval Latin accessōrius, from Latin accessor ("helper, subordinate"), from Latin accessus. Compare English access, from same root.
Noun
(plural accessories)
That which belongs to something else deemed the principal; something additional and subordinate, an attachment.

the accessories of a mobile phone

(fashion) An article that completes one's basic outfit, such as a scarf or gloves.
(law) One who, not being present, contributes as an assistant or instigator to the commission of an offense; One who assists after the commission of a crime, but was not present.
(art) Anything that enters into a work of art without being indispensably necessary, as mere ornamental parts.
Origin
(legal): First attested in 1414.
(fashion): First attested in 1896.
---
accessory - Computer Definition
Equipment that supports other equipment. For example, smartphone accessories include phone cases, chargers and cables. Examples of computer accessories are laptop bags, cables, screen cleaners and USB drives, although the latter may also be considered a peripheral device. See peripheral.
---
accessory - Legal Definition
n
Additional; aiding the principal design; contributory; secondary; subordinate; supplemental.
One who aids or contributes to the commission or concealment of a crime or assists others in avoiding apprehension for the crime but not present when the crime was committed. Mere silence or approval of the crime is insufficient to make one an accessory; the person must take steps to facilitate the commission or concealment of the crime or the avoidance of the criminal's capture. See also misprision of felony, accomplice, aid and abet, conspiracy, and principal.
accessory after the fact
One who was not at the scene of a crime but knowingly assists, comforts, or receives a person known to have committed a crime or to be sought for the commission or attempted commission of a crime, in an attempt to hinder or prevent the felon's arrest or punishment. Such a person is normally regarded as less culpable than the criminal and is subject to prosecution for obstruction of justice.
accessory before the fact
One who assists, commands, counsels, encourages, or procures another to commit a crime, but is not present when the crime is committed. Such a person, known as an aider and abettor, is normally considered as culpable as the person who actually commits the crime and is normally treated by the law as an accomplice. See also aid and
abet
.
---