secondary

sec·ond·ar·y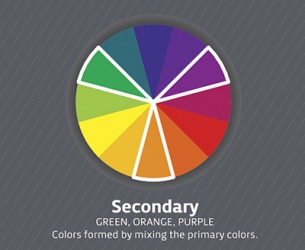 Secondary colors are created by mixing two of the primary colors.
adjective
The definition of secondary is below the first, or coming from something original.

An example of secondary is the color purple because it is made from two primary colors: red and blue; a secondary color.An example of secondary is the educational level that comes after primary and elementary school; a secondary school.
---
secondary
second, or below the first, in rank, importance, class, place, etc.; subordinate; minor; not primary

derived or resulting from something considered primary or original; dependent; derivative
secondhand; not original: a secondary source of information
designating colors derived by mixing two primary colors

coming after that which is first in a series of processes, events, stages, etc., as of growth or development
coming next in sequence after the primary or elementary level: secondary education

Chem.

formed by the replacement of two atoms or radicals in the molecule: secondary sodium phosphate, NaHPO
characterized by or designating a carbon atom that is directly attached to two other carbon atoms in a closed or open chain

Elec.

designating or of an induced current or its circuit in a transformer, induction coil, etc.

Geol.

formed as a result of the alteration, disintegration, or erosion of preexisting rocks or minerals

Linguis.

derived from a base that is itself a word, by the addition of a prefix or derivational suffix
designating a form or a process that is historically relatively late; not original

Ornithology

designating or of the long flight feathers attached to the second joint or segment of a bird's wing
Origin of secondary
Middle English
secundary
from Classical Latin
secundarius
noun
pl.
-·ar·ies
a person or thing that is secondary, subordinate, or inferior
any of the secondary colors

Elec.

an output winding of a transformer from which the power is taken

Football

the defensive backfield

Zool.

a secondary feather
---
secondary
adjective
Second or lower in rank or importance; not primary: concerns that are secondary.

a. Following what is first in time or sequence: secondary fermentation.

b. Of or relating to secondary schools.

a. Derived from what is primary or original: literary criticism viewed as secondary to literature itself.

b. Not immediate or direct: a secondary source of information.

Of, relating to, or being the shorter flight feathers projecting along the inner edge of a bird's wing.
Electricity Having an induced current that is generated by an inductively coupled primary. Used of a circuit or coil.
Chemistry

a. Relating to, or having a carbon atom that is attached to two other carbon atoms in a molecule.

b. Relating to the replacement of two of several atoms or groups in a compound, such as an amine in which two valences of the functional group are taken by carbon atoms.

Geology Produced from another mineral by decay or alteration.
Of or relating to a secondary color or colors.
Being a degree of health care intermediate between primary care and tertiary care, as that typically offered at a community hospital.
Botany Of, relating to, or derived from a lateral meristem, especially a cambium.
noun
pl.
sec·ond·ar·ies
One that acts in an auxiliary, subordinate, or inferior capacity.
One of the shorter flight feathers projecting along the inner edge of a bird's wing.
Electricity A coil or circuit having an induced current.

a. Astronomy A celestial body that orbits another; a satellite.

b. The dimmer star of a binary star.

A secondary color.
Football The defensive backfield.
Related Forms:
---
secondary

Adjective
(comparative more secondary, superlative most secondary)
Succeeding next in order to the first; of second place, origin, rank, rank, etc.; not primary; subordinate; not of the first order or rate.
Acting by deputation or delegated authority; as, the work of secondary hands.
Possessing some quality, or having been subject to some operation (as substitution), in the second degree; as, a secondary salt, a secondary amine, etc. Compare primary.
(geology) Subsequent in origin; -- said of minerals produced by alteration or deposition subsequent to the formation of the original rocks mass; also of characters of minerals (as secondary cleavage, etc.) developed by pressure or other causes.
(zootomy) Pertaining to the second joint of the wing of a bird.
(medicine) Dependent or consequent upon another disease; as, Bright's disease is often secondary to scarlet fever; or occurring in the second stage of a disease; as, the secondary symptoms of syphilis.
Of less than primary importance.
Noun
(plural secondaries)
Used as an abbreviation to refer to items with names containing secondary.
(ornithology) Any flight feather attached to the ulna (forearm) of a bird.
(finance) An act of issuing more stock by an already publicly traded corporation.
(American football, Canadian football) The defensive backs.
(electronics) An inductive coil or loop that is magnetically powered by a primary in a transformer or similar
One who occupies a subordinate or auxiliary place; a delegate deputy.

the secondary, or undersheriff, of the city of London

(astronomy) A secondary circle.
(astronomy) A satellite.
Part or all of this entry has been imported from the 1913 edition of Webster's Dictionary, which is now free of copyright and hence in the public domain. The imported definitions may be significantly out of date, and any more recent senses may be completely missing.
---
secondary - Legal Definition
adj
Subordinate; not of primary importance; subsequent.
---