central

cen·tral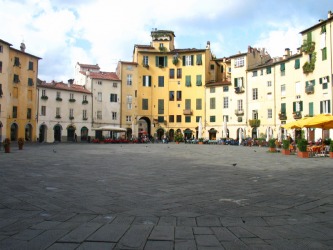 This towns square has a central location.
adjective
The definition of central is something located in the center or middle, or the most basic or important part of something.

An example of central is a downtown shopping center in the middle of town; central location.
An example of central is a park that's close to many popular city attractions; central park.
An example of central is love and happiness being most people's ultimate wish for their children; central to children's life.
---
central
in, at, or near the center
of or forming the center
equally distant or accessible from various points
most important; main; basic; principal
of or having to do with a single source that controls all activity in an organization or system

designating or of that part of a nervous system consisting of the brain and spinal cord or, in many invertebrates, the chief ganglia and their major nerve cords
of the centrum of a vertebra

Phonet.

articulated with the tongue in a position approximately halfway between front and back: said of certain vowels, as (u) in bud
Origin of central
Classical Latin
centralis
a telephone exchange, esp. the main one, or the telephone operator: an early term
Central
former administrative region of SC Scotland, which included the former county of Clackmannan and parts of the former counties of Perth, Stirling, and West Lothian
---
central
adjective
Situated at, in, or near the center: the central states.
Forming the center.
Having dominant or controlling power or influence: the company's central office.
Of basic importance; essential or principal: "Performance, including technological invention and artistic creation, will become central to education at all levels" ( Frederick Turner )
Easily reached from various points: a central location for the new store.
Of or constituting a single source controlling all components of a system: central air conditioning.
Anatomy

a. Of, relating to, or originating from the nervous system.

b. Relating to a centrum.

Linguistics Articulated in the middle of the oral cavity; neither front nor back. Used of vowels, as the u in cut.
Holding to a moderate ideological position between two extremes.
noun
a. A telephone exchange.

b. An operator at a telephone exchange.

a. A location or agency for the control or coordination of a group of related activities: air command central.

b. Informal A location or area of intense activity: Their apartment was party central on weekends.
Origin of central
Latin
centrālis
from
centrum
center
; see
center
.
Related Forms:
---
central

Adjective
(comparative more central, superlative most central)
Being in the centre.
Being the most important.
Having or containing the centre of something.
Being very important, or key to something.
Origin
From Latin centrālis.
---