noun
The definition of a cardinal is a songbird with a noticeable crest and a stout bill that is often red in color, a distinctive red color, or a dignitary in the Roman Catholic church.

A songbird with a red plume and stout bill is an example of a cardinal.
A deep scarlet color is an example of cardinal.
A Roman Catholic dignitary nominated by the Pope and held in high esteem within the church is an example of a Cardinal.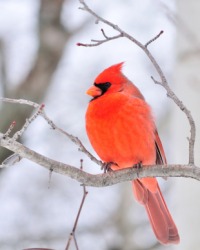 A male cardinal bird.
---
cardinal definition by Webster's New World
adjective
of main importance; principal; chief
bright-red, like the robe of a cardinal
Origin: Middle English ; from Old French ; from Classical Latin cardinalis, principal, chief ; from cardo, that on which something turns or depends, origin, originally , door hinge: see scherzo
noun
one of the Roman Catholic officials appointed by the pope to his council ( College of Cardinals)
bright red
a woman's short cloak, originally red and usually hooded, fashionable in the 18th cent.
☆

Origin: so named because colored like a cardinal's robe

any of various passerine birds (family Emberizidae); esp., a bright-red, crested American species (Cardinalis cardinalis) with a red bill
cardinal number
Origin: ME < LL(Ec) cardinalis, chief presbyter, cardinal < the L adj.
Webster's New World College Dictionary Copyright © 2010 by Wiley Publishing, Inc., Cleveland, Ohio. Used by arrangement with John Wiley & Sons, Inc.
---
cardinal definition by American Heritage Dictionary
adjective
Of foremost importance; paramount: a cardinal rule; cardinal sins.
Dark to deep or vivid red.
noun
Abbr. Card. Roman Catholic Church A high church official, ranking just below the pope, who has been appointed by a pope to membership in the College of Cardinals.
A dark to deep or vivid red.
A North American finch (Cardinalis cardinalis) having a crested head, a short thick bill, and bright red plumage in the male.
A short hooded cloak, originally of scarlet cloth, worn by women in the 18th century.
A cardinal number.
Origin: Middle English, from Late Latin cardinālis, principal, pivotal, from Latin, serving as a hinge, from cardō, cardin-, hinge.
Related Forms: