key

key
The hotel employee responsible for the passé-partout.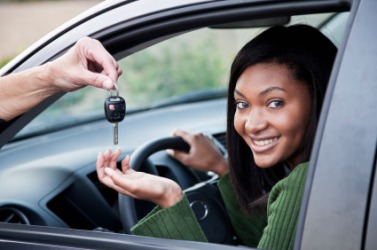 A woman receives the key to the car.
noun
The definition of a key is a metal instrument used for opening and closing a lock or operating a mechanical device.

An example of key is what people use to open their car doors and start the engine.
---
key
noun
pl.
keys
an instrument, usually of metal, for moving the bolt of a lock and thus locking or unlocking something
any of several instruments or mechanical devices resembling or suggesting this in form or use; specif.,

a device to turn a bolt, etc.: a skate key, a watch key
a pin, bolt, wedge, cotter, or similar device put into a hole or space to lock or hold parts together
something that completes or holds together the parts of another thing, as the keystone of an arch or a roughened surface forming a secure base for plaster
any of a set of levers, or the disks, buttons, etc. connected to them, pressed down in operating a piano, accordion, clarinet, typewriter, linotype, word processor, etc.
a device for opening or closing an electric circuit
a small metal piece for fastening a wheel, pulley, etc. to a shaft
a key-shaped emblem presented as an honor: the key to the city

something regarded as like a key in opening or closing a way, revealing or concealing, etc.; specif.,

a place so located as to give access to or control of a region: Vicksburg was the key to the lower Mississippi
a thing that explains or solves something else, as a book of answers, the explanations on a map, the code to a system of pronunciation, etc.
a controlling or essential person or thing

tone of voice; pitch

tone or style of thought or expression: in a cheerful key
relative intensity of feeling: low-key remarks on a volatile subject

the tone of a picture with regard to lightness or darkness or intensity of color

Origin of key

< keyhole, because orig. shaped somewhat like an old-fashioned keyhole, a vertical slot opening out at the top into a wider, rounded hole

Basketball

either of the marked or painted areas on the court near each basket, extending from the end line to the top of the circle that surrounds the foul line

Biol.

an arrangement or listing of the significant characteristics of a group of organisms, used as a guide for taxonomic identification

Bot.

key fruit

Comput.

a field in a record, used to uniquely identify that record

Music

Obs.

the keynote of a scale
a system of related notes or tones based on and named after a certain note (keynote, tonic) and forming a given scale; tonality
the main tonality of a composition
Origin of key
Middle English
keye
from Old English
cæge,
akin to Old Frisian
kei, k?ia,
to secure, guard
controlling; essential; important: a key position
transitive verb
keyed

,

key′ing
to fasten or lock with a key or wedge
to furnish with a key; specif.,

to put the keystone in (an arch)
to provide with an explanatory key

to regulate the tone or pitch of
to bring into harmony or accord
keyboard
key in
to input (data) by means of a keyboard or keypad
key (in) on
to focus one's attention, effort, etc. on: the teacher keyed in on the final chapter
key up
to make tense or excited, as in anticipation
noun
pl.
keys
a reef or low island
Origin of key
Spanish
cayo
: spelling, spelled influenced, influence by key and earlier
key
(quay)
Slang
a kilogram (of marijuana or a narcotic drug)
Origin of key
from pronunciation of 1st syllable of Spanish
kilogramo,
kilogram
Key
1779-1843; U.S. lawyer: wrote "The Star-Spangled Banner"
---
key
noun
pl.
keys
a. A notched and grooved, usually metal implement that is turned to open or close a lock.

b. A similar implement or an electronic device used for opening, winding, or starting something: the key of a wind-up alarm clock; the new car's electronic key.

c. A device, such as a wedge or pin, inserted to lock together mechanical or structural parts.

d. A keycard.

A determining factor in accomplishing or achieving something: One key to the store's success has been consistent customer service.

a. Something that provides access to or understanding of something else: The key to the mystery was a drug store receipt.

b. A set of answers to a test.

c. A table, gloss, or cipher containing correspondences, as for decoding or interpreting something.

d. Computers A number used by a cryptographic algorithm to encrypt or decrypt data.

Architecture The keystone in the crown of an arch.

a. A button or lever that is depressed to operate a machine.

b. A button that is depressed to cause a corresponding character or function to be typed or executed by a typewriter or to be accepted as input by a computer.

c. Music A button or lever that is depressed with the finger to produce or modulate the sound of an instrument, such as a clarinet or piano.

Music

a. A tonal system consisting of seven tones in fixed relationship to a tonic, having a characteristic key signature and being the structural foundation of the bulk of Western music; tonality.

b. The principal tonality of a work: an etude in the key of E.

The pitch of a voice or other sound.
A characteristic tone or level of intensity, as of a speech or sales campaign. Often used in combination: high-key; low-key.
Botany A samara.
An outline of the distinguishing characteristics of a group of organisms, used as a guide in taxonomic identification.
Basketball An area at each end of the court between the baseline and the foul line and including the jump-ball circle at the foul line: a jump shot from the top of the key.
The act of replacing portions of a video or photograph containing a preselected color with material from a separate image, as by chroma key.
adjective
Of crucial importance; significant: key decisions; the key element of the thesis.
verb
keyed, key·ing, keys
verb
transitive
To lock with a key.
To be the determining or crucial factor in: a double that keyed a three-run rally in the fifth inning.
Architecture To furnish (an arch) with a keystone.
Music To regulate the pitch of.
To bring into harmony; adjust or adapt: "achievement tests that are more clearly keyed to what students are held responsible for in high school" ( New York Times )
To cause to pay attention to: school officials who were keyed into the dietary needs of students.
To supply with a key of correspondences or with corresponding references: keyed the pages in the edited book to illustrations in the manuscript.

a. To operate (a device), as for typesetting, by means of a keyboard.

b. To enter (data) into a computer by means of a keyboard.

To identify (a biological specimen).
To vandalize or mar by scratching with a key: Vandals keyed the cars left in the parking garage.
To produce, replace, or include by chroma key.
verb
intransitive
To pay close attention; focus: improved service by keying on customer complaints; keyed into the main points of the lecture.
Sports To watch or cover an opposing player closely in an effort to limit the player's effectiveness. Used with on: "

[She]

still carries the burden of scoring … even though opponents key on her throughout every game" ( Josh Barr )
To replace portions of a video or photograph containing a preselected color with material from a separate image, as by chroma key.
Phrasal Verbs:
key up
To make intense, excited, or nervous:
The actors were keyed up before the opening.
Origin of key
Middle English
kai, kei
from
Old English
cǣg
noun
pl.
keys
A low offshore island or reef, especially in the Gulf of Mexico; a cay.
Origin of key
Alteration
(
influenced by
key
) (variant of
quay
)
of
Spanish
cayo
; see
cay
.
noun
pl.
keys
Slang
A kilogram of marijuana, cocaine, or heroin.
Origin of key
Shortening and alteration of
kilogram
---
key

Noun
(plural keys)
An object designed to open and close a lock.
An object designed to fit between two other objects (such as a shaft and a wheel) in a mechanism and maintain their relative orientation.
A crucial step or requirement.

The key to solving this problem is persistence.
the key to winning a game

A guide explaining the symbols or terminology of a map or chart; a legend.

The key says that A stands for the accounting department.

A guide to the correct answers of a worksheet or test.

Some students cheated by using the answer key.

(computing) One of several small, usually square buttons on a typewriter or computer keyboard, mostly corresponding to text characters.

Press the Escape key.

(music) One of a number of rectangular moving parts on a piano or musical keyboard, each causing a particular sound or note to be produced.
(music) One of various levers on a musical instrument used to select notes, such as a lever opening a hole on a woodwind.
(music) A hierarchical scale of musical notes on which a composition is based

the key of B-flat major

(figuratively) The general pitch or tone of a sentence or utterance.
(botany) An indehiscent, one-seeded fruit furnished with a wing, such as the fruit of the ash and maple; a samara.
(historical) A manual electrical switching device primarily used for the transmission of Morse code.
(cryptography) A piece of information (e.g. a passphrase) used to encode or decode a message or messages.
(computing) In a relational database, a field used as an index into another table (not necessarily unique).
(computing) A value that uniquely identifies an entry in an associative array.
(basketball) The free-throw lane together with the circle surrounding the free-throw line, the free-throw lane having formerly been narrower, giving the area the shape of a skeleton key hole.

He shoots from the top of the key.

(biology) A series of logically organized groups of discriminating information which aims to allow the user to correctly identify a taxon.
(slang) kilogram
(architecture) A piece of wood used as a wedge.
(architecture) The last board of a floor when laid down.
(masonry) A keystone.
That part of the plastering which is forced through between the laths and holds the rest in place.
Adjective
(comparative more key, superlative most key)
Indispensable, supremely important.

He is the key player for his soccer team.
Usage notes
The first meaning is distinguished by the definite article, as seen in the quotations.
Verb
(third-person singular simple present keys, present participle keying, simple past and past participle keyed)
To fit (a lock) with a key.
To fit (pieces of a mechanical assembly) with a key to maintain the orientation between them.
To mark or indicate with a symbol indicating membership in a class.
(telegraphy and radio telegraphy) To depress (a telegraph key).
(radio) To operate (the transmitter switch of a two-way radio).
(computing) (more usually to key in) To enter (information) by typing on a keyboard or keypad.

Our instructor told us to key in our user IDs.

(colloquial) To vandalize (a car, etc.) by scratching with an implement such as a key.

He keyed the car that had taken his parking spot.

To link (as one might do with a key or legend).
(intransitive, biology, chiefly taxonomy) To be identified as a certain taxon when using a key.
To fasten or secure firmly; to fasten or tighten with keys or wedges.
Origin
From Middle English keye, kaye, keiȝe, from Old English cǣġ, cǣġe, cǣga ("key, solution, experiment"), from Proto-Germanic *kēgaz ("stake, post, pole"), from Proto-Indo-European *ǵogh-, *ǵegh- ("branch, stake, bush"), related to Old English cǣggian ("to lock, shut"). Cognate with Scots key, kay ("key"), West Frisian kaai ("key"), North Frisian kay ("key"), Middle Low German kāk ("whipping post, pillory"), and perhaps to Middle Dutch keige ("javelin, spear"), Middle Low German keie, keige ("spear"). For the semantic development, note that medieval keys were simply long poles (ending in a hook) with which a crossbar obstructing a door from the inside could be removed from the outside, by lifting it through a hole in the door.
Noun
(plural keys)
One of a string of small islands.

"the Florida Keys"
Noun
(plural keys)
Alternative form of quay.
---
key - Computer Definition

A small mechanical device for opening, closing, or switching electrical circuits. A telegraph key, for example, is used to open and close an electrical circuit to send short and long pulses of electric current. See also keyboard, keypad, and KTS.
A string of bits used for encrypting and decrypting information. A private key is known to only one person, typically the sender. A public key is known to more than one person, typically both the sender and the receiver, and is published and freely available from a public key infrastructure (PKI) or certificate authority (CA). See also CA, encryption, PKI, private key encryption, and public key encryption.
---

The value needed to encrypt or decrypt a message. Keys can be symmetric or asymmetric. If someone wanted to keep information secret from another, he or she could utilize one of two strategies: either hide the fact that the information exists, or make the information that exists unintelligible to another.
Cryptography is the act of securing information by encrypting it, and cryptanalysis is the act of decrypting encrypted data to make a message intelligible. Cryptology is the area of mathematics that includes both cryptography and cryptanalysis.
Modern cryptography uses algorithms, or complex mathematical equations, and secret keys to decrypt and encrypt information. A key is a number or a string that is typically fewer than 20 characters. Symmetric keys use the same key for decryption and encryption, whereas asymmetric keys are produced in pairs—one key encrypts the information and the other, "mirrored" key decrypts it. Thus, someone having only one key could not figure out the other key.
A common question in security pertains to differences between 40-bit and 128-bit encryption in Internet browsers. The easiest way to break encryption in order to read the plaintext is simply to try all possible keys. To help indicate the relative degree of difficulty in carrying out this task, it is important to realize that a 40-bit key has one trillion combinations. So, it would take a lone computer many weeks to attempt all these combinations. A cracker with considerable time on his or her hands would likely need just a few weeks to decrypt a message sent across the Internet with a 40-bit browser.
Furthermore, every increase in key length means that the key will take double the time to crack. For argument's sake, if a computer needs one week to crack a 40-bit key, it will take twice as long to break a 41-bit key—and for a 128-bit key, it will need an estimated 309,485,009,821,345,068,724,781,056 times longer to break it.
See Also: Cryptography or "Crypto"; Decryption or Decipher; Encryption or Encipher.
Graham, R. Hacking Lexicon. [Online, 2001.] Robert Graham Website: http://www.linuxsecurity.com/resource_files/documentation/hacking-dict.html; Simpson, S. Cryptography Defined/Brief History. [Online, Spring, 1997.] University of Texas Economics Website: http://www.eco.utexas.edu/faculty/Norman/BUS.FOR/course.mat/SSim/history .html.
---
---