An Xray of a human skeleton.
noun
Skeleton is the internal support for something or the most basic and essential part of something.

When there are only a few limited people working, just enough to keep the business open, this is an example of a skeleton crew.
The internal bone and cartilage structure that supports the body are an example of a skeleton.
---
skeleton
the hard framework of an animal body, supporting the tissues and protecting the organs; specif., all the bones collectively, or the bony framework, of a human being or other vertebrate animal
anything like a skeleton in any of various ways

a very lean or emaciated person or animal
a supporting framework, as of a building or ship
an outline or preliminary sketch, as of a novel
the meager or devitalized remains of something
Origin of skeleton
Modern Latin from Classical Greek from
skeleton (s?ma)
, dried (body), mummy from
skeletos
, dried up, akin to
skl?ros
, dry, hard from Indo-European base an unverified form
(s)kel-
from source shallow
of or like a skeleton; specif., of, or having the nature of, the main or essential outline, framework, etc.: a skeleton plan
greatly reduced: a skeleton force
skeleton at the feast
a person or event that brings gloom or sadness to an occasion of joy or celebration
Origin of skeleton
in allusion to a memento mori offered near the end of many ancient Egyptian banquets, as described by Plutarch, in which a servant carried in a
skeleton
and exclaimed to the guests, "Eat, drink, and be merry; for, tomorrow you die!"
skeleton in the closet
some fact, as about one's family, kept secret because of shame or fear of disgrace
Origin of skeleton
phr. popularized by W. M. Thackeray, but in use earlier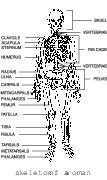 ---
skeleton
noun
a. The internal structure that protects and supports the soft organs, tissues, and other parts of a vertebrate organism, and is composed of bone and cartilage or, in certain animals, cartilage alone.

b. The hard external structure that supports, protects, or contains the body of many invertebrates, such as mollusks, crustaceans, and corals, and certain vertebrates, such as turtles.

A supporting structure or framework, as of a building.
An outline or sketch.
Something reduced to its basic or minimal parts.
One that is very thin or emaciated.

a. A sport in which a person glides down an icy track head-first lying on one's stomach on a compact, simple sled that lacks steering or brakes.

b. The sled used in such a sport.
adjective
Of, relating to, or resembling a skeleton.
Reduced to the basic or minimal parts or members: a skeleton crew.
Of or relating to the sport of skeleton.
Origin of skeleton
Greek
skeleton (sōma)
dried-up (body)
neuter of
skeletos
from
skellesthai
to dry up
skeleton
top: human skeleton
bottom:architectural skeleton
skeleton
---
skeleton

---