noun
The definition of coral is a hard skeleton left behind by marine polyps that often forms a larger structure like a reef or an atoll.

Facts About Coral Reefs

The oldest coral reefs known are Hawaiian reefs which are an estimated 4,265 years old.
Coral has been called the oldest living organism with a skeleton on the planet.

An example of coral is the white hard part of a reef.
An example of coral is the pinkish-orange colored hard shell shaped like a twig used to make jewelry.

Coral is defined as a pinkish-orange color.

An example of coral is the Elizabeth Taylor rose.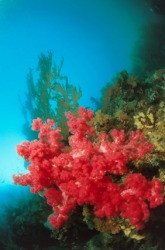 A piece of red coral.
---
coral definition by Webster's New World
noun
the hard, stony skeleton secreted by certain marine polyps (class Anthozoa) and often deposited in extensive masses forming reefs and atolls in tropical seas
any such polyp (esp. order Scleractinia) living singly or in large colonies
a piece of coral, esp. the red kind used in jewelry
the mature ovaries of the lobster
a yellowish red or yellowish pink
Origin: Old French ; from Classical Latin coralium ; from Classical Greek korallion ; from uncertain or unknown; perhaps Classical Hebrew (language) gōrál, pebble or Arabic garal, small stone
adjective
made of coral
coral-red or coral-pink
Webster's New World College Dictionary Copyright © 2010 by Wiley Publishing, Inc., Cleveland, Ohio. Used by arrangement with John Wiley & Sons, Inc.
---
coral definition by American Heritage Dictionary
noun
a. A rocklike deposit consisting of the calcareous skeletons secreted by various anthozoans. Coral deposits often accumulate to form reefs or islands in warm seas.

b. Any of numerous chiefly colonial marine polyps of the class Anthozoa that secrete such calcareous skeletons.

c. The red-orange, pinkish, or white deposits secreted by corals of the genus Corallium, used to make jewelry and ornaments.

d. An object made of this material.

A deep or strong pink to moderate red or reddish orange.
The unfertilized eggs of a female lobster, which turn a reddish color when cooked.
adjective
Of a deep or strong pink to moderate red or reddish orange.
Origin: Middle English, from Old French, from Latin corallium, from Greek korallion.
The American Heritage® Dictionary of the English Language, 4th edition Copyright © 2010 by Houghton Mifflin Harcourt Publishing Company. Published by Houghton Mifflin Harcourt Publishing Company. All rights reserved.
---
coral - Science Definition
Any of numerous small, sedentary cnidarians (coelenterates) of the class Anthozoa. Corals often form massive colonies in shallow sea water and secrete a cup-shaped skeleton of calcium carbonate, which they can retreat into when in danger. Corals are related to the sea anemones and have stinging tentacles around the mouth opening that are used to catch prey.
A hard, stony substance consisting of the skeletons of these animals. It is typically white, pink, or reddish and can form large reefs that support an abundance of ocean fish.