frame

frame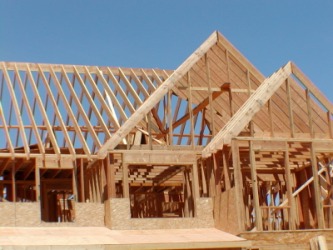 The frame of a new house under construction.
noun
The definition of a frame is the general structure that gives a person or thing its shape, or how something is put together.

An example of a frame is the bone structure of the human skeleton.
An example of a frame is a house made of wood and stone.

A frame is defined as the outside border that holds something in place on all sides.

An example of frame is the enclosed wood structure that holds a picture hanging on a wall.
verb
To frame means to put together, form, shape or compose.

An example of to frame is giving feedback with a compliment, a criticism and suggestions for change.
YourDictionary definition and usage example. Copyright © 2018 by LoveToKnow Corp
Link to this page
Cite this page
MLA Style
"frame." YourDictionary, n.d. Web. 19 August 2018. <http://www.yourdictionary.com/FRAME>.
APA Style
frame. (n.d.). Retrieved August 19th, 2018, from http://www.yourdictionary.com/FRAME
---
frame
transitive verb
framed

,

fram′ing
to shape, fashion, or form, usually according to a pattern; design: to frame a constitution
to put together the parts of; construct
to put into words; compose; devise; contrive; conceive: to frame an excuse
to utter: his lips framed the words
to adapt for a particular use; adjust; fit: a law framed to equalize the tax burden
to enclose in a border; provide a border for (a mirror, picture, etc.)
to photograph or film (objects or activity) within the limits of the frame (noun)

Informal

to falsify evidence, testimony, etc. beforehand in order to make (an innocent person) appear guilty

Obs.

to bring about; cause
Origin of frame
Middle English
framen
from
frame
, a structure, frame, probably from Old Norse
frami
, profit, benefit, akin to
frama
, to further from
fram
, forward (akin to Old English
fram
, from); some senses from Old English
framian
, to be helpful: see furnish
Obs.
to proceed or succeed; go
Archaic

anything made of parts fitted together according to a design
body structure in general; build

basic or skeletal structure around which a thing is built and that gives the thing its shape; framework, as of a house

the skeletal framework of an automotive chassis, on which the body and various mechanical components are mounted
cold frame
the case or border into which a window, door, etc. is set and which serves as a structural support
a border, often ornamental, surrounding a picture, etc.; also, the picture or other matter inside such a border
[pl.] the framing of a pair of eyeglasses; rims

any of various machines built on or in a framework
the way that anything is constructed or put together; organization; form
a set of circumstances that serve as background to an event
condition; state: a bad frame of mind
an established order or system

Informal, Baseball

an inning

Informal

the act of framing an innocent person; frame-up
any of the ten divisions of a game, in each of which the pins are set up anew

Linguis.

a syntactic construction with a blank left in it for testing which words will occur there

Film

each of the small exposures composing a strip of film
the rectangular image on a film screen, or the particular objects or activity focused on by the camera

Pool

rack
the period of play required to pocket all the balls

Shipbuilding

any of the transverse strengthening members of a ship's hull that extend from the gunwale to the keel

TV

a single scanning of the field of vision by the electron beam
Origin of frame
ME: see framethe transitive verb
having a wooden framework, usually covered with boards: a frame house
Link to this page
Cite this page
MLA Style
"frame." YourDictionary, n.d. Web. 19 August 2018. <http://www.yourdictionary.com/FRAME>.
APA Style
frame. (n.d.). Retrieved August 19th, 2018, from http://www.yourdictionary.com/FRAME
---
frame
noun
a. A structure that gives shape or support: the frame of a house.

b. The structure or physique of a human or animal body: a worker's sturdy frame.

c. An open structure or rim for encasing, holding, or bordering: a window frame; the frame of a mirror.

a. A closed, often rectangular border of drawn or printed lines.

b. The edge, usually rectangular, delimiting the boundaries of an image.

c. The bounded area of a visual image, as in photography or film: filled the frame with a cast of thousands.

d. One of the set of still images that constitute a film or video.

e. A single image, as in a comic strip or graphic novel, usually bounded by a rectangular line.

f. Computers A rectangular area in which text or graphics can be shown, especially one of several rectangular areas on a web page displaying different documents simultaneously.

a. A general structure or system: the frame of government.

b. A general state or condition: The news put me into a better frame of mind.

c. A frame of reference.

The presentation of events in a narrative work, especially a work of literature or film, such that characters in the narrative exist in isolation, uninfluenced by, unaware of, and unable to interact with the narrator or audience.
Linguistics

a. The context in which discourse occurs.

b. A pattern for a syntactic construction in which one of a group of words can vary.

a. A round or period of play in some games, such as bowling and billiards.

b. Baseball An inning.

often frames A pair of eyeglasses, excluding the lenses: had new lenses fitted into an old pair of frames.
See cold frame.
Informal A frame-up.
Obsolete Shape; form.
verb
framed, fram·ing, frames
verb
transitive
a. To enclose in a frame: frame a painting.

b. To put together the structural parts of; construct the frame of: frame a house.

To conceive or design: framed an alternate proposal.
To establish the context for and terminology regarding (a subject of discussion or debate), especially so as to exclude an unwanted point of view: The question was framed to draw only one answer.

a. To put into words; formulate: frame a reply.

b. To form (words) silently with the lips.

a. To make up evidence or contrive events so as to incriminate (a person) falsely.

b. To prearrange (a contest) so as to ensure a desired fraudulent outcome; fix: frame a prizefight.

c. Baseball To catch (a pitch) in such a way as to make it appear to have passed through the strike zone.
verb
intransitive
Archaic To go; proceed: "Frame upstairs, and make little din" ( Emily Brontë )
Origin of frame
Middle English
from
framen
to make progress, to frame
from
Old English
framian
to avail, profit
from
fram
forward
; see
from
.
Related Forms:
fram′a·ble frame′a·ble

adjective
Link to this page
Cite this page
MLA Style
"frame." YourDictionary, n.d. Web. 19 August 2018. <http://www.yourdictionary.com/FRAME>.
APA Style
frame. (n.d.). Retrieved August 19th, 2018, from http://www.yourdictionary.com/FRAME
Verb
(third-person singular simple present frames, present participle framing, simple past and past participle framed)
To fit, as for a specific end or purpose; make suitable or comfortable; adapt; adjust.
To construct by fitting or uniting together various parts; fabricate by union of constituent parts.
To bring or put into form or order; adjust the parts or elements of; compose; contrive; plan; devise.
Of a constructed object such as a building, to put together the structural elements.

Once we finish framing the house, we'll hang tin on the roof.

Of a picture such as a painting or photograph, to place inside a decorative border.
To position visually within a fixed boundary.

The director frames the fishing scene very well.

To construct in words so as to establish a context for understanding or interpretation.

How would you frame your accomplishments?
The way the opposition has framed the argument makes it hard for us to win.

(criminology) Conspire to incriminate falsely a presumably innocent person.

The gun had obviously been placed in her car in an effort to frame her.

(intransitive, dialectal, mining) To wash ore with the aid of a frame.
(intransitive, dialectal) To move.

An oath, and a threat to set Throttler on me if I did not frame off, rewarded my perseverance. ― E. Brontë.
Noun
(plural frames)
The structural elements of a building or other constructed object.

Now that the frame is complete, we can start on the walls.

The structure of a person's body.

His starved flesh hung loosely on his once imposing frame.

A rigid, generally rectangular mounting for paper, canvas or other flexible material.

The painting was housed in a beautifully carved frame.

A piece of photographic film containing an image.

A film projector shows many frames in a single second.

A context for understanding or interpretation.

In this frame, it's easy to ask the question that the investigators missed.

(snooker) A complete game of snooker, from break-off until all the balls (as many as necessary to win) have been potted.
(bowling) A set of balls whose results are added together for scoring purposes. Usually two balls, but only one ball in the case of a strike, and three balls in the case of a strike or a spare in the last frame of a game.
(philately) The outer decorated portion of a stamp's image, often repeated on several issues although the inner picture may change.
(film, animation) A division of time on a multimedia timeline, such as 1/30th of a second.
(Internet) An individually scrollable region of a webpage.
(baseball, slang) An inning.
Origin
From Middle English framen, fremen, fremmen ("to construct, build, strengthen, refresh, perform, execute, profit, avail"), from Old English framian, fremian, fremman ("to profit, avail, advance, perform, promote, execute, commit, do"), from Proto-Germanic *framjaną ("to perform, promote"), from Proto-Indo-European *promo- ("front, forward"). Cognate with Low German framen ("to commit, effect"), Danish fremme ("to promote, further, perform"), Swedish främja ("to promote, encourage, forster"), Icelandic fremja ("to commit"). More at from.
English Wiktionary. Available under
CC-BY-SA
license.
Link to this page
Cite this page
MLA Style
"frame." YourDictionary, n.d. Web. 19 August 2018. <http://www.yourdictionary.com/FRAME>.
APA Style
frame. (n.d.). Retrieved August 19th, 2018, from http://www.yourdictionary.com/FRAME
---
frame - Computer Definition

A structure in the form of a structure of metal uprights and cross pieces with termination points on each side into which components can be mounted and conductors can be mechanically connected. The term is applied to distribution frames for cables and is the origin of the term mainframe computer.
In asynchronous serial data communications, a transmission unit comprising a character of data and one or two parity bits, preceded by a start bit, succeeded by a stop bit. Asynchronous communications are said to be character-framed. See Figure F-5. See also asynchronous transmission.
In synchronous data communications protocols such as HDLC and SDLC, a message unit. A frame comprises control data, address data, user data, and an error control mechanism.The frame is preceded by a beginning flag and succeeded by an ending flag. The data field of an SDLC frame, for example, can comprise as many as 4,096 octets and the various control fields add another four or six octets. See Figure F-6. See also SDLC and synchronous transmission.
In digital carrier systems E-carrier, J-carrier, and T-carrier, a collection of time slots that repeats every 125 microseconds. In a channelized application, each time slot constitutes a channel. In an unchannelized application, the entire collection of time slots constitutes a channel. Figure F-7 is an illustration of a channelized T1 frame. Note: A T1 and J1 frame is always preceded by a framing bit, which is used for synchronization and other control purposes. An E-1 frame does not require a framing bit, as time slots 0 and 16 serve those functions. See also carrier, channel, E-carrier, framing bit, J-carrier, synchronous, T-carrier, and time slot.
In video communications, a single photographic image that is one of many in a motion picture. See also frame rate.
Link to this page
Cite this page
MLA Style
"frame." YourDictionary, n.d. Web. 19 August 2018. <http://www.yourdictionary.com/FRAME>.
APA Style
frame. (n.d.). Retrieved August 19th, 2018, from http://www.yourdictionary.com/FRAME
---
(1) In computer graphics, one screenful of data or its equivalent storage space. See frame buffer.
(2) In video capture, storage and playback, a single image in a series of consecutive images. See full-motion video.
(3) In communications, a fixed block of data transmitted as a single entity. In local area networks (LANs), the terms frame and packet are used synonymously. See packet and Ethernet.
(4) A separate window on a Web page. See frames.
(5) In desktop publishing, a movable, resizable box that holds a graphic image.
(6) In telephony, a rack for holding equipment, typically 23" wide by eight feet high. See rack mounted.
(7) In AI, a data structure that holds a general description of an object, which is derived from basic concepts and experience.
Computer Desktop Encyclopedia
THIS DEFINITION IS FOR PERSONAL USE ONLY All other reproduction is strictly prohibited without permission from the publisher. © 1981-2017 The Computer Language Company Inc. All rights reserved.
Link to this page
Cite this page
MLA Style
"frame." YourDictionary, n.d. Web. 19 August 2018. <http://www.yourdictionary.com/FRAME>.
APA Style
frame. (n.d.). Retrieved August 19th, 2018, from http://www.yourdictionary.com/FRAME
---