noun
The definition of a frame is the general structure that gives a person or thing its shape, or how something is put together.

An example of a frame is the bone structure of the human skeleton.
An example of a frame is a house made of wood and stone.

A frame is defined as the outside border that holds something in place on all sides.

An example of frame is the enclosed wood structure that holds a picture hanging on a wall.
verb
To frame means to put together, form, shape or compose.

An example of to frame is giving feedback with a compliment, a criticism and suggestions for change.
YourDictionary definition and usage example. Copyright © 2013 by LoveToKnow Corp.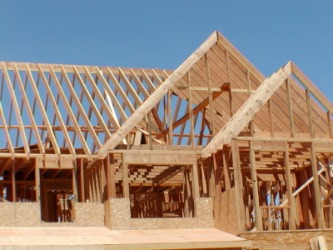 The frame of a new house under construction.
Licensed from iStockPhoto
---
transitive verb
framed, framing
to shape, fashion, or form, usually according to a pattern; design: to frame a constitution
to put together the parts of; construct
to put into words; compose; devise; contrive; conceive: to frame an excuse
to utter: his lips framed the words
to adapt for a particular use; adjust; fit: a law framed to equalize the tax burden
to enclose in a border; provide a border for (a mirror, picture, etc.)
to photograph or film (objects or activity) within the limits of the frame ()
☆

Informal

to falsify evidence, testimony, etc. beforehand in order to make (an innocent person) appear guilty

Obsolete

to bring about; cause
Origin: Middle English framen ; from frame, a structure, frame, probably ; from Old Norse frami, profit, benefit, akin to frama, to further ; from fram, forward (akin to Old English fram, from); some senses ; from Old English framian, to be helpful: see furnish
intransitive verb
Obsolete
to proceed or succeed; go
noun
Archaic

anything made of parts fitted together according to a design
body structure in general; build

basic or skeletal structure around which a thing is built and that gives the thing its shape; framework, as of a house

the skeletal framework supporting the chassis of some automotive vehicles
cold frame
the case or border into which a window, door, etc. is set and which serves as a structural support
a border, often ornamental, surrounding a picture, etc.; also, the picture or other matter inside such a border
the framing of a pair of eyeglasses; rims

any of various machines built on or in a framework
the way that anything is constructed or put together; organization; form
a set of circumstances that serve as background to an event
condition; state: a bad frame of mind
an established order or system
☆

Baseball, Informal

an inning
☆

Informal

the act of framing an innocent person

Bowling, etc.

any of the ten divisions of a game, in each of which the pins are set up anew

Linguis.

a syntactic construction with a blank left in it for testing which words will occur there
☆

Film

each of the small exposures composing a strip of film
the rectangular image on a film screen, or the particular objects or activity focused on by the camera

Pool

rack
the period of play required to pocket all the balls

Shipbuilding

any of the transverse strengthening members of a ship's hull that extend from the gunwale to the keel

TV

a single scanning of the field of vision by the electron beam
Origin: ME: see framethe
adjective
☆ having a wooden framework, usually covered with boards: a frame house
Webster's New World College Dictionary
Copyright © 2010 by Wiley Publishing, Inc., Cleveland, Ohio.
Used by arrangement with John Wiley & Sons, Inc.
---
verb
framed
framed
,
fram·ing
,
frames
verb
, transitive
To build by putting together the structural parts of; construct: frame a house.
To conceive or design: framed an alternate proposal.
To arrange or adjust for a purpose: The question was framed to draw only one answer.

a. To put into words; formulate: frame a reply.

b. To form (words) silently with the lips.

To enclose in or as if in a frame: frame a painting.
Informal

a. To make up evidence or contrive events so as to incriminate (a person) falsely.

b. To prearrange (a contest) so as to ensure a desired fraudulent outcome; fix: frame a prizefight.
verb
, intransitive
Archaic To go; proceed.
Obsolete To manage; contrive.
noun
Something composed of parts fitted and joined together.
A structure that gives shape or support: the frame of a house.

a. An open structure or rim for encasing, holding, or bordering: a window frame; the frame of a mirror.

b. A closed, often rectangular border of drawn or printed lines.

A pair of eyeglasses, excluding the lenses. Often used in the plural: had new lenses fitted into an old pair of frames.
The structure of a human or animal body; physique: a worker's sturdy frame.
A cold frame.
A general structure or system: the frame of government.
A general state or condition: The news put me into a better frame of mind.
A frame of reference.
Sports & Games

a. A round or period of play in some games, such as bowling and billiards.

b. Baseball An inning.

A single picture on a roll of movie film or videotape.
The total area of a complete picture in television broadcasting.
An individual drawing within a comic strip.
Computer Science

a. A rectangular segment within a browser's window that can be scrolled independently of other such segments.

b. A single step in a sequence of programmed instructions.

Informal A frame-up.
Obsolete Shape; form.
Origin: Middle English framen, from Old English framian, to further, from fram, forward; see from.
Related Forms:
framˈa·ble, frameˈa·ble

adjective
The American Heritage® Dictionary of the English Language
, 4th edition Copyright © 2010 by Houghton Mifflin Harcourt Publishing Company. Published by Houghton Mifflin Harcourt Publishing Company. All rights reserved.
---
frame - Computer Definition
A structure in the form of a structure of metal uprights and cross pieces with termination points on each side into which components can be mounted and conductors can be mechanically connected. The term is applied to distribution frames for cables and is the origin of the term mainframe computer.
In asynchronous serial data communications, a transmission unit comprising a character of data and one or two parity bits, preceded by a start bit, succeeded by a stop bit. Asynchronous communications are said to be character-framed. See Figure F-5. See also asynchronous transmission.
In synchronous data communications protocols such as HDLC and SDLC, a message unit. A frame comprises control data, address data, user data, and an error control mechanism.The frame is preceded by a beginning flag and succeeded by an ending flag. The data field of an SDLC frame, for example, can comprise as many as 4,096 octets and the various control fields add another four or six octets. See Figure F-6. See also SDLC and synchronous transmission.
In digital carrier systems E-carrier, J-carrier, and T-carrier, a collection of time slots that repeats every 125 microseconds. In a channelized application, each time slot constitutes a channel. In an unchannelized application, the entire collection of time slots constitutes a channel. Figure F-7 is an illustration of a channelized T1 frame. Note: A T1 and J1 frame is always preceded by a framing bit, which is used for synchronization and other control purposes. An E-1 frame does not require a framing bit, as time slots 0 and 16 serve those functions. See also carrier, channel, E-carrier, framing bit, J-carrier, synchronous, T-carrier, and time slot.
In video communications, a single photographic image that is one of many in a motion picture. See also frame rate.
Webster's New World Telecom Dictionary
Copyright © 2010 by Wiley Publishing, Inc., Indianapolis, Indiana.
Used by arrangement with John Wiley & Sons, Inc.
---
(1) In computer graphics, one screenful of data or its equivalent storage space. See frame buffer.
(2) In video capture, storage and playback, a single image in a series of consecutive images. See full-motion video.
(3) In communications, a fixed block of data transmitted as a single entity. In local area networks (LANs), the terms frame and packet are used synonymously. See packet and Ethernet.
(4) A separate window on a Web page. See frames.
(5) In desktop publishing, a movable, resizable box that holds a graphic image.
(6) In telephony, a rack for holding equipment, typically 23" wide by eight feet high. See rack mounted.
(7) In AI, a data structure that holds a general description of an object, which is derived from basic concepts and experience.
Computer Desktop Encyclopedia
THIS DEFINITION IS FOR PERSONAL USE ONLY
All other reproduction is strictly prohibited without permission from the publisher.
© 1981-2014 The Computer Language Company Inc. All rights reserved.
---
frame - Medical Definition
noun
Something composed of parts fitted and joined together.
The American Heritage® Medical Dictionary
Copyright © 2010 by Houghton Mifflin Harcourt Publishing Company. Published by Houghton Mifflin Harcourt Publishing Company. All rights reserved.