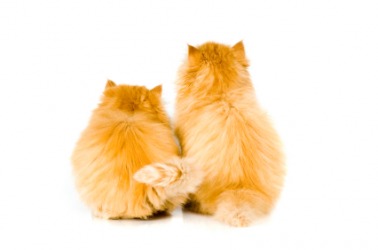 The backs of two cute kitties.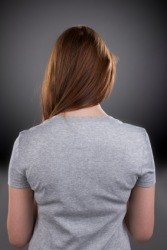 The back of a woman.
adjective
The definition of back is in the rear.

An example of back used as an adjective is a back yard which means a yard situated behind the house.
noun
Back means the rear of something.

An example of a back is the tail of an animal.
verb
Back is defined as to support or to move in a backward motion.

An example of to back is to financially support a political candidate.
An example of to back is to back up which is to drive a car backwards into the driveway.
---
back
the part of the body opposite to the front; in humans and many other animals, the part to the rear or top reaching from the nape of the neck to the end of the spine
the backbone or spine
the part of a chair that supports one's back
the part of a garment or harness that fits on the back of a person or animal
physical strength: put some back into the work
the rear or hind part of anything; part behind or opposite the front: the back of the room, the back of his leg
the part or side of anything that is less often used, seen, etc.: the back of the hand; the back of a carpet, textile, etc.; the back of a knife

the part of a book where the sections are sewed or glued together; part covered by the spine
the spine of a book

Mining

the roof or overhead part of an underground passage

Sports

a player positioned behind many of his or her teammates, as a running back in football or a halfback in soccer
Origin of back
Middle English
bak
from Old English
baec
; akin to Old Norse
bak,
Old High German
bahho
at the rear or back; behind
distant or remote: back country
of or for a time in the past: a back copy of a newspaper, back pay
in a backward direction; returning; reversed: a back step

Phonet.

articulated with the tongue in a position toward the back of the mouth: said of certain vowels, as (?) in cool
at, to, or toward the rear; backward
to or toward a former position or location
into or toward a previous condition

to or toward an earlier time: set your clocks back one hour
to or toward a later time: the snowstorm pushed the meeting back two days

so as to keep in reserve or concealment: to hold back information

in return or requital: to pay someone back
in opposition or resistance: consumers fighting back against unfair lending practices
Origin of back
ME
bac
<
abac
< OE
on bæc,
backward
to cause to move backward, or to the rear: often with up
to be at the back of; stand behind
to support or help, as with money, endorsement, etc.
to make a wager in support of; bet on
to get on the back of; mount
to provide with a back or backing
to form the back of
to sign on the back; endorse
to provide security for (a currency, loan, etc.)
to move or go backward: to back into a room
to move (into a desired position) through the faulty performance of an opponent: to back into a championship

to have the back in a certain place or direction: the house backs on a lake

Meteorol.

to shift counterclockwise (in the Northern Hemisphere): said of the changing direction of a wind
back and fill
to handle sails so that they alternately spill wind and fill with wind, as in maneuvering in a narrow channel
to zigzag
to vacillate, as in a decision
back and forth
to and fro
from side to side
back away
to move or go backward
to withdraw from a position, stop holding to an attitude, etc.
back down
to withdraw from a position or a claim
(in) back of
at or to the rear of; behind
back off
to move back a short distance

Informal

back down

Informal

to refrain or cease from pursuing or annoying; lay off

Informal

to stop supporting a position, holding to an attitude, etc.
back out
to withdraw from an enterprise
to refuse to keep a promise
back out of
to withdraw from (an enterprise)
to refuse to keep (a promise)
back up
to support or help
to move or go backward
to accumulate as the result of a stoppage: traffic backed up for a mile

Baseball

to take a position behind (a teammate) in case there should be a mishandled or erratically thrown ball

Comput.

to make a standby or alternate copy of (data, a file, etc.)
back water
to use oars, a propeller, etc. to move backward or prevent drifting
to withdraw from a position or a claim
behind someone's back
without someone's knowledge or consent
be (flat) on one's back
to be ill, bedridden, or helpless
get off someone's back
Slang
to stop nagging or harassing someone
go back on
Informal
to be faithless or disloyal to; betray
to fail to keep (a promise, one's word, etc.)
have someone's back
Informal
to watch over, defend, or support someone who is in a vulnerable position
put someone's back up
Informal
to make someone angry
turn one's back on
to show anger, contempt, etc. toward by turning away from
to ignore the plight of; desert; fail
watch one's back
Informal
to be wary against an attack, specif. a treacherous attack
with one's back to the wall
in a desperate or awkward position or situation, often one in which one finally has to act in response to an attack or demand
a vat or tub used in certain industrial processes
Origin of back
Dutch
bak
from Late Latin
bacca
, water bowl
Back
river in N Canada, flowing northeast into the Arctic Ocean: c. 600 mi (966 km)
Origin of Back
after George
Back
(1796-1878), Arctic navigator
---
back
noun
a. The part of the trunk of the human body along and to the sides of the spine between the neck and the pelvis; the dorsum.

b. The analogous dorsal region in other animals.

The backbone or spine.
The part or area farthest from the front.
The part opposite to or behind that adapted for view or use: the back of the hand; wrote on the back of the photograph.
The reverse side, as of a coin.
A part that supports or strengthens from the rear: the back of a couch.

a. The part of a book where the pages are stitched or glued together into the binding.

b. The binding itself.

Sports

a. A player who takes a position behind the front line of other players in certain games, such as football and soccer.

b. In swimming, backstroke.
verb
backed, back·ing, backs
verb
transitive
To cause to move backward or in a reverse direction: Back the car up and then make the turn.
To furnish or strengthen with a back or backing.

a. To provide with financial or material support: Unions backed the pro-labor candidate.

b. To lend moral support to, as by corroborating a claim. Often used with up : I'm not comfortable filing a complaint if you won't back me up.

c.

To be in favor of; endorse or advocate:

backed the reform proposal.

See Synonyms at

support

.

To provide with musical accompaniment. Often used with up.
To bet or wager on.
To adduce evidence in support of; substantiate: backed the argument with facts.
To form the back or background of: Snowcapped mountains back the village.
verb
intransitive
To move backward: backed out of the garage.
To shift to a counterclockwise direction. Used of the wind.
adjective
Located or placed in the rear: Deliveries should be made at the back entrance.
Distant from a center of activity; remote.
Of a past date; not current: a back issue of a periodical.
Being owed or due from an earlier time; in arrears: back pay.
Being in a backward direction: a back step.
Linguistics Pronounced with the back of the tongue, as oo in cool. Used of vowels.
adverb
At, to, or toward the rear or back.
In, to, or toward a former location: went back for the class reunion.
In, to, or toward a former condition: When the spell broke, the prince turned back into a frog.
In, to, or toward a past time: This story goes back to the 1920s.
In reserve or concealment: We kept back some money for emergencies.
In check or under restraint: Barriers held the crowd back.
In reply or return: emailed back that he would be late.
Phrasal Verbs:
back away
To withdraw from a position; retreat.
back down
To withdraw from a position, opinion, or commitment.
back off
To retreat or draw away.
back out
To withdraw from something before completion.To fail to keep a commitment or promise.
back up
To cause to accumulate or undergo accumulation:
The accident backed the traffic up for blocks. Traffic backed up in the tunnel.
Computers
To make a backup of (a program or file).
Origin of back
Middle English
bak
from
Old English
bæc
Related Forms:
noun
A shallow vat or tub used chiefly by brewers.
Origin of back
Dutch
bak
from
French
bac
from
Old French
boat
from
Vulgar Latin
baccus
vessel
probably of Celtic origin
---
back

---