tail

tail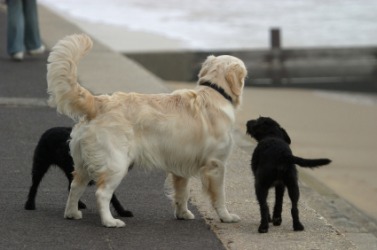 A couple of dogs tails.
noun
The definition of a tail is the rear end of an animal's body that usually forms a flexible appendage.

An example of a tail is what a dog wags when it's happy.

Tail is defined as the rear, bottom or last portion of something or a long bundle of hair.

An example of a tail is the rear end of an airplane.
An example of a tail is the reverse side of a coin.
An example of a tail is the portion of long hair bundled at the top of a samurai's head.
---
tail
the rear end of an animal's body, esp. when forming a distinct, flexible appendage to the trunk
such an appendage

anything like an animal's tail in form or position: the tail of a shirt
a luminous train behind a comet or meteor
the hind, bottom, last, or inferior part of anything
[often pl.] the reverse side of a coin
a long braid or tress of hair
a train of followers or attendants; retinue
the lower end of a pool or stream

the rear or back section of an aircraft
a set of stabilizing planes at the rear of an airplane
the rear part of a rocket or missile

[pl.]

tailcoat
full-dress attire for men that includes a tailcoat

Informal

a person or vehicle that follows another, esp. in surveillance

Slang

the buttocks

Slang

: somewhat vulgar

sexual intercourse with a woman
a woman regarded as a sexual partner

Printing

the bottom of a page

Prosody

the short line or lines ending certain stanzas or verse forms
Origin of tail
Middle English from Old English
tægel,
akin to Old High German
zagel
from Indo-European base an unverified form
de?-,
to tear, tear off from source Sanskrit
sa??,
fringe
at the rear or rear end
from the rear: a tail wind
to provide with a tail
to cut or detach the tail or taillike part from
to form the tail or end of, as of a group or procession; be at the rear or end of
to fasten or connect at or by the tail
to fasten one end of (a brick, board, etc.) into a wall, etc.: usually used with in

Informal

to follow stealthily; shadow
to straggle
to become gradually smaller or fainter: with off or away
to be fastened into a wall, etc. by one end: said of a brick or board

Informal

to follow close behind
on someone's tail
Informal
following or shadowing someone closely
turn tail
to run from danger, difficulty, hardship, etc.
with one's tail between one's legs
in defeat or in escape from expected defeat, esp. with fear or dejection
entail (noun & )
Origin of tail
Middle English
taile
from Old French
taille,
a cutting from
taillier:
see tailor
limited in a specific way, as to certain heirs or order of succession
---
tail
noun
The posterior part of an animal, especially when elongated and extending beyond the trunk or main part of the body.
The bottom, rear, or hindmost part, especially:

a. The lowest part of a garment such as a shirt or coat.

b. The rear end of an automobile or other vehicle.

c. The rear portion of the fuselage of an aircraft or the assembly of stabilizing planes and control surfaces in this portion.

d. The vaned rear portion of a bomb or missile.

A long thin arrangement, part, or structure, often extending from a main structure:

a. A long thin part on some kites that hangs down below the part that catches the wind to provide stability.

b. The long stream of gas and dust that is illuminated and directed away from the head of a comet when it is close to the sun.

c. A braid of hair; a pigtail.

d. A train of followers; a retinue.

Something that follows something else or takes the last place:

a. The end of a line of persons or things.

b. The short closing line of certain stanzas of verse.

c. The refuse or dross remaining from processes such as distilling or milling.

tails

a. A formal evening costume typically worn by men.

b. A tailcoat.

often tails used with a sing. verb The side of a coin not having the principal design.
The trail of a person or animal in flight: The police were on the bank robber's tail.
A person assigned or employed to follow and report on someone else's movements and actions: The police put a tail on the suspected drug dealer.

a. Slang The buttocks.

b. Vulgar Slang Sexual intercourse.

c. Offensive Slang Women considered as sexual partners.
adjective
Of or relating to a tail or tails: tail feathers.
Situated in the tail, as of an airplane: a tail gunner.
verb
tailed, tail·ing, tails
verb
transitive
To provide with a tail: tail a kite.
To deprive of a tail; dock.
To serve as the tail or last part of: The Santa Claus float tailed the parade.
To connect (often dissimilar or incongruous objects) by the tail or end: tail two ideas together.
To set one end of (a beam, board, or brick) into a wall.
Informal To follow and keep (a person) under surveillance.
verb
intransitive
To become lengthened or spaced when moving in a line: The patrol tailed out in pairs.
To be inserted at one end into a wall, as a floor timber or beam.
Informal To follow: tailed after the leader.
Nautical

a. To go aground with the stern foremost.

b. To lie or swing with the stern in a named direction, as when riding at anchor or on a mooring.

Sports To veer from a straight course in the direction of the dominant hand of the player propelling the ball: a pitch that tails away from the batter.
Phrasal Verbs:
tail down
To ease a heavy load down a steep slope.
tail off (

or

away)
To diminish gradually; dwindle or subside:
The fireworks tailed off into darkness.
Origin of tail
Middle English
from
Old English
tægel
Related Forms:
Law
noun
Limitation of the inheritance of an estate to a particular person and that person's heirs.
adjective
Being in tail: a tail estate.
Origin of tail
Middle English
taille
from
Old French
division
from
taillier
to cut
; see
tailor
.
---
tail

---
tail - Investment & Finance Definition
In Treasury auctions, the difference between the lowest competitive bid that was accepted and the average bid by all of those offering to buy the particular Treasury security.
In the insurance industry, the time between when premiums are received and benefits need to be paid. For example, a reinsurance company, which provides coverage to other insurance companies, has a long tail because their coverage is called on only if the insurance company incurred certain amounts of losses.
---
tail - Legal Definition
---