tailor

tai·lor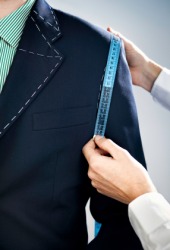 A tailor making a man's suit.
noun
The definition of a tailor is a person who sews, repairs or makes alterations on clothing.

An example of tailor is a seamstress.
verb
To tailor is defined as to make something to particular specifications or conditions.

An example of to tailor is hemming a pair of pants.
An example of to tailor is writing a manual for an ESL person.
---
tailor
a person who makes, repairs, or alters clothes, esp. suits and coats
Origin of tailor
Middle English from Old French
tailleor
, cutter from
taillier,
to cut, decide, fix from Vulgar Latin
taliare,
to split, cut, origin, originally probably to prune from Classical Latin
talea,
a stick, twig, scion from Indo-European base an unverified form
tal-,
to grow, sprout from source Old Norse
th?ll,
young fir
to make (clothes) by tailor's work
to fit or provide (a person) with clothes made by a tailor

to make by cutting and sewing to fit a particular thing
to cut, form, or alter so as to meet certain conditions: a novel tailored to popular taste

to fashion (women's garments) with trim, simple lines like those of men's clothes
---
tailor
noun
One that makes, repairs, and alters garments such as suits, coats, and dresses.
verb
tai·lored, tai·lor·ing, tai·lors
verb
transitive
To make (a garment), especially to specific requirements or measurements.
To fit or provide (a person) with clothes made to that person's measurements.
To make, alter, or adapt for a particular end or purpose: a speech that was tailored to an audience of business leaders.
verb
intransitive
To pursue the trade of a tailor.
Origin of tailor
Middle English
from
Anglo-Norman
taillour
from
Old French
tailleor
from
taillier
to cut
from
Late Latin
tāliāre
from
Latin
tālea
a cutting
---
tailor

Noun
(plural tailors)
The fish Pomatomus saltatrix.
Verb
(third-person singular simple present tailors, present participle tailoring, simple past and past participle tailored)
To restrict (something) in order to meet a particular need

a narrowly tailored law.
Origin
From Anglo-Norman tailour, from Old French tailleor, from taillier, from Late Latin talio, from Latin talea ("a cutting").
---